Airbus in Chinese deal for hundreds of new aircraft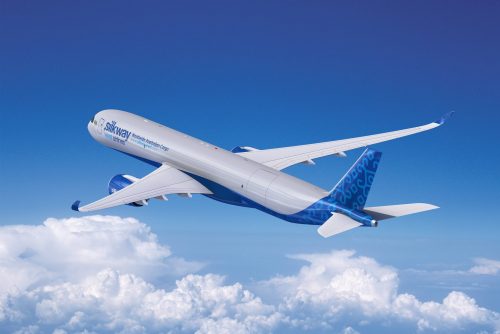 Plane maker Airbus has confirmed the signature of orders with Air China, China Eastern, China Southern, and Shenzhen Airlines for a total of 292 A320 family aircraft.
It says it demonstrates the positive recovery momentum and prosperous outlook for the Chinese aviation market.
The latest orders mean an increased workload for the manufacturer's wing-making plant at Broughton, near Chester, which employs around 4,500 staff, with plans to take on up to 550 more staff since the easing of pandemic travel restrictions.
Christian Scherer, Airbus chief commercial officer and head of international, said: "These new orders demonstrate the strong confidence in Airbus from our customers.
"It is also a solid endorsement from our airline customers in China of the performance, quality, fuel efficiency and sustainability of the world's leading family of single aisle aircraft."
He added: "We commend the excellent work by George Xu and the entire Airbus China team as well as our customers' teams for having brought to conclusion these long and extensive discussions that have taken place throughout the difficult COVID pandemic."
By the end of May 2022, the in-service Airbus fleet with Chinese operators totalled more than 2,070 aircraft.
The A320neo (new engine option) family incorporates new generation engines and sharklets, which, together, deliver at least 20% fuel and CO2 savings, as well as a 50% noise reduction.
At the end of May 2022 the A320neo family had totalled more than 8,000 orders from in excess of 130 customers. Since its entry into service six years ago, Airbus has delivered more than 2,200 A320neo family aircraft contributing to 15 million tons of CO2 saving.
Airbus has also revealed that Silk Way West Airlines, based in Baku, Azerbaijan, has signed a purchase agreement for two A350F freighter aircraft.
This is the first order from the Caspian region for this aircraft type.
The freighters are intended to modernise and further grow the existing fleet with the most efficient and sustainable cargo aircraft available in the market.
Wolfgang Meier, president of Silk Way West Airlines, said: "We are delighted to sign the first, but surely not the last, agreement with Airbus, which marks the start of what I am sure will be a very fruitful partnership as we strive for future growth.
"Today, our guests witnessed a defining moment in Silk Way West Airlines' history. I am confident of the success that the acquisition of these new aircraft will bring us.
"The signing of this agreement marks a new milestone in the growth of our company. There is no doubt that this agreement will strengthen the company's leading position in the global air freight market over the next 15-20 years."
Christian Scherer said: "I welcome Silk Way West Airlines as a new Airbus customer. The A350F is a game changer in efficiency and sustainability for the cargo operations of the future. We look forward to demonstrating how positively the economics and environmental signature of the A350s will stand out versus older generation aircraft."
The A350F is based on the world's most modern long range leader, the A350. The aircraft will feature a large main deck cargo door and a fuselage length optimised for cargo operations.
More than 70% of the airframe is made of advanced materials resulting in a 30 tonnes lighter take-off weight, which, together with efficient Rolls-Royce engines, generate an advantage of at least 20% lower fuel burn and CO2 emissions over its current closest competitor.
Launched in 2021, the A350F has so far recorded 31 orders and commitments from six customers.