Jobs boost for Airbus factory with plans to recruit up to 550 staff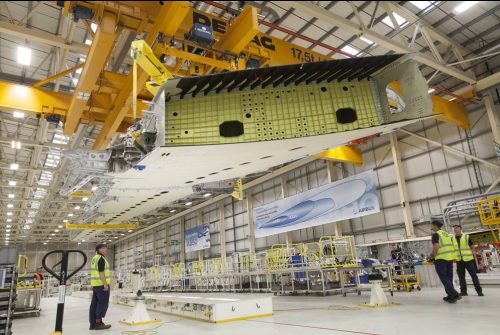 Plane manufacturer, Airbus, said it will create up to 550 jobs at its wing-making factory at Broughton, near Chester, as part of a £100m investment.
The boost for the site is linked to plans announced in January this year to recruit around 6,000 staff group-wide in response to strong signs of recovery post-COVID in the aerospace industry, and linked to the group's plans to prepare the future of aviation and implement its roadmap for decarbonisation.
The Broughton plant, which makes wings for all the group's commercial aircraft, will benefit from a ramp up in production of the A320 family aircraft to 75 per month by 2025.
Airbus said the current monthly rate of around 50 A320's a month will increase to 65 jets a month by the middle of 2023, and then ramp up again to 75.
Work will be carried out in a huge warehouse that was built at the site to accommodate manufacture of wings for the giant A380 aircraft, which is now being phased out.
An Airbus spokesperson said: "The planned production rate increase to 75 A320 family aircraft per month in 2025, in close cooperation with our suppliers and partners, will benefit the entire global industrial value chain."
"Airbus will meet the higher production rates by investing to increase capacity at its existing commercial aircraft assembly sites, including in the UK, resulting in the creation of additional highly skilled jobs and employment opportunities."
The jobs boost marks a significant turnround for the plant which lost around 1,500 staff during the COVID lockdowns due to the world's aviation industry going into limbo as fleets were grounded following the closure of borders to contain the spread of the pandemic.
Production at the plant, which employed around 6,000 staff pre-pandemic, was cut back as orders dried up.
However, the group is now experiencing growth in its order book as worldwide flights begin to resume, and many carriers look to replace older aircraft with fuel-efficient and eco-friendly planes.
The group has also published financial results for the first quarter of 2022 which revealed a 15% rise in revenues to €12bn, and an adjusted EBIT of €1.3bn. It delivered 142 aircraft during the quarter.
Group chief executive, Guillaume Faury, said: "These Q1 results reflect a solid performance across our commercial aircraft, helicopter and defence businesses.
"Our 2022 guidance is unchanged, even though the risk profile for the rest of the year has become more challenging due to the complex geopolitical and economic environment."
He added: "Looking beyond 2022, we see continuing strong growth in commercial aircraft demand driven by the A320 family. As a result we are now working with our industry partners to increase A320 family production rates further to 75 aircraft a month in 2025. This ramp-up will benefit the aerospace industry's global value chain."
The group said its guidance for 2022 remains unchanged, on the basis that it assumes no further disruptions to the world economy, air traffic, the company's internal operations, and its ability to deliver products and services.
Excluding mergers and acquisitions, Airbus is targeting to achieve around 720 commercial aircraft deliveries, adjusted EBIT of €5.5bn and free cash flow before M&A and customer financing of €3.5bn.