People: Irwin Mitchell; Adlington Retirement Living; Bromleys Solicitors; Hill Dickinson; 21Digital; Jackson Lees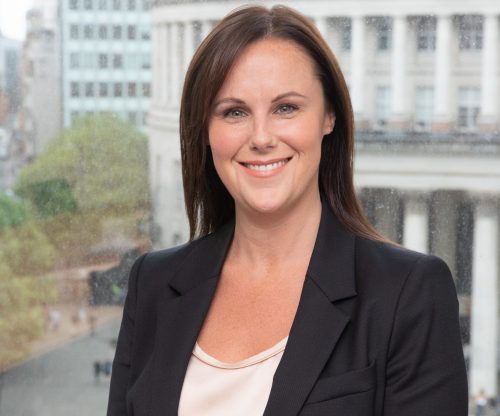 Irwin Mitchell has announced the appointment of new employment law partner, Helen Kidd, to its Manchester office.
Joining from Knights, Helen is experienced in the full range of employment law issues – specialising in complex employment tribunal litigation, reorganisations, redundancies and TUPE. She acts for both senior executives and businesses across a range of sectors including retail, manufacturing and logistics.
Helen supports her clients on all day-to-day employment and HR issues, including performance management, dismissals, long term sickness absence and discrimination complaints.
She said: "The area of employment law continues to be challenging for both businesses and individuals. HR professionals are, for example, now dealing with the ripple effects of the COVID pandemic, including its impact on wellbeing and mental health, along with the challenges and opportunities around hybrid working.
"The agenda for the profession has never been so busy but it's our responsibility to help businesses and individuals navigate difficulties, whilst helping them to take advantage of the opportunities that lie ahead."
Irwin Mitchell's employment team boasts a team of more than 70 lawyers and has partner group of 11.
Fergal Dowling, employment law partner and director of legal services for the firm's commercial advisory and disputes team, said: "Helen's skills and expertise complement our national team extremely well and we are delighted to welcome her to the team."
Helen is Irwin Mitchell's 10th partner appointment since the beginning of 2022 and she follows the arrival of two other employment partners, Danielle Parsons and Deborah Casales, who joined last year.
In addition to its newly recruited partners, Irwin Mitchell announced in May that it had added 13 new partners as part of this year's promotion round.
It also recently announced two new offices in Cardiff and Liverpool.
::
Adlington Retirement Living has appointed James Heyworth as land director as part of its ambition to achieve six new retirement community sites a year.
James joins the business with more than 27 years' experience in the development sector, having led land acquisition for prominent projects in the North West including The Hacienda, 1 Deansgate, and Alderley Park.
He said: "I'm excited to move from open market housing to land acquisition for independent retirement communities. The senior living sector is experiencing obvious growth that is set to continue as we address the housing needs of our ageing population."
The new appointment is part of a move to scale up the Adlington Retirement Living land team as part of its growth strategy.
Managing director, Dr Ed Gladman, said: "We're a future-facing company with a strong track record. Since 2009, we have launched 14 independent retirement communities across the North West, Yorkshire, Wales and the Midlands. We've already moved from one new site every two years, to three sites every year. Our ambition is to move to six new sites each year and we're growing our team as part of our commitment to make that happen."
The family-owned and run business said it is already one of the top three companies that design, build and operate Independent Retirement Communities in the UK. In the past five years it has grown from 45 employees to a team of more than 120, including its in-house land team, planners, architects, designers, construction team, and sales and marketing colleagues.
In 2019, the business launched Adlington Management Services, responsible for the practical aspects of running a retirement community, such as maintaining the building, as well as the more emotional aspects.
James will be responsible for reviewing new sites, new opportunities and appraising their potential in line with Adlington Retirement Living's stringent criteria. He will report to Josh Kite, land and planning director for Adlington Retirement Living, who has been a key member of the land team since 2015.
::
The head of law firm Bromleys' family and divorce team has been promoted to principal solicitor.
Keith Bull joined the Tameside practice in 2018 and has overseen a doubling in size and turnover for the team. He specialises in cases involving the breakdown of marriages and relationships of high net worth clients, especially those with their own businesses, investments and sizeable pensions.
Keith is recognised in his field as a leading expert – he is an advanced member of the Law Society's advanced family law panel and an accredited specialist on the family law panel of Resolution. Resolution is a membership organisation for lawyers and other professionals committed to constructive, non-confrontational ways to resolve divorce, separation and other family-related legal issues. He is also an assessor for the organisation in the application process for accreditation.
Mark Hirst, senior partner at Bromleys, said: "Keith's promotion is recognition for his exemplary work and achievements since joining the firm in 2018. The team under his leadership has gone from strength to strength and this is testament to his strategic planning."
Keith said: "To be recognised and offered this promotion by the partners at Bromleys is a tremendous honour. I have over 30 years of family law experience, and 2022 has been a real milestone for both myself and the team.
"We smashed the record for turnover for our team and, towards the end of the financial year, I was able to boost our staffing levels as we look very well set for further growth this year."
::
Liverpool-based commercial law firm Hill Dickinson has announced the promotion of six new partners in its summer 2022 promotions round.
This year's senior promotions take place across four of its offices: Liverpool, Manchester, Leeds and Piraeus (Greece). The six new partners work across the firm's three business groups, business services, health and marine, and specialise in practice areas including commercial litigation, employment, health employment, health litigation and shipping.
This announcement follows May's news of 11 senior associates promoted to legal director in Liverpool, Manchester and London.
Chief executive, Peter Jackson, commended the individuals on their achievement, saying: "Having demonstrated outstanding expertise in their respective areas and a continued commitment to driving success for the firm, the board and I believe these six promotions have absolutely earned this recognition and we congratulate each of them on their efforts."
The promotions are, in business services: Caroline Prosser (employment, Liverpool); Andrew Little (commercial litigation, Manchester). Health business: Amy Millson (health employment, Leeds); Gill Stoll (health litigation, Liverpool). Marine business: Anthony Paizes and Vanessa Tzoannos (shipping, Piraeus).
::
Blackburn-based 21Digital has appointed Liam Roberts as a junior copywriter.
Having relocated from his hometown of Denbigh to join the growing digital agency, Liam is a graduate of Liverpool John Moores University where he studied creative writing.
He said: "Digital marketing is such a growth industry and it's great to be part of it.
"I'm looking forward to contributing the human touch into a very digitally-focused sector. Algorithms and machine-learning are powerful tools, but you still need copy that makes connections with customers to turn the science into sales, so I'm really pleased to be able to play my part in that."
Based at offices on Blackburn's Trident Park, 21Digital is a multi-award-winning agency specialising in lead generation and ecommerce, providing digital marketing services including web design, web development, SEO, Google Ads, digital consultancy, social media marketing and email marketing.
::
North West law firm Jackson Lees has continued its expansion with the appointment of John E Jones as its head of residential property.
John E Jones, who is also a director of the Society of Licensed Conveyancers, joins Jackson Lees with four decades' experience in conveyancing. He will be based at the firm's Liverpool and Wirral offices overseeing the 20-strong department across offices in Liverpool, Heswall and Hoylake.
A Chartered Legal Executive and Licensed Conveyancer, John also serves as a member of the djudication panel for the Council for Licensed Conveyancers (CLC) and a member of the CILEx Regulation Admissions & Licensing Committee (CILEx). Through his work with the CLC, he has helped to improve regulations and the education of conveyancers, playing an integral role in the development of the council's handbook and education portfolio.
As a Licensed Probate Practitioner as well, John's new role will include supporting the Jackson Lees wills and probate team and its Court of Protection team with probate sales and deputy/LPA sales and purchases.
John said: "I've long admired Jackson Lees' fantastic reputation for its culture and since joining, I've been overwhelmed by the positive and enthusiastic attitude from every staff member.
"Throughout my career I have had the pleasure of working with some of the very best conveyancers who all instilled a genuine interest in conveyancing in me and a desire to do it well. I'm now looking forward to leading an energetic team committed to delivering the highest possible standards of service to our clients.
"I am also impressed by the Jackson Lees Training Academy where I will be bringing in my own experience to help develop the technical training framework, helping individuals with progression and developing a career path."
Managing director, Esther Leach, said: "John is a genuinely inspiring lawyer and role model who we are thrilled to have on board. Our conveyancing team has gone from strength-to-strength in recent years and we are confident John will lead the team in the right direction to offer a flawless service to our clients.
"His extracuricular work and passion for the sector fits right into our culture of nurturing talent to create the best teams and his extensive experience will not only greatly help our conveyancers, but the wider Jackson Lees Group as he feeds into our Training Academy. We are very excited to see the impact John makes with us."
John's appointment follows the expansion of Jackson Lees' wills, trusts and probate team, with the addition of two new solicitors, Rafael Donovan and Barry McDonough.