Business services group expands to bigger HQ after pandemic drives expansion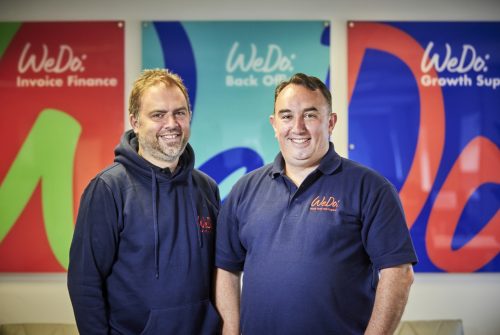 Business services group, WeDo Business Services, has moved to a new headquarters in Oldham.
The firm, which is anticipating turnover of almost £10m this year, has moved to bigger premises at Meadowbank House, on the Meadobank Business Park in Chadderton.
It has relocated from its previous office at the nearby Hollinwood Business Centre.
WeDo provides a range of services to small and medium-sized companies, including invoice and trade finance, start-up funding and HR, back office, IT, digital and payroll support, with a focus on the recruitment sector.
The business was founded by Mark Lindsay and Chris Robinson in 2019 as WeDo Finance with four staff and has grown rapidly through organic expansion and acquisition.
Turnover for the year to July 31 is forecast to be £9.5m, an increase of nearly 60%.
The group has offices in Colchester, Sheffield and Swindon as well as at MediaCity in Salford and at Chadderton, and employs 95 staff in total.
Its new HQ gives the group scope to accommodate more recruits as well as staff visiting from its other offices.
Group chief executive, Mark Lindsay, said: "The move to Meadowbank House is transformational for the business. We had been at Hollinwood since our creation in 2019 but our expansion meant we required more space for our head office team.
"Many of them live in and around Greater Manchester, so it was important that our new base was close to the Metrolink and the motorway network, with plenty of available free parking for staff and visitors. Most staff have a short commute, and some can even walk to our new offices, which is great."
He added: "The new office also gives us scope for further growth as we look to continue our organic expansion and seek acquisitions to bolt on new services."
WeDo's new office features breakout areas with a pool room and a PlayStation.
Mark said: "We encourage staff to get away from their desks regularly and create a social environment that supports creativity, positivity and productivity as well as positive wellbeing."
The pandemic and lockdowns have presented growth opportunities for the group, as clients sought additional areas of support such as HR advice, business forecasting, business advice and investment. Mark said: "Our strategy is to continue to expand the range of services we are able to offer and to further strengthen our relationships with existing clients as well as helping us to attract new ones across the country."