North West ingenuity creates first-of-its-kind hydrogen-powered delivery truck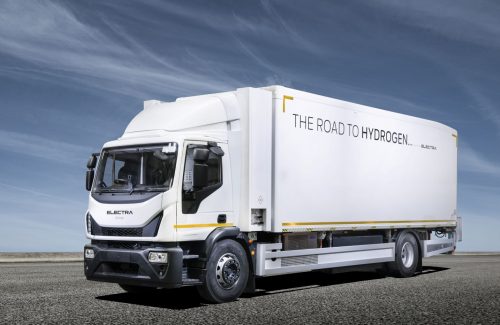 Two North West firms have collaborated to deliver the first of its kind 19-tonne hydrogen-powered truck.
The Electra eCargo FCEV (fuel cell electric vehicle) will be on trial with supermarket giant Sainsbury's as part of the Road to Hydrogen, a Government-funded project focused on helping the UK solve challenges around zero-emission road freight, linked to the Teesside Multi-Modal Transport Hydrogen Hub.
The innovative partnership involves Rossendale's refrigerated transport specialist, Solomon Commercials, and Blackburn-based Electra Commercial Vehicles, which makes electric-powered trucks.
Ben Smith, Electra managing director, said: "We have created this 19-tonne truck with four type-three cylinders providing it with a capacity of 20 kg of hydrogen at 350 bar.
"Fitted with a Proton Motors HY45 fuel cell, the vehicle will have an operating timescale of nine-10 hours, after which it can come back to base needing a quick refill of hydrogen so that it can be double-shifted. It's an example of genuine innovation that will help operators transition to authentic zero emission transport."
Anthony Clegg, sales director of Solomon Commercials, said: "It's an exciting project to be involved in and will shape the future of road transport, helping many commercial operations make the switch to zero emissions easier.
"Our business has been built on innovation, and this is a natural step for us to work on UK-firsts projects, which help push our industry forward. It's a fantastic example of innovation in UK manufacturing."
Solomon Commercials has a long and established relationship with Sainsbury. Its technical team designed a flexible body to provide optimum capacity, which would help reduce the number of potential journeys.
Smith added: "The tried-and-tested FCEV combinations we built have demonstrated that an eight-hour operational multi-drop urban shift is easily achievable."