Luxury West Kirby apartments scheme gets the nod from planning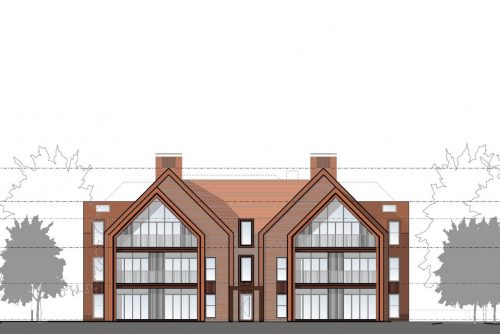 Planning permission has been granted to architecture practice Falconer Chester Hall for a luxury apartment scheme in the sought after Wirral suburb of West Kirby.
The scheme involves a three-storey block providing 10 large three- and four-bed apartments, complete with residents' garden in the Meols Drive Conservation Area.
The existing buildings on site will be demolished to make way for the new scheme, designed for client 101 Meols Drive.
Quentin Keohane, the director at Falconer Chester Hall leading the project team, said: "We have worked very hard with the council over the past 18 months to arrive at a design that adds value to the surroundings and is in scale with its neighbours.
"We have used a local materials palette, with red brick, sandstone and clay roof tiles within a contemporary design theme."
He added: "The modern interpretation provides a form and massing that blends with the important adjacent buildings, whilst offering a positive 21st century contribution to the conservation area."
The scheme benefits from basement car parking for the majority of the residents' cars, allowing a large proportion of the site to be soft landscaped. The soft landscaped areas will maximise the ecological contribution to the area while providing an attractive usable space for the residents.
Karl McKinney, spokesperson for 101 Meols Drive, said: "We have seen the potential this development will bring to Meols Drive and we are looking forward to realising our vision of being able to provide alternative family accommodation to the area.
"The apartments are generous in size and all have direct access to a private balcony. The site has been carefully designed to create a pleasant and sustainable environment in which to live."
He added: "The driveways of the existing properties will be retained and used as entrance and exit points, leaving the site frontage on Meols Drive of sandstone walls and evergreen hedges largely unchanged."
Other consultants on the scheme include Zerum (planning) and Shape Consulting Engineers.