People: Gateley Legal; mmadigital; MSB Solicitors; Deloitte; Elevate; Homes for Students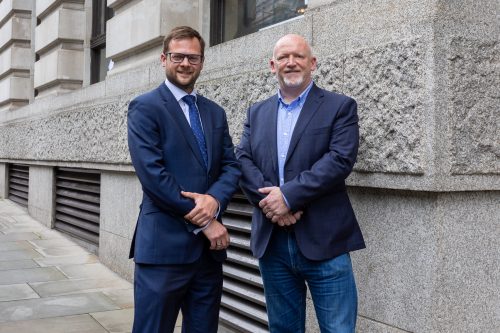 Gateley Legal has appointed Nick Molloy as legal director in its Manchester residential team to support growth in the North West.
Molloy brings a wealth of residential and property experience to the team from his previous role at Countryside Properties.
His appointment brings the Manchester residential team total to seven, and will allow the team to support the increasing number of residential schemes and developments across the North West.
Paul Jefferson, office managing partner for Gateley Legal in Manchester said: "Nick will be a great addition to the Manchester residential team as he has extensive experience with servicing housebuilder clients.
"There is a real buzz of regeneration activity within the North West and our team is currently acting on a range of exceptional residential schemes."
Gateley Legal acts for 18 of the top 20 housebuilders in the UK, on either a regional or national scale, and handles around 15,000 plot sales per annum. It is one of few legal businesses in the country with a separate housebuilder team specialising in services for residential developers.
The national residential development team operates from offices located in Birmingham, Guildford, Leeds, London, Manchester, Newcastle, Nottingham and Reading, and includes 22 partners and more than 250 legal professionals.
::
Customer acquisition specialist for the legal sector, mmadigital, has appointed an M&A integration specialist to oversee acquisition opportunities in the UK.
Lisa Emsley will be responsible for driving the West Didsbury-based business's acquisition strategy and overseeing subsequent M&A activities and integration projects.
The announcement comes hot on the heels of mmadigital disclosing it is on the acquisition trail amid plans to reach £30m turnover by the end of 2023.
Emsley joins mmadigital from fintech start-up Mojo Mortgages where, as chief operating officer, she served in a similar capacity. The award-winning online digital mortgage broker secured two rounds of private equity investment before announcing its successful acquisition in 2021 by RVU, owners of Uswitch, money.co.uk and Zoopla.
Prior to Mojo, Emsley spent more than seven years at tech giant ANS Group, with a focus on finance, contracts and procurement.
Dez Derry, mmadigital's founder and CEO said: "Lisa is a brilliant, high calibre addition to the team as we actively pursue complementary acquisition opportunities. Her appointment demonstrates our commitment to fast growth, and she will play a central role in coordinating our expansion strategy over the coming months. She has strong and extensive experience, most notably with PE-backed transactions through her time at Mojo and ANS Group, which will be a great asset to the business."
Emsley said: "Now is a fantastic time to be joining a business with so much exciting potential and a great track record – mmadigital is repositioning itself to meet the changing needs of the market and its clients, and acquisitions will be instrumental in supporting its ambitious vision and growth objectives moving forward."
::
North West-based full service law firm, MSB Solicitors, says it has made good on its policy to invest in its people and drive staff success with the promotion of four employees this month.
The latest raft of promotions sees three of the firm's team members appointed to associates, two of which have been with MSB since beginning their careers in law as legal assistants.
The new associates include Sarah McGuinness in the commercial property department, Sarah Coakley in commercial property and David Tarttelin, who is part of the firm's civil and commercial litigation department.
Calum Whelan, who is part of MSB's family law department and joined the firm in 2021, has also been promoted from solicitor to senior associate in the latest raft of promotions.
From its inception, MSB Solicitors has held a focus on promoting employees from within and providing its staff with opportunities to develop and progress through the ranks within the firm.
The latest promotions take the total number of senior associates to nine and associates to 10 just as MSB reaches 183 employees in total.
The news follows a remarkable start to the year for the law firm after it increased its North West footprint by opening its first Manchester office in April, as well as welcoming more than 74 new members of staff in the past 18 months alone.
Sarah McGuinness, who has worked at MSB since 2014 and qualified as a solicitor in 2018, said: "I'm so happy to have been promoted to associate after eight years with MSB. I started my journey as a legal assistant here before qualifying as a solicitor four years back, and I feel incredibly lucky to be able to continue with my progression now as an associate."
Emma Carey, managing partner, said: "At MSB, we know that to do the best work, we need the best people. Since the launch of the firm in 1988, we have been committed to the development and success of our staff.
"Our in-house training department has played an important role in helping us continuously develop, progress and promote our staff, which ultimately benefits them, the firm and our clients."
The full service North West law firm has a history stretching back 34 years and now operates from offices across Liverpool City Region and Manchester.
::
Deloitte has announced that Stephen Lashmar has joined its real estate team – within the financial advisory practice – as a director in Manchester.
Specialising in land assembly, compulsory purchase and valuation advice, Stephen will have predominant focus on projects involving regeneration, levelling up and infrastructure schemes in the North and Midlands.
He joins the team from Manchester-based surveying practice Roger Hannah and has more than 20 years' experience with practices in the North West, including Keppie Massie and CBRE.
Stephen has been involved in many high profile regeneration schemes, this includes advising the Manchester, Trafford, Stockport and Preston councils, as well as the North West Development Agency and English Partnerships.
As a Chartered Surveyor and Registered Valuer, Stephen has extensive experience in providing valuation advice for a range of purposes to a variety of stakeholders in the sector, such as investors, developers and lenders.
Stephen Lashmar said: "Deloitte has an exceptional blend of skills, encompassing specialist real estate, financial and strategic advice to public and private-sector clients. I am looking forward to bringing my experience to the team and to deliver regeneration, levelling up and infrastructure schemes for our clients across the region."
Graeme Lawes, director and head of land assembly and compulsory purchase at Deloitte, said: "We are very pleased that Stephen is joining Deloitte in Manchester to further strengthen our national land assembly and compulsory purchase team. He has huge experience in advising both acquiring authorities as well and will complement our established planning and development practice. I am looking forward to working with Stephen to further build our capability in Manchester in the coming months."
::
Manchester-based business consultancy, Elevate, is celebrating a string of successes as it welcomes new hire, Jessica Pomfret, to the team.
Pomfret, who joins as operations manager, will oversee a number of upcoming projects, including the Innovate Manchester workshops, which will be run in partnership with MIDAS and GC Business Growth Hub, the Northern Gamechangers awards and an upcoming series of fully funded leadership courses.
She previously worked as a leadership project specialist at GC Business Growth Hub, where she managed the BEIS-funded Peer Network Programme, supporting more than 650 Greater Manchester-based SMEs.
Pomfret said: "I'm so pleased to be joining the Elevate team, it's a very exciting time for the business as they launch new projects, such as the Northern Gamechangers which I'm thrilled to be working on. Already, the strong female team has grown and worked on some fantastic events across the city."
Ilona Alcock, Elevate's co-founder and director, said: "Jess brings with her a wealth of experience from her previous roles and is already making her mark here."
::
Independent PBSA provider, Homes for Students, has welcomed a number of new faces to its Liverpool office to support its ongoing growth and future plans.
Rebecca Williams joins the team as commercial director, a new role designed to support further collaboration across its internal teams and drive new initiatives that will ensure Homes for Students delivers market-leading performance. Rebecca has held senior commercial positions in the sector for more than 10 years including her most recent role at VervLife, the Build to Rent arm of Homes for Students.
Joining Rebecca is Charlie Hunt, Homes for Students' first sustainability manager who, as a research scientist, joins with considerable experience in designing Environmental, Social, and Governance (ESG) solutions for SMEs. Charlie will be responsible for championing sustainability within the business and build on the company's existing ESG policy and framework.
There has also been changes across the executive team in that earlier this year, Kate Forester has been appointed as managing director, with her predecessor, Graham Rogers, moving to a new role as group executive director, focused on new business developments opportunities.
Kate has held senior positions within the business since its creation, including, most recently, as chief operating officer, and now leads the executive team alongside Martin Corbett who remains chief executive.
Kate said: "Rebecca and Charlie's appointments represent a real step change for Homes for Students and a testament to the growing scale we have achieved over the past couple of years. Despite the challenges brought by the pandemic, our business continues to go from strength to strength."
Martin Corbett said: "This is an exciting time for our sector and Homes for Students has developed solid foundations, with a great energy around the team. With numbers due to study in the UK and live away from home only set to climb, the challenge to meet students' needs, develop great relationships with property owners and universities has never been more critical."
Homes for Students manages more than 39,000 beds across 160 properties in around 51 UK towns and cities. Since its establishment in 2015, it now employs more than 700 people across its properties and two central service offices in Harrogate and Liverpool.