People: CG Professional; Johnson Law Group; 21 Digital Search Academy; Primas Law; Ultimate Finance; Entrepreneurs Unlocked CIC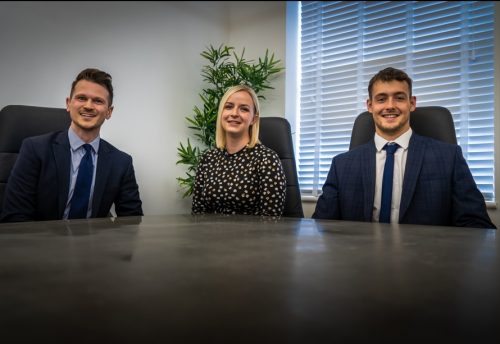 North West law firm CG Professional has announced further appointments to support its growth across the region.
New appointments Rob Parkinson and Stephanie Cairns join the CG Real Estate team as associate solicitors and William Ingham as a paralegal, further bolstering the real estate team numbers. The appointments were necessary to support the increased growth in demand for CG services with the real estate team tripling in size over the past three years.
Stephanie has a wide range of experience including freehold and leasehold acquisitions and disposals after seven years at JMW in Manchester and has worked with financial institutions as well as overseas investors and high net worth individuals.
She said: "I'm really pleased to join the CG team. Their vision and culture are unique in the legal sector which is so refreshing and I'm really looking forward to playing my part in such a dynamic growing firm."
Rob who has previously been in real estate teams at various Lancashire law firms, said: "I'm excited about the move to CG, and the opportunities it will bring at this stage of my career with their impressive and growing client list."
William graduated from University of Central Lancashire with a First Class Law Degree before earning a merit in his LPC at UCLan in May 2022.
He said: "I feel incredibly lucky to be working at CG. The support, mentoring and training open to me here is just fantastic. It's a great start to my legal career."
CG, which has offices across the North West, works with national businesses and has managed a growth in demand for its services with multiple appointments in the past 12 months.
Head of real estate at CG, Karen Piontek, said: "We're very pleased to welcome Stephanie, Rob and William to the CG family. We've seen continued month on month growth in demand for our services during the past 12 to 18 months, especially in our real estate department, but it's always important that our strategy of high quality additions remain in place, so we strengthen our team with the right people to service that demand."
::
Consumer litigation law firm, Johnson Law Group , has appointed Nathan Holt to its Manchester-based litigation team.
A graduate from Manchester Met University, with several years' running high volume caseloads under his belt as a paralegal, Holt joins JLG as a trainee solicitor and will work alongside the firm's litigators in both the data breach and motor finance claim teams.
Holt said: "With the increase in popularity of group actions in the UK, it's an exciting time to be joining Johnson Law Group. By reducing the legal costs for individual claimants, mass litigation gives people the opportunity to take legal action against the bigger corporations when they might have felt previously unable to, and I'm looking forward to getting to work."
Opening its first UK office in February 2020, for the past 30 years Johnson Law Group has been in the US legal mass-tort market and brings a wealth of experience into the UK market, offering legal advice and assistance in a variety of practice areas, from pension mis-selling claims to data breach claims and mis-sold car finance PCP.
Jamie Patton, managing director at Johnson Law Group, said: "We have ambitious expansion plans and we're delighted to bring Nathan on board, to bolster our team and increase our capacity. We've had a strong start to 2022 and hope to make a number of additional appointments before the end of the year."
Holt is also a volunteer at Infinity Initiatives, which is active in his native Tameside, offering counselling and community support to those in need.
::
Joey Tarrant has joined Blackburn-based 21Digital's Search Academy, its first recruit since opening its doors earlier this year.
Aimed at providing an entry point for people looking for a start in the UK's burgeoning digital marketing sector, the Search Academy was launched following the agency's successful apprentice schemes, working with local colleges, which have resulted in a number of previous apprentices joining the full time team.
Padiham-based Joey (19) will now join the multi-award-winning lead generation and ecommerce agency's 14-strong team based at offices on Blackburn's Trident Park, where he will undergo training and development led by former apprentice Declan Porter.
21Digital managing director, Sam Fletcher, said: "We're really pleased to have Joey as the first joiner for our Search Academy. Our Search Academy is a new take on our apprenticeship programme, but with a particular focus on search engine marketing, both paid and organic practices.
"We came up with the idea following the success of our previous apprenticeship schemes, which is how we've gained our digital marketing apprentice Sarah Chan, and our paid search executive Declan Porter, who has since completed his apprenticeship to become a fully-fledged member of our search team.
"Now we're looking for the next generation of budding search specialists to join our expanding team and learn the skills of the trade through our Search Academy."
::
Boutique commercial law firm Primas Law, has made three new hires across the firm in line with its ambitious growth strategy for 2022.
The announcement comes shortly after a flurry of recent hires for the firm across a variety of departments and seniority levels.
Alexia Savar joins the team as an insolvency litigator and Fatima Iqbal and Lawrence Isaac join as paralegals in their Corporate and Commercial and Construction and Projects teams, respectively.
Alexia Savar has joined the firm's Corporate Recoveries and Insolvency department and is based in the Manchester office. With experience in the fields of dispute resolution, debt recovery, insolvency and commercial litigation, she joins the team as an insolvency litigator.
Fatima Iqbal joins as a paralegal in the Corporate and Commercial team, boasting significant experience working for multinational clients and a distinction in her LLM in International Commercial Law.
Lawrence Isaac has joined as a paralegal in the Construction and Projects team and will work alongside David Vayro, furthering Primas's rapidly expanding construction practice.
Primas Law has also announced the promotion of Jonathan Herd to trainee solicitor in its Real Estate department.
Managing partner, Adam Kerr, said: "We have an expansive business plan for this coming year and it's really pleasing to have already delivered on a part of that strategy in the first quarter of the financial year. These quality new team members, along with some excellent client wins and marquee instructions, mean that we've had a great start to the financial year. We've an exciting year ahead."
Primas Law has offices in Manchester, Cheshire and London and specialises in employment, real estate, insolvency, litigation and corporate and commercial law.
::
Specialist asset-based lender Ultimate Finance has appointed Alice Williams as a regional director on the back of a strong first half growth performance and continued expansion of its sales team.
Alice said: "Having dealt with Ultimate Finance as a broker I am extremely excited about the opportunity to be working on the other side of the transaction. Ultimate Finance's reputation in the market and their commitment to getting the deal done has always impressed me and I am looking forward to utilising my understanding of how a broker works to support Ultimate Finance on their mission to be the funding partner of choice."
Head of bridging finance, Liam Cavanagh, said: "Alice's knowledge and expertise in the bridging and development finance market will be invaluable to us. H1 saw an increased level of new business for us following product enhancements, and with our latest announcement to freeze interest rates for the next two months we are committed to supporting even more brokers and their clients during this challenging time."
::
David Morgan, founder of Bolton social enterprise, Entrepreneurs Unlocked CIC, has been selected, by Clinks, to join the national Reducing Reoffending Third Sector Advisory Group (RR3).
Clinks is a national organisation that promotes and represents the voluntary sector working with people in the criminal justice system and their families, in England and Wales.
Entrepreneurs Unlocked works with people with criminal histories, and those on the fringes of society, to recognise, develop and utilise their entrepreneurial talent to lead crime-free lives, and help them to embark on a new pathway by providing specialist programmes, advice, and support.
The RR3 Group, run by Clinks, provides an interface between the voluntary sector and the Ministry of Justice, to increase mutual understanding and build a strong and effective partnership. The group is made up of senior experts from the voluntary sector and meets quarterly with civil servants to provide guidance and feedback on MoJ policy developments. Members are selected to be appointed to the RR3 group based on their individual expertise and experience in the sector.
Mr Morgan said: "It really is an honour to have been selected to join the RR3 Group. I am looking forward to contributing to the discussions and advising on the important topics facing the justice sector right now and to ultimately make a real difference when it comes to reducing reoffending rates, across the UK."