People: Avrenim; Together; OHS; Mr Investa; Fletchers Group; North West Cyber Resilience Centre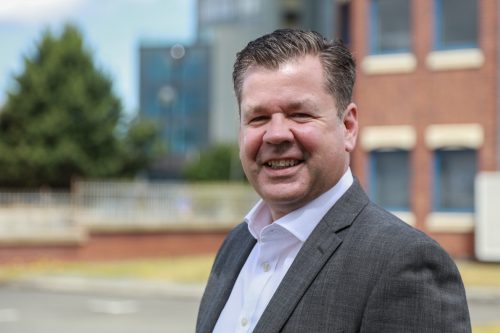 A new CEO has been appointed at Avrenim. Simon Harris joins the business to help further strengthen the company's position in the market.
Liverpool-based Avrenim Group was set up in 2018 by Simon Mattravers and John Newberry, with an ambition to become the go-to facilities management provider in the North West.
Over the past few years the company has grown quickly to become a main contractor, competing for work with large international FM and construction providers. The business has continued to go from strength to strength, and now employs more than 100 staff.
Simon has an extensive career within the industry spanning more than 30 years, bringing a breadth of experience from many different business streams in both the public and private sector.
He said: "The company has a great reputation and has worked hard to position itself as a trusted advisor within key sectors.
"Avrenim has an exciting future ahead of it as we focus on our new strategic direction, to support businesses with their net zero journey. I'm excited to lead our company through this new stage of our development, as we work to help organisations meet ambitious sustainability targets and secure a better future for everyone."
Simon will lead the group and its activities, supporting the needs of customers and helping the business to evolve to market needs.
::
Specialist lender Together has appointed two new business development managers.
Ian Hoggart and Martin Bloe will both be bolstering the Cheadle-based group's regional teams and increasing its footprint across Scotland and South Wales.
Their remit will include supporting their existing partners and developing new relationships with brokers, helping to find solutions for their customers' needs. Both will be reporting to Together's head of intermediary sales commercial finance North, Paula Purdy.
The group, which has a loan book of nearly £5bn, provides finance for a wide range of customers from large businesses to individual investors and SMEs, seeking to raise capital or acquire property or land.
Ian Hoggart will be looking after Together's commercial introducers in South Wales.
Previously a mortgage broker, Ian has experience across the UK working for companies such as GW Money, Shawbrook Bank and Nottingham Building Society. He brings with him extensive knowledge of the mortgage industry, from prime residential property through to specialist BTL, commercial, second charge and commercial lending.
Martin Bloe will be working across Scotland. With 30 years' experience in financial services in both residential and commercial markets, Martin has honed his knowledge and skills in companies such as RBS. At RBS, he worked as director of lending, leading business banking customer support through several years of successful transitional change, while delivering against lending targets.
Paula Purdy said: "Ian and Martin bring with them a wealth of knowledge and experience that will be of huge value to our company. We have ambitious growth aspirations across the UK, and these appointments will help in supporting even more local individuals, businesses and their advisers with fast and flexible finance, tailored to their needs."
::
Manchester compliance consultancy, OHS, is ploughing ahead with its expansion with the appointment of John Malone as its divisional director for Scotland – one of three new senior appointments in the last month alone.
John will lead and develop the Scottish division of the company, working with existing clients, such as Scottish Water, and potential new customers to ensure their property management compliance is maintained. His team will work in both occupied and unoccupied vacant properties, using all the services in the OHS portfolio.
OHS has ambitions to grow its team in Scotland to 20 staff in the next three years, comprising asbestos and water consultants, and building security experts.
John has worked in the asbestos industry for 15 years and in compliance for 25 years. His expertise spans compliance, health and safety and human resources. Outside of work, he is a compliance and board member of the third sector organisations Clydesdale Housing Association and Parkhead Development Company.
Andy Fowler, managing director at OHS, said: "With John's proven track record of growing new and existing teams quickly and successfully, as well as investing in staff to give them the broad range of skills required to offer cross service delivery to clients, we know he's going to be a great asset to the OHS team. Scotland is a key region for OHS and with his support, we hope to rapidly add to our existing customer base."
John Malone said: "With my experience of helping to manage the regulatory burdens involved in risk management, I'm excited to bring the diverse and flexible solutions OHS can offer to Scottish clients who manage buildings. I've been given a fantastic opportunity to build a robust team in the region and look forward to meeting people with the relevant skills and experience to join us."
::
Media City-based prop-tech company, Mr Investa, has hired Will Crane as head of valuations and sales, as it continues to expand the e-commerce readymade Buy-To-Let focused business.
His appointment has been welcomed with a hilarious and unique video message by viral comedian Troy Hawke of the 'Greeters Guild', as well as a billboard in the centre of MediaCityUK.
Crane has been working in property since the age of 16. He is experienced in lettings, sales, valuations, and management across a 14-year career.
He has exhibited at property investment shows up and down the country, as well as organised private seminars to introduce new developments.
Ryan Hughes, managing director of Mr Investa, said: "We are ecstatic at Will's appointment, who will be a key part of our team.
"His knowledge of the buy-to-let market is unmatched, while his experience of managing teams will be integral as we look to rapidly expand Mr Investa."
Crane's hire means the company has doubled its staff count since its inception in February 2021, as the estate agency is on track to bring its headcount to double figures by 2023.
The company has already moved to a larger premises to accommodate more staff, on the fifth floor of Blue Tower, MediaCityUK.
::
North West law firm Fletchers Group has launched a partnership programme, a first for the business in its 35-year history.
Twelve new partners will join the 12 directors of the business, which is based in Southport, with a Manchester office, and boasts a 520-strong headcount.
Peter Haden, chief executive, said the programme is part of his strategy to attract and retain the best talent for the medical negligence and serious injury firm.
Fletchers was acquired by Sun Capital in October last year, and Haden explained he is looking to put more capital to work: "Sun Capital is focused on investing to build scale, including recruitment as well as M&A.
"We recruited 120 people in the last [12] months and our new partnership programme is aimed at making Fletchers a great place to work, and, as importantly, a great place to develop your career."
Haden added: "The partnership programme is a core part of our people strategy, which we've created both to attract great legal talent, and to improve career satisfaction for our existing teams."
He said the new partners include some of the most talented lawyers in the country, working on behalf of clients who have experienced serious injury and medical negligence: "I'm particularly pleased to see the breadth of contributions – our team also includes ferocious litigators that put everything they have into ensuring a great result for their clients.
"The partnership programme will be ongoing and we expect further partners to be elected every year. There won't be a set limit to the number."
The partners are: Bob Coupland – Head of Strategy and Transformation; Caroline Morris – CILEX/Team Leader; Gerard Horton – Solicitor/Team Leader; Alison Flaherty – Head of Medical Negligence Serious Injury Southport; Christian Beadell – Head of Medical Negligence Southport; Trevor Ward – Senior Solicitor/Birth Injury Unit Team Leader; Iain Dodd – Senior Solicitor/Team Leader; Julia Eyton – CILEX/Team Leader; Michael Gray – Senior Solicitor/Team Leader; Saima Mazhar – Senior Solicitor/Team Leader; Dawn Bowdler – Head of Compliance; Samantha Labor – Solicitor/Senior Litigator.
::
The North West Cyber Resilience Centre (NWCRC) has welcomed Detective Chief Inspector Chris Maddocks, who recently began the role of head of economic and cyber crime.
Chris brings a wealth of policing experience with him from both Greater Manchester and Cheshire Police, having worked across a diverse range of investigative roles including child sexual exploitation and serious crime within Central Manchester, and developed his interest in cyber investigations when he set up the Cheshire Police cybercrime team.
He has responsibility for the North West Cyber Resilience Centre, previously known as the Cyber Resilience Centre for Greater Manchester. In line with the centre moving over to the Regional Organised Crime Unit, working alongside North West local Police forces, the National Crime Agency and National Cyber Security Centre, Chris will work to develop cyber resilience across the North West.
Chris said: "My passion for cyber crime came from setting up the Cheshire Police cyber crime team. I saw first hand businesses that had suffered cyber attacks and the damage they caused. I remember one business owner asked me what they could do next and I couldn't help them any further. The Cyber Resilience Centre is the help that they would have needed."
The North West Cyber Resilience Centre is part of the wider UK Cyber Resilience Centre network, first established in the North West in 2019. Each centre's support and services are focused on helping SMEs and creating a national talent pipeline.