Plans for waterfront 'Central Park' within Liverpool Waters welcomed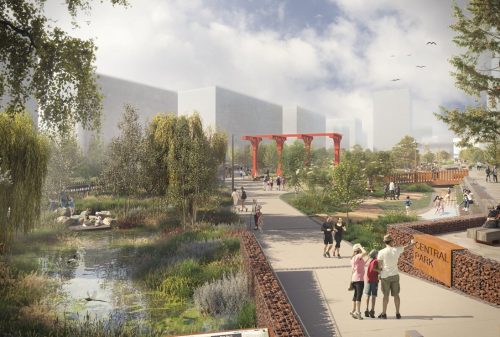 Plans for a new public park on Liverpool's waterfront have been welcomed, following a public consultation and engagement exercise.
Manchester developer, Peel L&P, announced its proposals for Central Park, within its £5.5bn Liverpool Waters scheme, in May this year.
Following the public consultation drive, Peel said a massive 96% of respondents said the park should provide a home for nature through wild areas and seasonal planting and more than 60% said they would use the park to support their active lifestyle.
Almost half of respondents said their memories of Liverpool's waterfront were connected to the city's history and heritage. This was reflected again where 79% said they wanted the new park to include heritage signs and historical information.
When asked what they would like to see in the park that would encourage them to visit regularly, seating and café facilities, cleanliness, security and accessibility were the most important factors to ensure their regular use.
If planning is approved by Liverpool City Council, Central Park would become one of the city's largest green spaces, spanning 1.9 hectares – or 4.7 acres – which is roughly the same size as Liverpool and Everton FCs' pitches combined.
Central Park will be in Central Docks, just south of Collingwood Dock by the historic Stanley Dock Tobacco Warehouse and is part of the next stage of Peel L&P's Liverpool Waters development
The public consultation and engagement strategy was designed to clearly communicate Peel's vision and the processes involved, provide opportunities for people to ask questions and give feedback, and to highlight common themes in response to the feedback given.
Three in-person consultation events took place within local neighbourhoods that are in close proximity to the proposed site, and leaflets were distributed to 2,448 homes. A link to an online feedback form was included which was also heavily promoted in local media, both online and in print.
More than 140 responses were received through the online consultation form and 157 people attended the in-person consultation events.
Chris Capes, Peel L&P's development director for Liverpool Waters, said: "We are delighted with the overwhelming support we have received for Central Park from the local community and from stakeholders and we are extremely grateful to everyone who has taken the time to engage with our consultation.
"The plans that we will submit to Liverpool City Council have been altered to respond directly to the feedback that was received through this engagement exercise, and we are confident that the current plans reflect the best version of Central Park that Peel L&P and Liverpool can be proud of."
He added: "We want Central Park to become a destination for everyone and a place where people can visit and relax with their family and friends. We know the docks are very special to everyone in the city and green space has never been so important, both for our physical and mental health and wellbeing, but also as a way of absorbing air pollution.
"Being able to create a new large public park at the heart of the city in an urban environment is really exciting."
Peel will host further engagement events on Liverpool Waters over the next six months.