Public consultation launched on plans to create new Liverpool waterfront park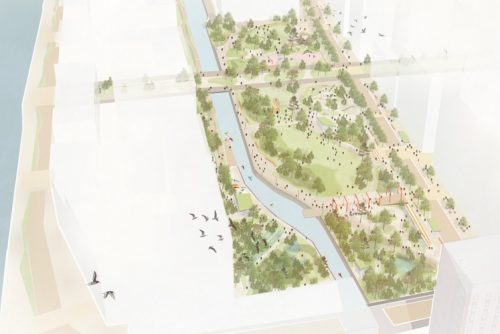 Manchester developer, Peel L&P, has launched a public consultation on plans to develop a new public park at its £5.5bn Liverpool Waters site.
Central Park, covering 4.7 acres, equal to both Everton and Liverpool FCs' combined pitch sizes, will be situated south of Colingwood Dock, near the iconic Tobacco Warehouse.
If approved, the proposed park space would be one of the city's largest publicly accessible green spaces.
It follows investment by Peel L&P in similar schemes, such as Wirral Waters, where a new pocket park was completed recently and the creation of wildflower meadows within the award-winning MediaCity gardens at Salford Quays.
Chris Capes, Peel L&P's development director for Liverpool Waters, said: "Green space has never been so important. Not only for our physical and mental health and wellbeing but also as a way of absorbing air pollution. Being able to create a new large public park at the heart of the city in an urban environment is really exciting.
"It's fantastic to have reached this next stage in our journey. Despite the challenges of the last couple of years, we've been busy working behind the scenes, so it is great to be able to share our proposals and have a conversation about what a new park could mean to the local community."
Designed as a park that offers something for everyone, the vision for Central Park is guided by five ideas:
A place for people – a place that people will want to visit to socialise, play and relax and can be enjoyed in lots of different ways
A place for nature – the opportunity for wildlife to thrive in different habitats and become a place that brings people and nature together
A place for learning – where people from all walks of life can come to learn about the site's heritage, biodiversity and its unique response to climate change
A place for sustainability – exploring ways to re-use the site's existing heritage materials such as cobbles in creative and innovative ways to minimise environmental impact and enhance the sense of place
A place for water – it will bring people closer to water with walks and views along the canal, access points for water sports as well as educating people about the water cycle through the park.
The proposals for Central Park are the next phase of Liverpool Waters, the plan to transform 60 hectares of former dockland along the River Mersey into vibrant, sustainable, mixed use neighbourhoods that offer low carbon homes, great places to work and inspiring venues to visit for leisure and events.
Chris added: "We really want Central Park to become a destination for everyone and a place where people can visit and relax with their family and friends.
"We know the docks are hugely important everyone in the city which is why our design is driven by the regenerative nature of Liverpool's waterfront to form strong connections between people and nature. And we are really keen to have a conversation to find out what people like to see in parks and how they use them."
Current developments on the Liverpool Waters site include Everton's new £505m 52,888-seat stadium at Bramley-Moore Dock to the north of the land, and a new Isle of Man ferry terminal further south.
The team at Liverpool Waters has created a dedicated website to capture people's comments which can be found at www.liverpoolwatersletschat.co.uk.
There are also two informal drop-in sessions with refreshments on Thursday, May 12, 4pm-7pm, at Ten Streets Social, 8 Regent Rd, Liverpool, and Monday, May 16, 4pm-7pm, Silvestrian Suites, Silvester Street, Liverpool.