Combined authority backs solar panels group buying scheme to cut energy costs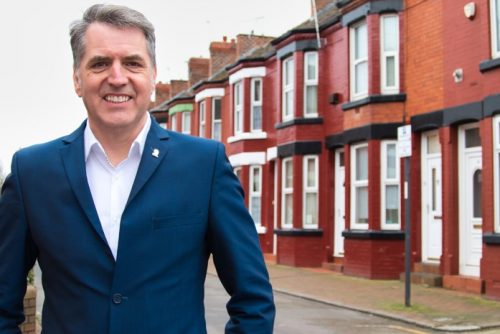 Liverpool City Region mayor, Steve Rotheram, has launched a group buying scheme for solar panels and battery storage to help home owners cut their energy costs.
Solar Together will enable home owners to buy solar panels and battery storage helping them to cut their energy costs while also reducing their carbon emissions. There is also an option to have electric vehicle charging points fitted.
Steve Rotheram said: "Rising energy bills are piling an incredible amount of pressure on households across our region, with many families struggling to keep up with the spiralling cost of living. We are in the process of installing energy-saving features to more than 5,500 properties across the Liverpool City Region, helping reduce energy costs for low income households while also reducing their carbon emissions.
"In this day and age, everyone should be able to live in a safe, warm home that doesn't break the bank to heat. We're already investing almost £60m through our retrofitting programme to help put money into the pockets of thousands of our most disadvantaged households – and Solar Together is the next step in that journey, allowing us to help even more people in our community to cut down energy costs."
He added: "Domestic properties account for nearly a third of all the emissions we produce as a city region – so the more energy efficient measures we put in place now, the faster we'll reach our target to be Net Zero by 2040, at least a decade before national government."
Solar Together is also open to small and medium-sized enterprises and places of worship.
The project builds on four years of highly successful Solar Together programmes run across the UK. To date Solar Together has delivered more than 7,000 installations and in excess of 130,000 tonnes of avoided lifetime carbon emissions.
Liverpool City Region Combined Authority is working in partnership with Halton, Knowsley, Liverpool, Sefton, St Helens and Wirral councils, and independent experts iChoosr, to make the transition to clean energy as cost effective and hassle-free as possible.
Cllr David Baines, Liverpool City Region Combined Authority portfolio holder for climate emergency and renewable energy, said: "We know that many people are interested in installing solar panels both to cut their energy bills and to do their bit for the environment but may have been put off by finding a trustworthy contractor or just because the process seemed too complicated.
"Solar Together aims to address those concerns and give residents a simpler way to make the leap. We know that we will need to halve our total energy use as a city region to hit our target of being net zero carbon by 2040 or sooner and every house and business that can produce its own energy takes it that much closer to our target."
Householders can register online to become part of the group for free and without obligation. Pre-approved UK solar PV suppliers participate in an auction on September 27. They are able to offer competitive pricing as the volume and geographic concentration makes it possible for them to realise greater efficiencies, which they pass on with lower prices for installations.
After the auction, registered households will be emailed a personal recommendation which is specific to the details they submitted in their registration. If they choose to accept their recommendation, the specifics of their installation will be confirmed with a technical survey after which a date can be set for the installation of their solar PV system.
Telephone and email helpdesks are on hand throughout the whole process which, together with information sessions, will allow households to make an informed decision in a safe and hassle-free environment.
Marie-Louise Abretti, iChoosr UK solar manager, said: "With energy prices continuing to increase, residents of Liverpool City Region are looking for opportunities to reduce their carbon emissions, save on energy bills and increase their independence from the grid. The Solar Together group buying scheme offers a straightforward way to make an informed decision and to access a competitive offer from a trusted, vetted provider."
The Liverpool City Region Combined Authority has already fitted energy saving features free of charge to more than 1200 properties occupied by low income households across the city region, as part of a £60m programme to fit such features to 5,500 homes.