People: CoolKit; Myerson Solicitors; OT Group; Falconer Chester Hall; Hurst; Beever and Struthers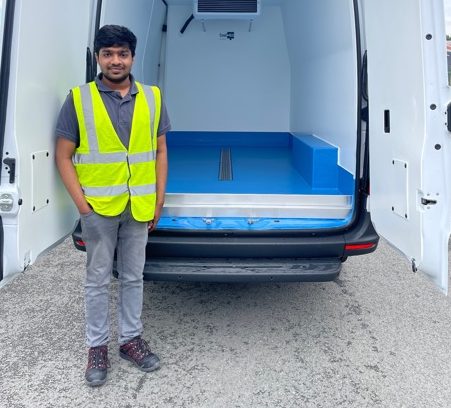 CoolKit, the Burnley-based manufacturer of temperature-controlled vans, has appointed a graduate process improvement engineer to upturn operational efficiency across the business as it continues its strong growth trajectory.
Akash Kumar has joined the business via the Manchester Metropolitan University's Knowledge Transfer Partnership (KTP), a UK-wide programme led by qualified graduates that helps businesses improve their competitiveness, innovation, and productivity through the sharing of knowledge, technology and skills.
CoolKit is widely recognised as a pioneer of highly innovative temperature-controlled and refrigerated light commercial van (LCV) conversions and conversion kits used by the pharmaceutical, foodservice, retail and courier sectors.
It recently reported a revenue increase of 50% and a 233% surge in pre-tax profits for its financial year ending June 2022.
As part of his role, Akash – who holds a Masters in engineering management – will provide support to CoolKit's senior management team. He will focus on operational efficiency, rethinking and maximising existing systems and processes to increase output for its customers, and unlock more value for the business.
In addition, he will be working on the design and implementation of a new modular customisation solution that will enable CoolKit to reduce manufacturing time and meet the needs of the evolving refrigerated LCV industry as it targets international markets.
Danny Hough, head of technical and development at CoolKit, welcomed Akash to the team and said: "We look forward to taking advantage of the Knowledge Transfer Partnership to see how we can evolve the way we work and further increase our product innovation."
Akash said: "It's fantastic to have the opportunity to be part of the CoolKit team through the KTP. I was initially attracted to the business as it is already a market leader.
"It's an exciting time to join as there is so much opportunity to support its growth and expansion. I look forward to working with all departments to see how we can increase efficiencies across the board."
::
Altrincham-based law firm, Myerson Solicitors, continues its growth with the addition of Leo Rossiter, who joins the firm as a partner within the commercial property team.
The firm has recently celebrated its most successful year to date, alongside winning 'Commercial Property Team of the Year 2021' at the Manchester Legal Awards. The team continues to expand its expertise and number of legal specialists with the appointment of commercial property lawyer Leo.
He joins the firm from Knights, where he was a partner in the Manchester office. Leo has worked on a range of large high value matters for property investor clients throughout the country. He also regularly provides corporate support on multimillion-pound commercial transactions, as well as expertise in finance/refinance work and landlord and tenant matters.
Leo has led teams across various offices and disciplines, from the multimillion-pound purchase of a retail park in the North West, to re-financing various property portfolios.
Joanne Perritt, partner, and head of the commercial property team at Myerson Solicitors, said: "Leo's knowledge and experience enable him to advise our ever-growing client base and will allow us to expand our quality service to new clients and professionals alongside our existing clients and contacts at Myerson Solicitors.
"The addition of Leo adds to the property team's continuing growth over the last few years, making us now one of the largest teams in the North West."
::
OT Group, a provider of business services and workplace solutions, has bolstered its management suite, with a duo of new roles.
Its new head of digital solutions and a business solutions manager bring 50+ years of collective experience, as the firm aims to offer more than one million products to customers by the end of 2022 – and three million by the end of 2023.
Experienced industry professional Paulene Samuels joins the team as head of digital solutions, armed with 32 years of industry knowledge. Having helped with the consolidation of Office Depot Europe's ecommerce team, Paulene has moved to OT Group to drive forward the firm's next chapter of growth.
She said: "My role will be to define the digital roadmap for OT Group. I'm here to encourage collaboration between departments while being the voice of the customer – understanding their ever-evolving needs and how that translates into development and innovation for our digital solutions.
"While I am new to OT Group, there are some familiarities within the unfamiliar, and I'm looking forward to working alongside everyone within the business to drive our offering forward – delivering solutions that are effective, efficient, and enjoyable to use."
Meanwhile, newly-appointed business solutions manager, Emma Foster, will spearhead the charge to take OT Group's online product range to its three million SKU ambition as part of its place on Crown Commercial Service's tail spend framework – as well as its commitment to drive innovation within the dealer community.
Based in OT Group's Ashton-under-Lyne head office, Emma has previously worked with companies, suppliers, and exports worldwide, and brings 20 years of process and project management experience.
Emma said: "The beauty of this role is no-one held it before me, so I have a completely clean slate to build a strategy based on the business needs. It's a really exciting time to join the group, with lots of change on the horizon, and it's good to be a part of the evolution of OT Group.
"I'm originally from a technology background, so I'm keen to explore other service opportunities for OT Group, in order to improve customer experience and retention while driving the wider business vision. There is great opportunity within the organisation at present, with lots of change, upheaval, and process updates – I'm thrilled to have a role in the next chapter."
::
Architects Falconer Chester Hall has made three promotions as the firm strengthens its team following a string of new instructions.
The 76-strong practice, which has offices in Liverpool, Manchester and London, was recently appointed to deliver a series of high profile hotel and residential schemes in the North West, Bristol and central London for clients The Other House, Fragrance Group and Watkin Jones.
The promotions straddle the firm's Liverpool and Manchester offices and are, Alastair Wake, promoted from senior architect to associate in Liverpool, Deborah McLean, promoted from senior architect to associate, in Manchester, and Jack Farrell, promoted from architect to senior architect, in Liverpool.
Director, Alastair Shepherd, said: "For each of the 25 years that we have been in business we have promoted from within and that will remain key to our people philosophy. One of the reasons for our growth is the strong DNA that underpins how we work and how we serve our clients.
"Promoting staff is a great way of recognising not just personal achievement and progression, but also further embedding our proactive, forward thinking culture. I'm delighted for Alastair, Deborah and Jack, each of whom has worked incredibly hard and with great skill."
FCH is one of only three North West-based firms to make the coveted AJ 100 rankings of the country's top architecture practices. The practice specialises in hotel, residential and commercial developments, with other current clients including Fragrance Group, Unite Students, Peel, Moda Living, Legacie and ForViva.
::
Accounting and business advisory firm Hurst has strengthened its tax advisory team with two new recruits.
Chartered tax adviser Sam Ryan has joined from Crowe UK as an associate tax manager. He will be using his expertise to advise clients on a range of matters, including transactions, group restructuring and succession planning.
Hurst has also welcomed Joseph Bourke to its tax team as a graduate trainee. He recently graduated with an accounting and finance degree from Manchester Metropolitan University.
Liz Gallagher, head of Hurst's tax advisory team, said: "We are really pleased to welcome these two talented individuals to the firm and in particular to our tax department.
"Due to the rapid growth in our client base, both in terms of numbers and sophistication, we are experiencing an ever-increasing demand for high quality taxation advice, and we are constantly on the lookout for new additions to our highly experienced team."
Joseph is the latest graduate to join Hurst's training programme, following the arrival earlier this year of Ewan Lawson, Tirath Panesar and Miles Redgrave as trainees in the business services department.
Meanwhile, Jack Skilton has joined the Hurst Digital team on a full time basis after being seconded from the business services team. He joined in 2017 as a trainee chartered accountant.
Hurst created its specialist digital team in 2018 to support companies in embracing technology to drive improved performance and efficiency. It is led by Jo Gibson, a partner in the firm's business services team.
The digital team works with owner-managed companies across the UK to review their operations and implement bespoke digital strategies, including making better use of data, new business reporting methods and the integration and automation of processes. The team also helps businesses to meet the requirements of the Government's Making Tax Digital legislation.
Hurst, which is celebrating its 40 th anniversary this year, focuses on advising entrepreneurial owner-managed companies with a turnover of £5m and above. Clients including entrepreneurial businesses such as Kinaxia Logistics, M&I Materials, London Lash, Beechfield Brands, Duerr's, Oliver Valves and Delamere Dairy.
::
Charles MacMillan is retiring after 14 years as head of the corporate recovery and insolvency team at accountants and business advisors Beever and Struthers.
Succeeding him as head of the team will be director, Fran Henshaw, who established the team with Charles back in 2008.
Having specialised in corporate recovery and insolvency since 1980, Charles joined Beever and Struthers to launch the team with Fran and is recognised as one of the leading insolvency and reconstruction experts in the North West.
Prior to joining Beever and Struthers, Charles was a founder member of Peats' insolvency team in Manchester in 1981, and the creator of BDO's insolvency team in Leeds.
Charles said: "Having specialised exclusively in insolvency related matters for more than 40 years I feel I'm due some sort of accolade. Whether that be for the quality of advice and determination or for sheer foolhardiness is for others to judge.
"Most of my career has felt like Groundhog Day. I was a founder member of Peats first insolvency team in Manchester in 1981, the creator of BDO's insolvency team in Leeds, and with Fran, set up Beever and Struthers' insolvency team. Starting again seems to be my speciality so retirement feels like yet another start.
"The one sure thing is that during that time I have been lucky enough to meet and work with many talented professionals and most of them have become good friends. This is reward enough for me.
"The past 14 years with Beever and Struthers have been thoroughly enjoyable and I leave my friends there with a heavy heart. The move to the exciting new offices at One Express will no doubt see them continue to thrive, and I wish them every success going forward."
Fran said: "I'd like to express my personal thanks to Charles for his guidance and support over many years and wish him all the best for his retirement. My appointment will assist with a seamless transition for the team as we continue without Charles."
She has a wealth of experience, having advised distressed businesses, and dealt with formal insolvency work since 1989 and alongside Charles since 2008.
Fran qualified as an accountant with ACCA in 1995 and is currently a member of ICAEW. Having passed her insolvency exams in 2001 she holds an insolvency licence, which allows her to take formal insolvency appointments.
Executive partner Maria Hallows, speaking on behalf of the partners, said: "Charles has played a key role in the development of the firm and will be greatly missed. We have every faith in Fran and her team to continue to provide a first class service to existing and future clients coming to us."
Beever and Struthers is moving to the iconic One Express building in Ancoats, Manchester, and will relocate from its current head office at St George's House, Chester Road, Manchester, this autumn.