Plans for Liverpool hotel development recommended for approval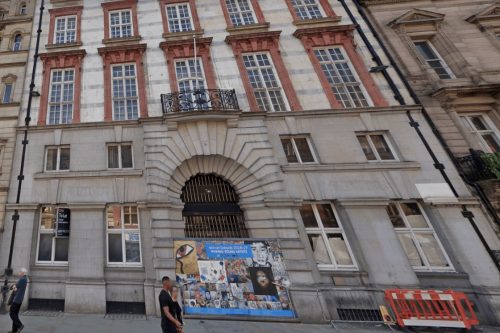 Liverpool City Council planning officers are recommending approval for the conversion of a former bank building into a 92-room hotel.
The applicant, Liverpool-based bar and leisure operator JSM Company Group, wants to create the amenity in the former NatWest bank on Castle Street, in the heart of the city's business district.
Councillors will consider the application at next week's planning committee, on September 13.
The property comprises two buildings, from 20-34 Castle Street, which are four storeys high. The proposal includes plans to add a two-storey rooftop extension at the rear of the Grade II*-listed property.
Twelve rooms will be wheelchair accessible, with the possibile future conversion of a further eight rooms for wheelchair use.
Plans include two restaurants/bars on the ground floor and basement area.
The original bank building, completed in 1902, was designed by Norman Shaw for Parrs Bank. NatWest vacated the property in 2017.
JSM, headed by Jamie Motlagh, said it wants to "respond to the continued evolution of the area", which includes several bars and restaurants, such as Mowgli, Rudy's Pizza and Gina D'Acampo.
Liverpool-based Wroot Architects said: "The front elevation of the development, facing Castle Street, will mostly remain the same. This will uphold the strong character of this iconic area of Liverpool."
Also before the committee next week will be a proposal to build a three-storey production unit on Estuary Commerce Park, Speke.
Chinese pharmaceutical group Pharmaron Biologics acquired the site for cell and gene therapy work in March, 2021, in a $118.7m deal with previous occupier Allergan Biologics, which employed more than 150 staff.
Pharmaron is proposing to build the new production and laboratory facility as the first of a three phase development.
Later phases include a 400-space multi-storey car park, followed by warehousing and office facilities.
Planning officers are recommending approval for the scheme.
Also, close to the pharmaceutical site in Speke, family-run Home Bargains group, TJ Morris, has applied for permission to build warehouses and office space on a vacant five-acre site on the northern side of Speke Boulevard to the east of the Boulevard Retail Park which comprises a Home Bargains flagship store and other retail units.
The scheme, of around 100,000 sq ft, over two floors, also includes plans for car parking, a services yard and external works and landscaping.
Council officers recommend approval for the project.