North West business briefs: Kendal BID; Poke Marketing; Trendsetter; Exchange Quay; 4th Utility; Tristone
Kendal BID has launched an innovative new training initiative, providing more than 200 free online courses to help employees learn new skills and, ultimately, make their employers, and Kendal, even more successful.
The topics range from customer service, sales, retail management, hospitality and leadership to social media, project management, self-development, Office 365 and Microsoft Excel. There are also courses based on mental health awareness and wellness.
Peter Bendling, Kendal BID manager, said: "With so many types of businesses in our town centre this is a great way for us to address the learning needs of both retailers and professional services firms. We really hope that people take up this excellent opportunity to develop themselves and their firms. We believe the new training initiative will help people to learn, perform and succeed."
The BID, which represents nearly 700 businesses in the town, is providing live, online interactive webinars. People can also watch a recorded version of the event at whatever time suits them. A completion of learning certificate can be downloaded by employees for each course completed and they will be given a training record to show as evidence of their personal development. Kendal BID will also issue awards for the most engaged learners.
Mr Brendling explained the need to launch the training initiative: "Obviously, like the rest of the country, there is a shortage in the workforce in Kendal and one of the ways businesses can help to attract people to work for them is to offer training. The courses also help an employer with its team development goals and, for the employee, the training will boost their job prospects in the future."
The training initiative has been launched in partnership with SeedL, a virtual live learning subscription service. Jo Shepherd, SeedL's chief learning officer, said: "Our partnership with Kendal BID is really going to be game changing for businesses in the town."
::
A 'disruptive' creative agency based in Liverpool has unveiled its new vision for tourist destination Oxford River Cruises. Poke Marketing, which was established in November 2020, was chosen over its London competitors to rebrand the business's overall offering, which attracts hundreds of thousands of visitors per year and has been in operation in the historic town for the past 18 years.
Led by Andrew Binns, Mark Harrington and Nicola Docking, the Poke team took the wheel in creating a new brand identity for Oxford River Cruises, which aligned them with their sister company The Folly. They have introduced a more audience-focused website, emotive copy, imagery and videos, an email marketing campaign, and a thought-out search strategy themed around 'Time to drift away', allowing visitors to 'see life through a pleasurable lens'.
Head of strategy, Nicola, said: "We are really proud to have worked on this one and getting the ORC team's complete trust was extremely important to us. We are allies for our clients, not a provider of services, and that's exactly what happened on this particular project.
"As a business, our objectives are simple. We exist because companies need to make an impact, and through the segmentation of audiences, creation of contextual messaging and the delivery of work, we have that direct impact. We put in place robust KPI frameworks that identify the customer engagement journey showing the shift from unaware to conversion, and it's this approach that is key to showing marketing as an essential part of hitting commercial objectives."
Andrew Binns said: "Bringing in experience from working on Madison Avenue in New York for four years, we were determined to shift the perception that agencies were lacking. We didn't win some work at the start because we were so stringent in our insights-led approach and we refused to fall into the 'we just want a website/logo' mentality that some clients have."
::
Trendsetter, the Manchester-based sustainable bedding manufacturing house and parent company of The Fine Bedding Company and Night Owl, has announced its global certification as a B Corporation.
The brand joins an international movement of 4,500 purpose-led businesses that meet B Corp's high standards of social and environmental responsibility and transparency. Based on the B Corp assessment, Trendsetter earned an overall score of 84.3, performing particularly high in the 'environment' and 'worker' sections, being recognised for its commitment to sustainability, continuously innovating and investing in ways to reduce its ecological footprint.
The certification process entails a deep dive into the DNA of a company to understand how they operate, taking up to 10 months to complete. The BI Assessment of more than 200 questions and a following verification process meant that Trendsetter had to meet high social and environmental performance, accountability, and transparency to qualify.
Trendsetter says it puts sustainability at the heart of everything it does. By 2025, it aims to have a completely carbon neutral factory, and by 2030, the brand will be fully circular, reducing its greenhouse gas emissions in line with the 1.5C Paris Climate Agreement.
Managing director, Claire Watkin, said: "B Corp certification reflects our long standing Trendsetter commitment to building sustainability into every fibre of our products, to ensure we grow in a responsible way that minimises its impact on people and planet."
::
Exchange Quay, Manchester's 435,000 sq ft flagship office campus, has launched a new workplace wellness partnership with Urban Reform as part of its health and wellbeing strategy to support occupiers and staff in a post-COVID world.
Manchester-based health and wellbeing business Urban Reform offers a diverse team of health coaches who specialise in helping city centre businesses and their staff take ownership of their health, happiness and lifestyle choices through a series of wellness programmes and workshops.
The pandemic has adversely affected mental health with more and more employees needing, and increasingly seeking, additional support from their employers. Exchange Quay said it recognises and embraces wellbeing for its occupiers and the new collaboration aims to educate, encourage and motivate more than 4,000 campus workers to create and develop new habits to look after their health and wellbeing.
Luke Podmore, health and wellbeing leader and PT at Urban Reform, said: "We believe happier and healthier employees are the key to achieving long term success in business with talent increasingly seeking companies with a strong health and wellbeing agenda."
Les Lang, director of Till AM, said: "We think the wellness programmes will help in multiple ways from combating lower motivation and energy to improving morale, addressing and helping with anxiety and mental health needs, educating on nutritional and health choices, empowering people to take control of their health and fitness journey and so much more."
::
Full fibre broadband provider 4th Utility and Premiership Rugby club Sale Sharks have teamed up for a third consecutive season. The company, which is based in Hale, has agreed terms on a fresh deal with the club which will see 4th Utility branding continue to feature on the players' home and away kits for the 22/23 campaign.
The news comes as Sale Sharks prepares to kick off the new season against Northampton on Friday evening, having secured the signings of England stars George Ford and Jonny Hill during the summer.
Tony Hughes, 4th Utility CEO, said: "It's fantastic to be on board with Sale Sharks for another season as we look forward to what we hope will be a very good campaign. As a business we've always called Manchester home, and as a club partner we're able to play a key part in supporting the club's growth plans, as well as building on our own through this exciting new deal."
Mark Cueto, former Sale Sharks and England player and sales director at 4th Utility, said: "Linking up with Sale once again is brilliant news, and it's, of course, a club I know very well having spent many fantastic years there on and off the pitch. They've made a number of impressive signings with the likes of Ford and Hill joining up and have also brought lots of new young talent through. They're in safe hands under coach Alex Sanderson and everyone at 4th Utility wishes them all the best for the season."
Sid Sutton, CEO at Sale Sharks, said: "As a club we have a strong track record of working closely with exciting and ambitious businesses like 4th Utility. Their support is a big boost to our club."
::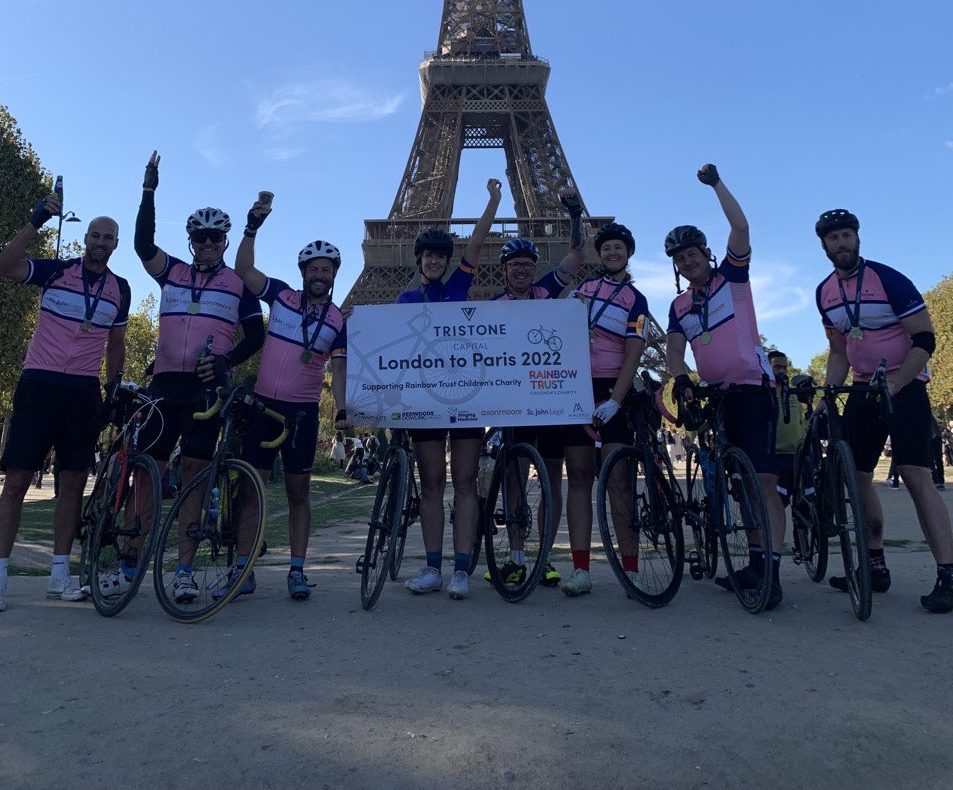 A team of fundraisers from Tristone Capital has completed the 309-mile charity cycle challenge from London to Paris, raising more than £18,000 for charity.
Over four gruelling days, following 16 weeks of training, the nine-strong team, led by Tristone CEO, Yannis Loucopoulos, crossed the finish line in Paris last Saturday, clocking up more than 23 hours in the saddle.
The cycling achievement, which included 15,468 feet of ascent during the daily 75-mile challenge, was in aid of the Rainbow Trust Children's Charity – an organisation that provides emotional and practical support for families that have a child with a life-threatening or terminal illness.
Yannis said: "At Tristone Capital, we're extremely passionate about making a difference to the lives of those less fortunate than others. Our business community has social impact at the core of everything it does and provides safe, essential care to vulnerable children, young people and adults. Whilst we provide the best possible social care services to as many vulnerable people as we can, we also wanted to play our part in supporting those children with life-limiting or life-threatening conditions through our London to Paris cycle challenge."
He added: "Huge congratulations to everyone in the team on this valiant effort – the blood, sweat and tears were all worth it for such a wonderful cause."