Everton partners with US group in new search for stadium naming rights deal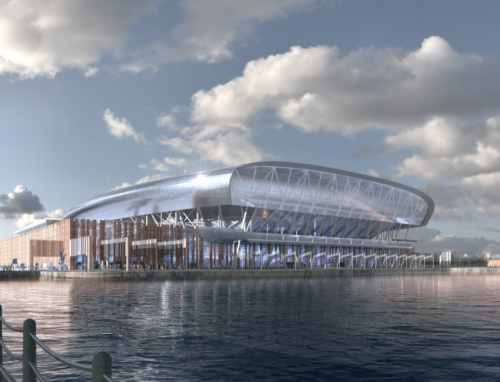 Everton FC has appointed one of the world's leading sports and entertainment consultancies in a bid to secure naming rights for its new waterfront stadium.
California-based Elevate Sports Ventures will work with the club on a bold revenue generation programme, including developing a range of new partnership opportunities and a global search for a naming rights partner for the £500m stadium currently under construction.
The search for a stadium naming rights partner has been renewed after Russian billionaire, Alisher Usmanov, was sanctioned by the EU and UK in March, following Russia's illegal invasion of Ukraine on February 24.
Usmanov is behind the Russian-based telecoms company Megafon and holding entity USM, which had sponsorship deals with the Merseyside club, including a £30m agreement made with the club in 2020 for the naming rights option on the new ground.
Following the sanctions, Everton suspended its commercial sponsorship arrangements with Russian companies owned by Usmanov.
Richard Kenyon, Everton's chief commercial and communications officer, said: "It is important that the club capitalises on the many commercial opportunities presented to us by what will be a world class stadium on a world famous waterfront.
"To do this, we needed to find the right partner to ensure we maximised these opportunities, particularly in respect of commercial partnerships.
"Following an extensive process, we were pleased to appoint Elevate as our partner – and from our work with them to date it seems we have made a great choice. We're excited by the opportunities ahead of us, and to be working with Elevate to deliver them."
One element of the club's commercial growth plan at its new stadium commenced last month when 'ALL', described as a revolutionary re-set of traditional football hospitality, was launched.
The demand for the bars, restaurants and experiences at the new stadium is expected to match the existing high levels of uptake for season tickets and hospitality at the club's current Goodison Park home.
Everton currently has the maximum number of season ticket members allowed within Premier League guidelines at its 39,572 capacity Walton ground, with more than 20,000 fans on a waiting list.
Shawn Doss, Elevate Sports Ventures chief business officer for international, said: "Everton's ambition to create one of the most premier stadiums in the world, on such a unique piece of property, has the potential to change the club's legacy and the City of Liverpool forever.
"We are honoured to partner with Everton as we support their efforts to deliver the most sustainable, technologically advanced and fan-friendly football stadium in the Premier League. Everton and Elevate are aligned and confident in our shared commitment to create a best-in-class experience for Everton fans, players, partners, and the wider Liverpool community."
Everton's new home on Liverpool's north docks is the largest single site development under construction in the UK. Global commercial real estate and investment firm, CBRE, estimates Everton's new stadium and associated developments could deliver a £1.3bn boost to the nation's economy, create around 15,000 jobs and attract more than 1.4m visitors to the city of Liverpool.
Construction of Everton Stadium started in August 2021 and in the past 13 months, the engineering feat of infilling the dock basin with sand dredged from the Irish Sea has been completed, non-listed structures have been demolished, and the foundations for the brick, glass and steel structure laid.
The skeleton of the stadium is now clearly visible as the steelwork on the North and South stands is erected.
Everton's new ground is acting as a catalyst for more than £650m-worth of accelerated regeneration directly benefiting North Liverpool and the wider city.