£105m deal enables start on next First Street office complex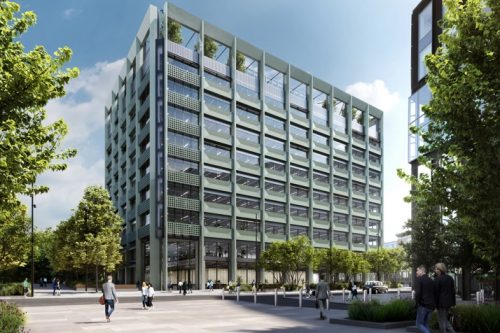 The next phase of office development at First Street, in Manchester, will start immediately.
This follows completion of a £105m transaction between Ask Real Estate and its joint venture partner, the Richardson Family, and Pension Insurance Corporation.
The latest development will be a 130,900 sq ft Grade A office building which has been fully pre-let to the Government Property Agency (GPA) for its Manchester Hub on a 25-year lease.
In line with Manchester's target to become a zero-carbon city by 2038, the next generation office building, designed by Jon Matthews Architects, will be operated as a net zero carbon space.
The building features a dedicated cycle hub with storage for 130 bikes, co-working and breakout spaces, private roof terraces and winter gardens providing visual, social and working amenity. Complementing the building will be a series of new green areas of landscaping which will further enhance the high quality public realm which is already a key part of the First Street Estate.
John Hughes, Ask managing director, said: "We're delighted that PIC shares our vision for First Street. We've always strived to deliver high quality, innovative and sustainable developments, and without doubt the GPA hub will be exactly that.
"From a wider perspective, this investment highlights Manchester's continuing strength as a forward-thinking world class city in which to work, live and visit. We are proud to be playing our role by successfully progressing the phased delivery of the First Street Estate, which is now one of the region's most popular workplace destinations."
James Agar, head of long income at PIC, said: "This investment provides us with secure, long-dated and index linked cashflows which are perfectly aligned to serving PIC's purpose, which is to pay the pensions of our current and future policyholders over coming decades.
"Government-let commercial property assets have been an area of specific focus for PIC and we are we are pleased to make this long term commitment to supporting the modernisation of the GPA estate. We expect First Street to be the first development in an expanding partnership with the GPA as it looks to deliver its strategic roll-out for 2025 and beyond."
Clive Anderson, GPA director of capital projects, said: "The First Street development is part of the Government Hubs Programme which will provide a smaller, better and greener estate which supports the Government's ambition to reach net zero carbon emissions by 2050.
"The Government Hubs Programme will also create modern, inclusive environments where departments can be collocated in shared buildings across the UK. This supports the Government's Levelling Up agenda and Places for Growth initiative, encouraging the movement and creation of jobs outside London."
He added: "When the Manchester First Street Hub opens in 2025 it will be home to 2,500 civil servants from at least four different government departments, making it one of the largest hubs for cross-government collaboration and operation outside London."
Cllr Bev Craig, leader of Manchester City Council, said: "First Street is a true exemplar for regeneration at scale, delivering a new mixed used neighbourhood that is a real asset to our growing city centre. It's great to welcome the next phase of the ongoing development."
The Manchester office market is making a strong recovery following the COVID pandemic, with take-up of space increasing by 32% between 2020 and 2021. The outlook for the second half of 2022 is positive with more than 320,000 sq ft of new build office space currently under offer across 15 transactions, which is 34% more space transacted over a similar period prior to the outbreak of the pandemic.
Based on recent historical evidence, demand in Manchester has always met supply. The forecast over the next four years is that this same trend will continue with larger occupiers seeking to acquire 'best in class' office space, which enables them to attract and retain the best talent in a dynamic and thriving city such as Manchester.
The GPA Hub joins office buildings, N01 and N08 First Street where current occupiers include Auto Trader, Jacobs, Ford Credit Europe, ODEON, WSP, Lonza and Willis Towers Watson. There is an array of cafe bars, restaurants and leisure amenities such as WOOD Manchester, The Indian Tiffin Room, Junk Yard Golf Club and Bunny Jackson's. It is also home to cultural venue, HOME, which has five cinema screens, galleries and a book shop.