North West business briefs: Parfetts; Vistry Group; Leasing Options; 92 Degrees; UA92; Sci-Tech Daresbury
Stockport-based Parfetts achieved record sales during the week ending September 18. The company saw sales reach £14.6m, the most in its history.
The wholesaler ran a 'September Savers Trade Week', which attracted record sales across its depot network. The Aintree depot was the best performing and achieved sales of £3.5m during the promotion.
Guy Swindell, joint managing director of Parfetts, said: "Parfetts' employee-owned structure means that it can respond quickly and flexibly to retailers' needs. We're working hard to ensure we protect and increase retailer margins at a time when they really need it."
Parfetts is expanding its calendar of trading events with upcoming promotions, including Halloween, The World Cup and Christmas.
This is a continuation of the company's strategy to provide the cash & carry service retailers need, supported by strong click & collect and delivered services.
Parfetts operates seven depots in Aintree, Anfield, Halifax, Middlesbrough, Sheffield, Somercoates and Stockport. It is opening a Birmingham depot in the coming months.
::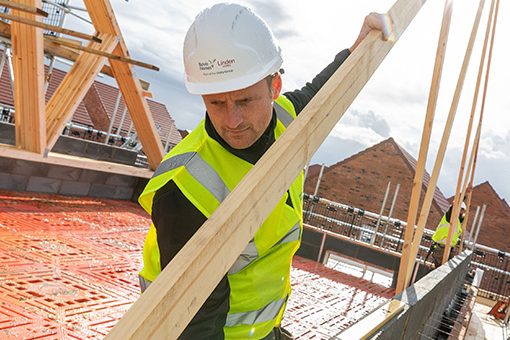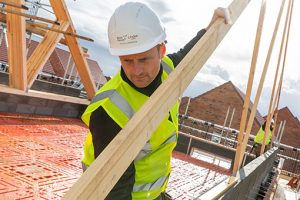 Housebuilder Vistry Group is joining forces with a respected industry body as part of the drive to bring former members of the Armed Services into the sector. Vistry is sponsoring a special insight day in October organised by BuildForce which is being held in Manchester.
The aim is to encourage former and current members of the Armed Forces to consider embarking on a new career in the housebuilding and wider construction sector. BuildForce is an industry initiative which connects military personnel to the construction sector and the wider built environment.
The event, which is taking place at The Fuse in Manchester on October 13, will bring together potential employees from the Armed Forces with industry experts who will be able to give insight into the wide variety of roles on offer in the sector. Vistry Group currently employs more than 100 ex-servicemen and women across its nationwide business in a wide variety of roles.
Caroline Logan, programme director for BuildForce, said: "Our candidates have fantastic transferable skills and the right aptitude and attitude to succeed in the sector.
"This is an untapped talent pool and one of the biggest challenges facing many employers in the current economic climate is the recruitment and retention of staff. BuildForce works with the employer and the military candidate to ensure the right fit which then leads to sustainable employment."
::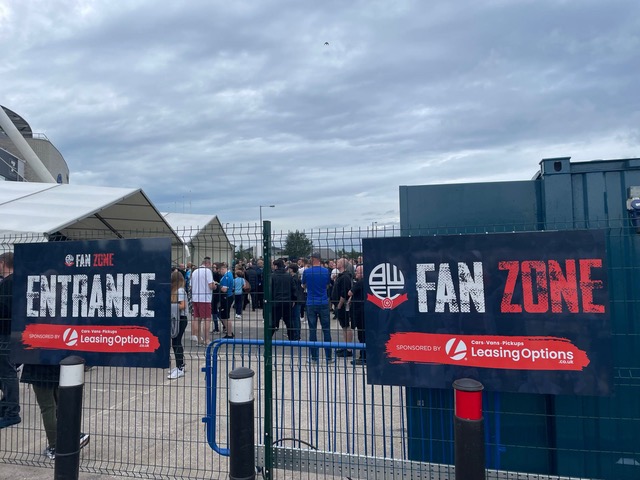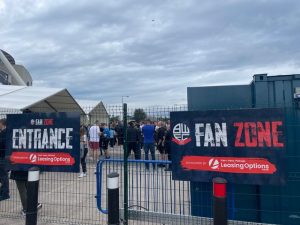 Leasing Options has partnered with League One side Bolton Wanderers Football Club in an investment that is part of a string of recent partnerships and acquisitions and part of the company's long term plans to grow its market share and profile in the UK.
The partnership, which sees the Worsley-based car leasing company join the likes of Macron and Service My Car as partners of the club, includes exclusive naming rights of Bolton FC's Fan Zone, situated outside the West Stand near the Nat Lofthouse Statue. The zone is a place for Wanderers' supporters to get together both pre- and post-match in a relaxed environment to grab a bite of locally-sourced food and to enjoy a drink in the new bar, which has been named in memory of Wanderers' legendary commentator Dave Higson.
With a capacity of 1,000, the outdoor space opens three hours prior to kick off and one hour after the final whistle on Saturdays. For mid-week games, the Fan Zone opens from 5pm and close at 7.45pm.
Mike Thompson, chief operating officer at Leasing Options, said: "To sponsor the mighty Bolton Wanderers is not only a childhood dream for me, but for many of the Leasing Options family. We have a huge number of avid Bolton fans within our team and have always been looking for the right opportunity to get involved with the legendary club."
Neil Hart, chief executive of Bolton Wanderers, said: "Our heritage and pride in being a local club is very important to us and is reflected in everything we do, including working with like-minded, local, companies. Leasing Options is certainly a company that prides itself on its Northern roots and evidently invests its local community and next generation – making it the perfect partners for us."
::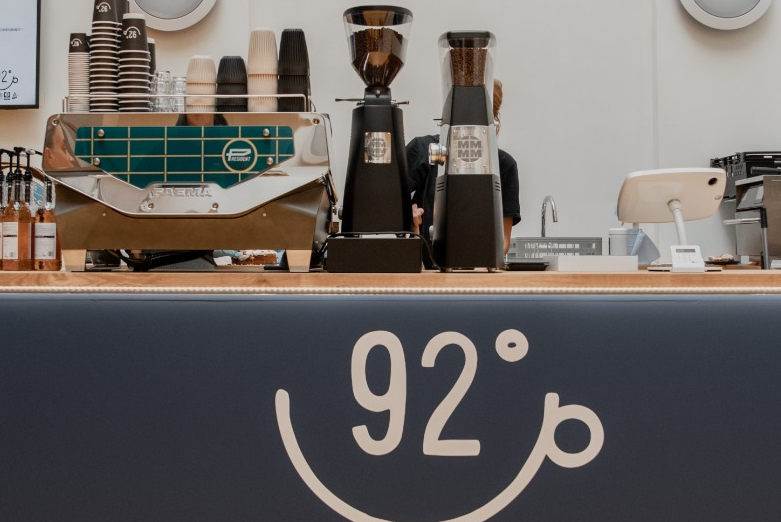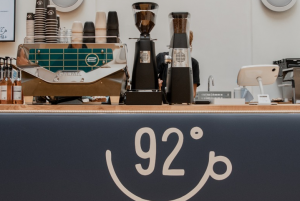 Independent coffee company, 92 Degrees, has opened the doors to its latest site inside The Liverpool Institute for Performing Arts (LIPA). The new store, located on Upper Duke Street, is on the building's ground floor and will serve both students and staff that are based at the world-renowned provider of university-level performing, creative arts and training.
Currently operating in Liverpool, Manchester, Leeds and London, the announcement is part of Liverpool-based 92 Degrees' ambitious growth plans to double its stores every year for the next two years, which it is currently on track to do. Led by founder and CEO Jack Brewitt, the brand recently launched a site in Manchester's Spinningfields and is set to open in both Edinburgh and Glasgow in the coming months.
Jack said: "We are super excited to have opened our new site at LIPA because it's such a prestigious organisation that really does lend itself to what 92 is all about – innovation, diversity and community, among other things. We're looking forward to welcoming the campus's students and academics through our doors, and with students already being one of our key demographics, it enables us to reinforce our reputation and presence while developing our growth plans for the remainder of 2022."
Established in Liverpool's Georgian Quarter in 2014, 92 Degrees started life as an independent coffee shop and roastery. Today it employs more than 100 staff. Jack added: "Having operated for the past eight years, we've learnt that recruiting and developing local talent in parallel to advocating local suppliers is a winning combination and although the success of the company is pivotal, our brand is all about people.
"Ultimately, what we have accomplished is a reflection of our collective drive for innovation and because we execute ideas month on month to the high standards that our customers expect."
::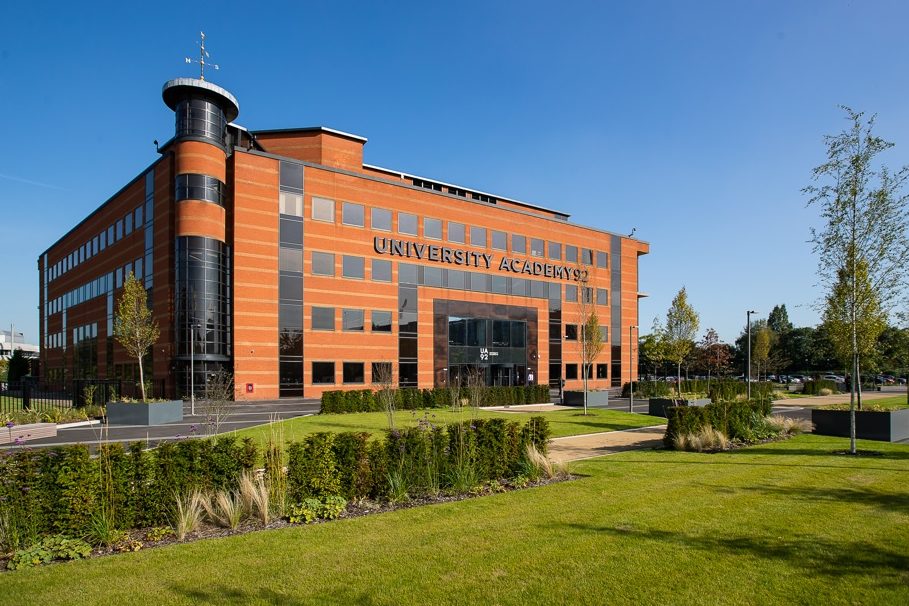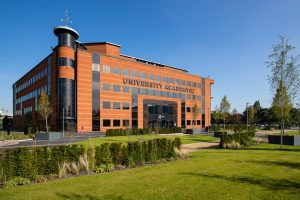 University Academy 92 (UA92), Greater Manchester's higher education institution, has opened its multimillion-pound Digital Academy, on the second floor of its Old Trafford campus.
Having received a £2m funding grant to develop the space from independent regulator, the Office for Students (OfS) earlier this year, UA92's Digital Academy space will create an extra 380 places for students taking digitally-led courses, meeting increased demand for digital upskilling across the North West.
Facilities include a robotics lab, a fully immersive 360-degree Igloo learning space, AR capabilities in classrooms and digital media labs. It will be utilised by a range of students including those completing undergraduate computer science degrees, digital bootcamps and apprenticeships. Certified short courses, such as DevOps, Cloud, Linux, data science, cyber security, AR, VR and AI will also be run at the academy.
Sara Prowse, UA92 CEO, said: "The launch of this incredible facility is a major step forward for UA92. With this opening, we can act as a catalyst for digitally upskilling young people and mature students across the North West region, raising aspirations and helping to plug the skills gap.
"We know that access to high quality and industry-led education within a digitally-enabled learning environment is proven to boost employability and open opportunities, and that's why our launch is so important for our current and future students, as well as the wider region."
::
Sci-Tech Daresbury has released its annual line-up of 11 strategic organisations that will offer first class business support, expertise and services for its high-tech SMEs in the coming 12 months.
IBM, Marks & Clerk, Michael Page, Connectus, RTC North, Slater Heelis and the University of Liverpool will return once again to serve as the campus's Gold Partners for 2022/2023 and will this year be joined by Catax, Guardian People Management, David Antrobus Marketing and Vista Insurance Brokers.
The Gold Partners are a group of handpicked organisations that enhance the benefits for businesses located at Sci-Tech Daresbury across a range of areas, including legal services, financial and tax management, insurance services, AI and data analytics, intellectual property, marketing, talent recruitment and retention, HR services, scientific research, technology commercialisation and IT infrastructure, cyber security and cloud solutions.
The returning members of the Gold Partnership programme bring with them valuable insights and experience from their previous years within the programme. New member, David Antrobus Marketing, brings a fresh take on successful marketing, alongside Catax, experts in tax relief and capital allowances programmes. Also joining is Guardian People Management, which will be able to provide effective HR solutions to the campus and Vista Insurance, which has the knowledge to provide specialist advice in several different insurance services.
John Leake, business growth director at Sci-Tech Daresbury said: "Collaboration is at the heart of everything we do at Sci-Tech Daresbury. We are grateful that many of our Gold Partners are continuing their mentoring journey, and we are certain that our smaller-sized companies will continue to benefit from their knowledge, support and expertise. The newly-joining businesses will bring fresh perspectives and key knowledge and expertise to the Gold Partnership."