Huge surge in complaints about state of Greater Manchester roads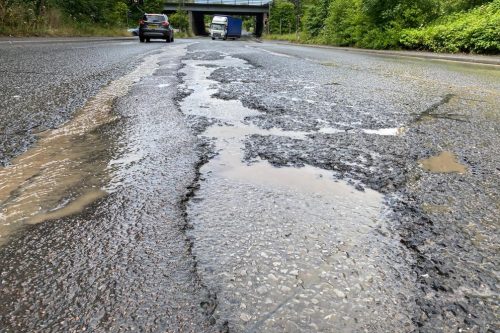 Complaints over road potholes in Greater Manchester have soared, with some councils failing to spend their budgets for repairs.
The latest annual research by Lytham-based small firms champion, the Federation of Small Businesses (FSB) shows road conditions have worsened since the pandemic.
It said, despite spiraling complaints over damaged road surfaces, in some cases by more than 20%, local authorities are lagging in their repairs. Bolton's under-spend on its allocated repairs budget was a massive £2.35m, despite claims for damage caused to vehicles rising by a third since 2019.
The FSB – which usually carries out the research every year but paused during the pandemic – says the data shows some councils are struggling to carry out repair work that will be leading to growing backlogs and increased complaints.
Robert Downes, FSB development manager for Greater Manchester, said: "Our latest research shows complaints over potholes are up, and the number of claims for damage to vehicles continues to climb higher in most council areas, even though road traffic is down significantly with the pandemic triggering a work from home culture.
"Despite this, four out of the 10 authorities in Greater Manchester are under-spending their road repair budget – and in some cases by significant amounts. Why is this?
"However, the research has also shown that some councils are spending considerable sums on addressing potholes, with some authorities – notably Stockport – pumping in huge amounts of cash to fix the problem, and even overs-pending huge sums on allocated budget to do so," he added.
The FSB research, carried out through Freedom of Information (FOI) requests submitted to town halls, shows Manchester Council had the highest number of legal claims for damage to vehicles by poorly maintained roads at 248 claims last year. Salford had the lowest.
Stockport Council had the highest number of complaints about potholed roads, with 8,770 complaints – equivalent to around 24 a day. The council with the fewest complaints was Tameside with 1,651 for the year.
Robert Downes said: "We do this analysis not because we're having a pop at councils, but because we know the vast majority of businesses in Greater Manchester rely on the road network more than any other type of transport infrastructure for the smooth running of their operations.
"Roads are vital for local economies to attract business investment, for firms to trade, get customers through their doors, in to town centres, to get deliveries out on time and stock in, staff to get to and from work – we need a resilient road network and I think most road users would agree that's not the case."
He added: "We know transport infrastructure underpins jobs and growth, and so we need councils and the other maintaining bodies like National Highways (former Highways England) to keep on top of the road network. When roads are left to crumble, small job become big jobs, all too often requiring major roadworks and road closures. That slows everything down, so more traffic jams, and as we know, more pollution.
"Also, consider the mayor's huge push to get people on bikes. Unsafe roads littered with potholes will do little to tempt many on to two wheels. How can that be right?
"Ultimately, councils need more cash from government to get ahead on road repairs and maintenance, but perhaps more troubling is the evidence some councils might be struggling to spend their allocated budget, despite the growing problem? Is that a manpower issue, or something else?"
He concluded: "I would urge all road users to report potholes immediately. If councils don't know about a problem, they can't fix it."