People: Lloyds Bank; DF Capital; Azets; DCB Legal; Kingsland Drinks Group; Gateley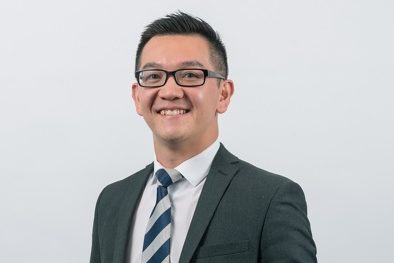 Lloyds Bank Corporate & Institutional Banking has appointed a new head of its North West team supporting large corporate and institutional businesses in the region.
Chris Yau, based in the bank's Manchester office, will lead the North West-based team as it continues to increase its support of businesses across the region with revenues of £100m and above.
He will be responsible for leading Lloyds Bank's key activities and initiatives across the North West, as well as recruitment of talent aligned to the bank's ambitions for the region. In his new role Chris will serve as regional head of the North West for the bank's corporate and institutional banking division and as director of origination and sustainability for its housing team.
Chris joined the bank in 2018 from RBS, where he had spent 11 years as a relationship director for businesses ranging from mid-market businesses through to large corporates.
In his current role as director for origination and sustainability for housing, Chris is helping the sector in its transition to a low carbon economy through the delivery of ESG and sustainability finance, as part of the bank's ambition of shaping finance as a force for good. He has recently advised on financing support for L&G, Platform Housing and Alliance Homes.
Chris said: "The North West has shown itself to be one of the most resilient, thriving, and exciting places to do business in recent years.
"It is incumbent on organisations like Lloyds Bank to ensure that both larger businesses already based in the region and those considering it as a home have the support needed to grow."
Mark Burton, UK head of regions at Lloyds Bank, said: "We are proud of the role we play supporting businesses in sectors like manufacturing, tech and life sciences that will fuel the economic growth and innovations of tomorrow. That is why the North West is a key region for us. Chris brings extensive experience and expertise of corporate banking needed in this new role to bolster the support we're providing businesses across the North West."
::
Manchester-based DF Capital has announced Ciara Raison has joined the bank as its new chief commercial officer to lead its commercial lending function.
As part of DF Capital's senior leadership team, Ciara will report into CEO Carl D'Ammassa. She takes over from Andy Stafferton who has recently been appointed into a newly-created strategic role focused on developing new products, exploring new geographies, partnerships, and new sectors to support the bank's growth ambitions.
Ciara joins from Secure Trust Bank where she held the position of commercial director for V12 vehicle finance. As a Chartered Banker Member with a Masters degree in Mathematics, Ciara has spent more than 20 years working in financial services. During this time she has held senior commercial roles at Close Brothers Motor Finance, Royal Bank of Scotland, NatWest and Aviva.
Ciara said: "DF Capital is a growing influence in the inventory finance market with a clear sense of purpose and ambitious growth plans. I am looking forward to leading and developing the commercial function even further by continuing to delight our dealer and manufacturer customers."
Carl D'Ammassa said: "I'm thrilled that Ciara has joined us on our journey. Her unique dynamism and strong yet supportive leadership style has seen her build a tremendous track record of success. I'm confident that under Ciara's leadership, we will see continued momentum in our commercial lending activities as we focus on putting customer needs first, scaling the business and delivering growth."
The bank has also expanded its commercial team by investing in additional client management and business development resource, providing more support for customers through greater depth of leadership and a diverse range of expertise.
::
Azets, the Manchester-based regional accountancy and business advisors to SMEs, has appointed Noel Hankinson to office managing partner of its Stockport office.
Noel is an experienced tax partner with more than 20 years' experience. Prior to joining Azets in 2020, he headed up the tax division at a nationally renowned forensic accountancy firm and also ran and managed his own successful tax advisory practice.
He advises SMEs, owner-managed businesses and international groups on all aspects of UK taxation. He enjoys developing relationships with clients to fully understand their needs and add value to their businesses. His strengths are building client relationships and providing proactive, practical solutions to tax issues.
He said: "Our dynamic and ambitious team in Stockport is expanding and I'm thrilled to take a leadership role in growing the practice. As a result of the pandemic, we're seeing more companies looking to use local firms. We're well placed to do this having had a presence in the area for many years and currently work with many of the leading businesses in the area."
Graham Rigby, regional managing partner at Azets in the North West, said: "Noel brings a wealth of experience and great people management skills to the role – his promotion is testament to his commitment to Azets' ambitious growth plans across the whole of the region."
::
DCB Legal, a legal practice specialising in civil and commercial litigation and debt recovery, has welcomed two new apprentices to its solicitor apprenticeship scheme.
Amongst the successful apprentices is 23-year-old Bethany Forster, who joined the company in 2019, while undertaking a summer job in the accounts department. After completing her first apprenticeship with the company in business administration, Bethany's aspirations remained with a career in law. Now, DCB Legal is supporting her to fulfil this dream by guiding her through its solicitor apprenticeship.
Bethany said: "I wasn't aware it was possible to become a solicitor through an apprenticeship, so my intention after leaving school was to take the traditional university route into law. Now that I'm immersed in a legal environment every day and have the chance to apply my study, I'm so glad that I chose this alternative route."
The scheme combines a mixture of flexible study in person or online with practical experience. Students are also provided with a designated mentor for ongoing support and frequent feedback reviews.
A former professional footballer for Crewe Alexandra FC, 21-year-old solicitor apprentice Aaron Lomas, shows that applicants needn't come from a specific background to be successful at DCB Legal. Currently one year into his five-and-a-half-year course, Aaron began his career at the practice as a legal assistant and has quickly progressed through the company to become a case manager.
He said: "It would have been very difficult for me to transition my career into law without the support of DCB Legal. Even studying a traditional law degree, it's a rare opportunity to gain the real world legal exposure we receive on the apprenticeship – especially amongst such a supportive team."
Besides solicitor training, the Runcorn-based company is currently looking to expand its cohort of IT and business administration apprentices to support school leavers in the local community.
Jamie Ashford, technical director of DCB Legal, said: "Bethany and Aaron are valuable members of the team and have both excelled on their apprenticeships already. We look forward to witnessing their legal careers thrive."
::
Kingsland Drinks Group has made two appointments to strengthen its insights team – Michelle Wilkinson joins as category manager and Fiona McClure takes on the role of consumer and insights executive.
Both hires will form part of the Irlam company's wider strategy to work with customers to unlock category growth and ensure that insights play a key role in developing Kingsland Drinks Group's product portfolio.
Michelle will be responsible for overseeing instore and online category management and will play a pivotal role in developing the company's growth strategy. Utilising insights, she will identify opportunities for Kingsland Drinks' brands, partner producers and customers. She will also work with key customers on strategic category initiatives and identify opportunities for them to grow sales with the goal of driving their business forward.
With more than 20 years' experience, she has held senior category management roles across range of sectors, including food, pharmaceuticals, health, and homewares.
Fiona will support Michelle and the wider team on market, category and shopper insight projects, while leading consumer insights initiatives as Kingsland Drinks expands its branded portfolio. She joins from Hallmark Cards where she held multiple roles across product, commercial and marketing over a 24-year period. She brings a wealth of commercial experience and a fresh approach to the insights team.
Michelle said: "I'm excited to be taking on this role and to be a part of such a talented and passionate team of people with great strengths and skills, and with such a strong range of products."
Both will report into Charles Overin, head of marketing, brand and insights, who joined Kingsland Drinks in July 2021, and will work alongside Jenna Burbidge, insights manager.
Charles said: "Michelle and Fiona join the company during a period of significant expansion and investment, and our strong insights team plays a key role in the immediate and future growth of the business. The drinks category is changing, consumer preferences are evolving, and we need to ensure we move with the times and that our business decisions, category and brand development, and NPD are grounded in insights. We believe that our focus in this area will deliver successful results and to keep us ahead of the game."
::
National legal and professional services group, Gateley has announced two senior management appointments from within its Manchester corporate team.
Paul Jefferson, who is a corporate partner and the office head for Gateley in Manchester, has joined Gateley's strategic board.
Charles Glaskie, who is also a Manchester-based corporate partner, has been appointed to head the corporate platform, being one of Gateley's four market-facing platforms offering to clients complementary legal and consultancy services.
The corporate platform brings together the skills of corporate, banking and finance, tax, commercial and restructuring lawyers in Gateley Legal with experienced consultants in Gateley's inward investment business, international investment services. The corporate platform sits alongside Gateley's other platforms in business services, people and property.
Paul and Charles both have many years of transactional corporate experience, having led on a variety of M&A deals and private equity transactions.
The corporate platform comprises more than 170 fee earners across the group with platform revenue of £38.1m reported for the financial year ended April 30, 2022. Gateley has recently announced group revenues of £137.2m, an increase of 13% on the previous year.
Paul said: "It's a signal of the weight of our offering in the North West and the potential for growth that we see in the regional market that we have two new senior appointments working out of our Manchester base.
"I'm passionate about the continued growth of the business and driving the engagement and development of our people. I am also confident that bringing a corporate perspective to the board will enhance the considerable strength of the existing senior leadership team."
Charles said: "I am excited to be taking on the role of corporate platform head for the group. With approximately 20% of group revenues now being from consulting businesses on our platforms and with significant additional diversification opportunities, I am looking forward to helping build on that positive momentum in my new role."
CEO, Rod Waldie, said: "The teams on our corporate platform are highly regarded and are significant contributors to the ongoing growth and development of Gateley. These two appointments from within our corporate legal services team are exciting and progressive."