People: ONTO Group; Workspace Design and Build; RSK Group; Nelson Hotels & Inns; Irwin Mitchell; LDS Sales Guarantee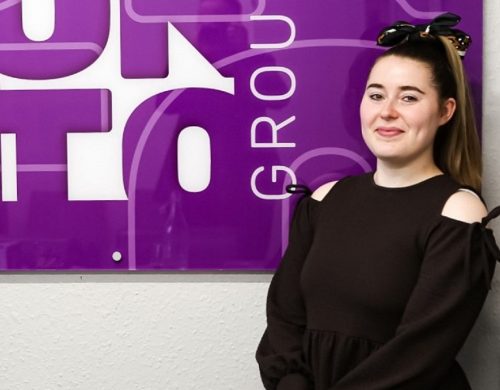 Bespoke data management service provider, The ONTO Group, has bolstered its operations with significant investment in its customer service provision and a team expansion.
To meet increased business demand, a pivotal role in the Manchester- based company has been introduced as part of a newly formed quality assurance department – Rachel Picton has been appointed as customer success executive, a promotion from her previous role as sales and marketing executive.
Working closely with co-founder and customer success director Neil Gregory, Rachel will focus on the company's relationships with school and college clients, ensuring the delivery of a first class service – a core philosophy for the firm referred to as the 'WOW Factor'. Committed to guaranteeing a supportive and effective offering, The ONTO Group assigns a customer success manager to each client to personally attend to all requirements.
As part of the new role Rachel, who takes on the position with a wealth of experience, will support the growth of the business by onboarding new clients and working to develop its current client contracts further. As customer success executive, Rachel will also hold responsibility for the coordination of training with schools, including those which have previously worked with the group and are looking to return, with visits to the Isle of Wight and London on the immediate agenda.
To consolidate its provision further The ONTO Group has also recruited four new team members including an MIS consultant, Arbor consultant and two junior MIS consultants.
In operations, team member Riley has been promoted operations manager from his operational support role.
The ONTO Group's co-founder and managing director, James Treacy, said: "As a progressive and highly skilled team striving to help schools to improve their teacher and pupil outcomes, we are dedicated to delivering the WOW Factor while producing innovative and unique solutions for every customer. We have recently experienced substantial organic growth and so, to ensure high quality customer service remains at the forefront of the company, we temporarily halted operations to invest in our infrastructure.
"The introduction of a customer success executive is an important move for The ONTO Group, as we expand and continue to provide the highest standards of service in a manner whereby the fair treatment of everyone is consistently at the heart of the business. Rachel is a valued member of the team here and we are confident that, in her new position, she will ensure that the needs of each institution are not only met but exceeded, too. We are also exceptionally pleased to welcome four new members to the team to heighten our provision, in addition to congratulating Riley on his thoroughly deserved promotion."
Rachel Picton said: "My journey with The ONTO Group has been an exciting one so far and I very much look forward to growing further with the company and firmly solidifying this new role."
::
Manchester-based fit-out contractor, Workspace Design and Build, has announced the introduction of a management team throughout the business.
The four internal appointments are part of the succession planning at the company, which is due to report record revenue figures this month.
The team will comprise: Laura Faulkner, head of contracts; Richard Barsby, head of pre-construction; Lauren Roberts, head of communications; and Hiten Solanki, head of finance and admin.
The primary focus for the respective members will be to lead their departments activities and work together to drive the business into future success.
Russell Davis, managing director, said: "We've implemented this management team as a way of myself and finance director David Barfield, gaining internal support on the day to day running of the business.
"The breadth of experience, leadership qualities and values of this management team gives us the confidence in our ability to lead Workspace Design and Build into the future."
He added; "David and I are both excited to see this team work together and act collectively to define and execute the company's priorities."
::
RSK Group, the Helsby-based business focused on the delivery of sustainable solutions with 175 companies across the engineering and environmental sectors, has appointed two new directors to its board, chief scientist Lucy Thomas and chief sustainability officer Stephanie Wray.
Group CEO, Alan Ryder, said: "Lucy and Steph have, of course, been making their mark on RSK's sustainability agenda for some time. Their appointment to the board recognises their ongoing commitment to ensuring the group continues to achieve the sustainability goals that have long been embedded in RSK's guiding principles with this reflected in our performance.
"We know that sustainability is a continuous journey, and we should always look to improve our goals, rigorously assessing and pushing boundaries while guiding our clients in the same way. Lucy and Steph are very welcome additions to our board and will no doubt continue to deliver positive impact across our business."
Lucy Thomas has led teams across the RSK Group for 18 years and as chief scientist for five years.  She is managing director of RSK Uganda, RSK Tanzania and RSK South Africa along with a more recent role as the managing director of the Centre for Sustainability Excellence in Singapore.
A strong advocate for technical excellence, Lucy co-ordinates RSK's heads of profession programme, encouraging more colleagues to pursue chartered status, or the equivalent in their specialism. Lucy has a technical background in risk-based remediation and has honed her knowledge around carbon and social value, becoming a powerful voice for the decarbonisation of RSK as a global business.
She said: "I'm excited to join the board and play an instrumental role in shaping the future of our group at what is a crucial time for businesses globally. Businesses are key to the delivery of the UN Sustainable Development Goals and my role as chief scientist supports the realisation of the UN SDGs as we continue to champion talent in all our regions and advocate for change."
Stephanie joined RSK when it acquired Biocensus in 2019, and she has been a driving force throughout the group since. Most recently she has led the formation of Nature Positive, a management consultancy that helps businesses address climate change and biodiversity loss. Stephanie is highly regarded across environmental industries for her in-depth understanding of both nature and business.
As chief sustainability officer, she ensures RSK continues to lead the way when it comes to putting sustainability at the heart of the business. Stephanie has 30 years' experience in environmental consultancy and holds a PhD in ecology and an MBA specialising in corporate strategy. She said: "This role correctly emphasises sustainability as one of RSK's central guiding principles and I look forward to working across the whole RSK Group to ensure we as a business, and our clients, are 'doing the right thing' for the planet and for people."
::
Ahead of the launch of its fifth venue this winter, The Manor at Greasby, Nelson Hotels & Inns has appointed Neil Armstrong as group food and beverage operations director. Neil has more than 30 years of experience within the hospitality industry spanning across notable 5* hotels and 2 AA Rosette-holding venues.
Nelson Hotels & Inns is a family-run collection of hotels, inns and restaurants across Cheshire and surrounding areas, offering a diverse and unique portfolio of properties. The fifth development, The Manor at Greasby, is set to open this winter and will feature a refined, gastropub-style restaurant and an elegant wedding and events barn.
Neil's previous position as group executive chef at Edwardian Hotels London consisted of managing 13 4* and 5* hotels across London and Manchester over a 10-year period. Neil worked as head chef at The Manor House Hotel and Restaurant in Yorkshire from 2003 to 2007, which retained two AA Rosettes for five consecutive years. From 2008 to 2021, he also worked as both executive sous chef and executive head chef during his time at the Edwardian Hotel in Manchester.
Over the past seven years, Neil has played a pivotal role in the service excellence department, overseeing the day-to-day operations in hotels across London and Manchester, developing and launching new restaurant concepts and brands.
Neil takes a hands-on approach from menu inception right through to delivery, developing creative dishes that are innovative and contemporary. He has a strong focus on maintaining relationships with the best suppliers to source quality ingredients.
He said: "I am really excited to join the Nelson Hotels & Inns team. I was immediately drawn to their collection of high quality venues and their unique locations, as well as the attention to the food offering at each site.
"It's a busy and exciting time at the group, with the opening of The Manor in Greasby coming up this winter and I am really looking forward to getting stuck into the role."
Andrew Nelson, director of Nelson Hotels & Inns, welcomed Neil, saying: "His role as group food and beverage operations director will be crucial in managing our kitchen and restaurant teams and his wealth of experience in the industry will guide us in offering further exceptional hospitality. Neil will be an excellent addition to our team as he sets out to help drive our standards forward and build upon what we already have at a really exciting time for the group."
::
Irwin Mitchell is expanding its planning and environment team with the recruitment of North West-based partner, Pamela Chesterman.
Pamela joins from Brabners where she was legal director and head of planning and prior to that was head of planning at Prosperity Law. She has experience across a wide area of environmental and planning law, in particular the development sector, advising on housing and commercial-led development as well as on local government issues, having spent a considerable period working at various local authorities in the North West.
She helped one of the UK's largest house builders deal with local authorities' non-determination of applications which threaten to undermine their schemes, working closely with them to negotiate amicable solutions without having to resort to legal actions and to make informed decisions.
Currently she is also retained by a large car park management company to provide planning and advertisement legal advice – acting as their agent in applying for planning permission, advertisement consent and listed building consent, where necessary, for large heritage estates which wish to use their service to provide remote parking solutions to existing car park sites.
Pamela will be based in Irwin Mitchell's Liverpool and Manchester offices, supporting clients in that region and nationally.
The appointment takes Irwin Mitchell's specialist planning and environment (P&E) team to 13. The team in the North West has this year been boosted by the recruitment of Jill Crawford and Victoria Tague as a planning associate.
Adrian Barlow, director of property legal services at Irwin Mitchell, said: "Both planning and environment are currently fast moving disciplines where our clients need up to date and strategic legal advice to keep ahead of the game, particularly at a time of political change. Our team is headed by the highly respected Claire Petricca-Riding and works as a national practice, advising clients all over the country.
"Pamela will play an important part in helping us to fulfil Irwin Mitchell's ambition to provide first class advice to clients. She comes with great hands on experience, especially her in depth knowledge of both local government and the development sector and will be a great asset to the P&E practice and the wider property department."
The P&E team sits within Irwin Mitchell's property division which will now number 28 partners and more than 150 qualified lawyers.
::
Bolton-based LDS is pleased to announce the appointment of Darren Reynolds as its transaction and portfolio director.
A former investment head at Homes England, Darren will be re-united with former colleagues Ben Jenkinson, regional director, and Gordon More, strategic advisor.
The LDS Sales Guarantee removes uncertainty by ensuring the purchase of any unsold homes and improves returns by releasing a zero-interest cash deposit. It is in increasing demand from developers, lenders and finance brokers as market conditions continue to worsen.
While at Homes England, Darren successfully delivered more than £4bn of development finance products through a variety of debt, equity, and guarantee structures. Most recently, Darren led Homes England's cornerstone equity investment into Newstead Capital's SME development lending fund which will provide circa £1bn of new finance to the sector. Darren has more than 15 years' experience in real estate finance, having previously worked for NatWest and Barclays.
At LDS, Darren will create new alliances with development lenders and oversee both transaction and portfolio management functions. Darren will be based at the LDS London Bridge office.
He said: "I am really pleased to be joining LDS at this exciting stage. Whilst at Homes England I saw the positive impact that LDS is already having on the market, in particular with development lenders, and I look forward to working with Ben and Gordon again to accelerate this."
Gordon More, strategic adviser at LDS, said: "I know that Darren shares my passion for supporting the revival of SME developers and have seen first hand the impact that his transactions have made on the market. LDS provides the ideal platform for Darren to continue this great work."
Ben Jenkinson, regional director at LDS, said: "Having previously worked with Darren, I know that he brings extensive relevant experience and a great contact book. Darren always delivers results and is already making a noticeable impact across the business. I'm particularly looking forward to working with Darren to create more new lender products to demonstrate the transformative power of combining sales guarantees and senior debt."