People: 21Digital; Keoghs; Manchester India Partnership; Seddon; Pixel Kicks; Acumen Financial Partnership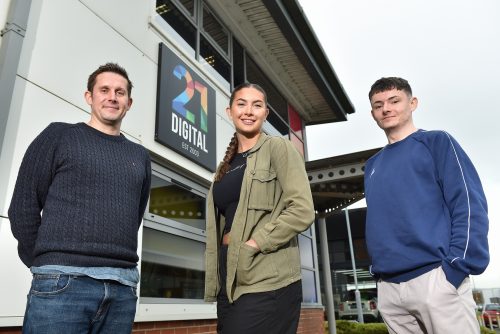 Blackburn-based 21Digital has expanded its design team with the appointment of Oliver Wilson and Abigail Flemming.
Joining the team, headed by creative director Steven Taylor, Oliver is a recent graphic design graduate from Bolton University while Abigail's position comes from a graduate placement programme in her third year of the same course.
Steven Taylor said: "Great design plays a massive role in the delivery of successful strategies online. We at 21Digital are very proud to develop local talent looking to get a start in the digital marketing industry and a great many of our apprentices have chosen to join us full time at the end of their placements.
"Oliver and Abigail are, therefore, very welcome additions to the design team here and we're looking forwards to getting them engaged on some exciting and challenging client projects."
Based at offices on Blackburn's Trident Park, 21Digital is a multi-award-winning agency specialising in lead generation and ecommerce, providing digital marketing services including web design, web development, SEO, Google Ads, digital consultancy, social media marketing and email marketing.
::
The corporate and sector risks practice at top 40 law firm, Keoghs, has expanded its team with the addition of Sally Richmond, who joins from Plexus.
Over a 25 year career Sally has built an outstanding reputation throughout the industry and developed strong relationships with a wide range of major UK insurers, corporate risks and brokers. Having worked closely with many high profile clients, including several commercial fleet operators, she will significantly strengthen Keoghs' retail and transport and logistics sector teams.
Sally brings considerable experience and will also play a crucial role in the expansion of the practice's presence in Yorkshire and the North East.
Keoghs' dedicated corporate and sector risk practice handles more than 30,000 cross class claims for almost 100 corporate clients across seven major sectors, providing tailored claims solutions and trusted expertise to many of the UK's most recognised brands.
Sally said: "I'm very excited to play a part in a bright future and work with some exceptional people, as we continue to develop and grow."
Practice lead, Andrew Evans, said: "We're thrilled to welcome Sally. She has always stood out through her profile and experience within the market and it will be great to have her working with the practice rather than competing against us. This first appointment, with more to come, demonstrates our ability to attract the very best talent in the corporate risk market and will help support the delivery of our strategic objectives. Sally is a key hire bolstering our motor proposition and sector offerings as we continue to grow throughout various regions across the UK."
::
Raam Shankar has joined Manchester India Partnership (MIP) as board member.
The appointment of the founder and CEO of Equitus Design Engineering and Innovations comes after MIP launched a refreshed strategy to harness the power of its high level networks in the UK and India.
Equitus has bases in Manchester, Bangalore and India and 41-year-old Raam is TEDx Alumni and an advisor to companies in the UK, India, Silicon Valley and UK India Trade Portal.
Raam will be The MIP board representative of TiE UK North, replacing Vikas Shah. He said: "It's a great honour to join such a dynamic partnership and I look forward to tackling the five key pillars outlined in MIP's '2030 Roadmap'.
"It's no secret that my homeland of India became the fastest growing economy in the world in the 2021/2022 financial year. My adopted home of Manchester also played a big role in the more than 1,000 North West businesses to have exported over £310m worth of goods to India in 2019."
The MIP strategy focuses on raising the profile of Greater Manchester in India, accelerating educational, innovation and entrepreneurship links between GM and India, promoting culture, sports and tourism collaborations, enhanced trade and investment and an increase in visitor numbers to the city region from India.
The MIP chair is chief executive of Liverpool-based B&M Retail, Simon Arora, while its deputy chair is Jo Ahmed, global employee services partner at Deloitte. Former head of the Confederation of British industry in India and South Asia Shehla Hasan is director of the MIP.
Simon Arora said: "Our aim is for Greater Manchester to be recognised as the strongest UK regional partner to India. Raam will undoubtedly bring a fresh perspective, insights and will help steer The MIP into new areas of growth and success."
The MIP was established in February 2018 to unite private businesses, academia and the public sector across India and Greater Manchester to build and strengthen trade, investment, cultural, and educational ties.
::
Bolton-based contractor, Seddon, has recruited 14 new apprentices into the business in 2022. It sees Seddon, listed as one of the UK's top 100 apprenticeship employers of 2022, continuing to pave the way for new professionals to enter the industry.
The new recruits comprise three painters, one plasterer, two bricklayers, two joiners, two trainee site managers and four trainee quantity surveyors. Together, they have been gaining first-hand experience in the construction industry from a contractor who has been trading for 125 years.
Open to 16-year-olds and upwards, apprenticeship courses last two years and happen in partnership with three colleges: Salford City College, Wolverhampton University and South & City College Birmingham. Since Seddon's partnership with Salford City College began in 2017, of the 127 apprentices trained, 117 then progressed into full time roles within the company.
Nicola Hodkinson, director and owner at Seddon, said: "We have no upper age limit for our apprenticeship schemes, meaning the diversity of people who walk through our doors is vast. From 16-year-olds looking to continue their education in a practical-based environment, to a 51-year-old who wanted a career change last August via a plumbing apprenticeship, we've seen it all and we thrive off the fresh thinking our apprenticeships bring to the industry."
Seddon currently employs 64 apprentices throughout the business, with the next phase of recruitment due to take place in spring 2023.
::
Pixel Kicks, the Manchester-based full service digital agency, has appointed Joe Tynan as its newest junior web developer. Joe has joined from Teegee digital in Leyland where he worked for four years.
In his new role, Joe will play a key role in the building of new websites as well as the maintenance of existing sites for the agency's roster of clients which spans the property, professional services, education, technology, medical research, hospitality and leisure sectors.
Joe's appointment takes Pixel Kicks' total headcount across its web design, SEO, social media, PPC, digital marketing, project management and business development teams to 20.
Joe said: "I really enjoyed my years working for a very small agency as it gave me the opportunity to work on a wide variety of projects and be hands on with clients. However, I knew the time was right to move on and Pixel Kicks felt like the right fit – especially because of the high calibre of work it delivers and its diverse range of clients."
Chris Buckley, Pixel Kicks MD, welcomed Joe, saying: "I am sure he will bring energy, ideas and passion to his role."
::
A West Lancashire independent financial adviser (IFA) has appointed a new financial planning co-ordinator in Kellie Williamson who joins the 21-strong team at Acumen Financial Partnership.
The Burscough company has just recorded a 36% increase in turnover and has £395m of funds under management, which is up 12.8% on the same time last year. Angela Maher, managing director, said: "We've just experienced the most successful year in the 16 years since I founded the business. Kellie's appointment further strengthens the team who support our advisers. They play a key role and are often the first port of call for our clients.
"We are continuing to grow with more people trusting us to deliver clear, friendly and straightforward financial advice."
Kellie Williamson said: "With five years' experience in financial services, I have recently moved to the area from the Midlands. It's a very close knit team of advisers and support staff and everyone has been really welcoming, which is helping me to settle in the area."