North West business briefs: Rochdale Council; BDO; Everton FC; Equilibrium Financial Planning; Parfetts; GMCA; TIMCO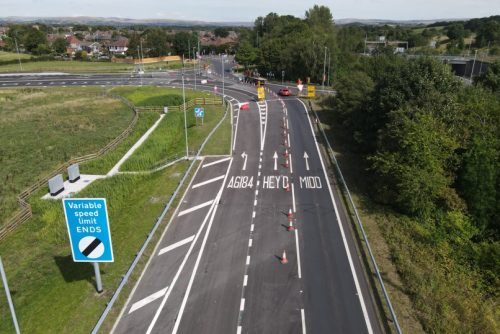 A major new road connecting junction 19 of the M62 motorway with Pilsworth Road in Heywood is due to open next month.
Rochdale Council has applied to name the new route Queen Elizabeth II Way in honour of the late head of state. It was built with more than £20m private and public sector funding and is set to benefit local residents and businesses by delivering cuts to journeys times and business costs.
Cllr Neil Emmott, leader of Rochdale Borough Council, said: "Realising this project is the culmination of many years work, not only by the council and ward councillors, but equally by our valued partners with whom we have all worked tirelessly together. It delivers good value in how it will reduce costs for the residents of Heywood and businesses through being able to travel fewer miles, and provides an excellent service in the way that it will transform Heywood's road network."
For Heywood town centre this should equate to the removal of between 8,760 and up to 35,770 heavy goods vehicles (HGVs) every year, as calculated as part of a study by development partner Russells. According to the assessment, by creating safer journeys the new road could also lead to a reduction in accidents that cost the economy up to £5m over 60 years.
Cllr Daniel Meredith, cabinet member for highways and housing for Rochdale Borough Council, said: "The opening of the new link road gives an opportunity to alleviate congestion and reduce journeys by creating a more efficient route. It should lead to vehicles no longer relying on the town centre to navigate their journeys, creating a better environment for residents as the local roads become much less busy."
The completed project is set to benefit the local economy as the increased connectivity the road brings makes the area more attractive to investment and supports employment. The road forms a key element of the Atom Valley mayoral development zone which will stimulate innovation and investment.
::
Power and people shortages are two of the biggest concerns for North West businesses this autumn and winter, according to new research by accountancy and business advisory firm BDO.
The bi-monthly survey of 500 medium-sized businesses' leaders reveals that more than a quarter (27%) see potential power outages and staff shortages as their top concern. Against this backdrop, almost a third (30%) of employers are offering access to food supplies such as free meals at work.
And 15% of businesses surveyed say that the current energy and cost of living crisis has, or will, be more challenging to them than the COVID-19 pandemic, Brexit or the 2008 financial crisis. Russia's invasion of Ukraine is also having a major impact on businesses, with more than a quarter saying this has, or will, be more of a challenge to them.
Faced with this tough economic environment, businesses are calling for further support from the Government to counteract these difficulties with 27% looking to the Government for policy intervention on business rates and more than one in five (23%) seeking support with access to labour.
Ed Dwan, partner and head of BDO in the North West, said: "Businesses have been grappling with skills shortages over the past few years and have now seen warnings from National Grid that the UK could face blackouts in coming months. North West businesses are left fearing a people and power shortage this winter, which could be devastating for the region's economy. Companies are calling for certainty and the right, targeted support ahead of a tough winter. These businesses are the engine of the North West economy and the pressure is on government to provide the interventions that businesses need to drive their growth."
::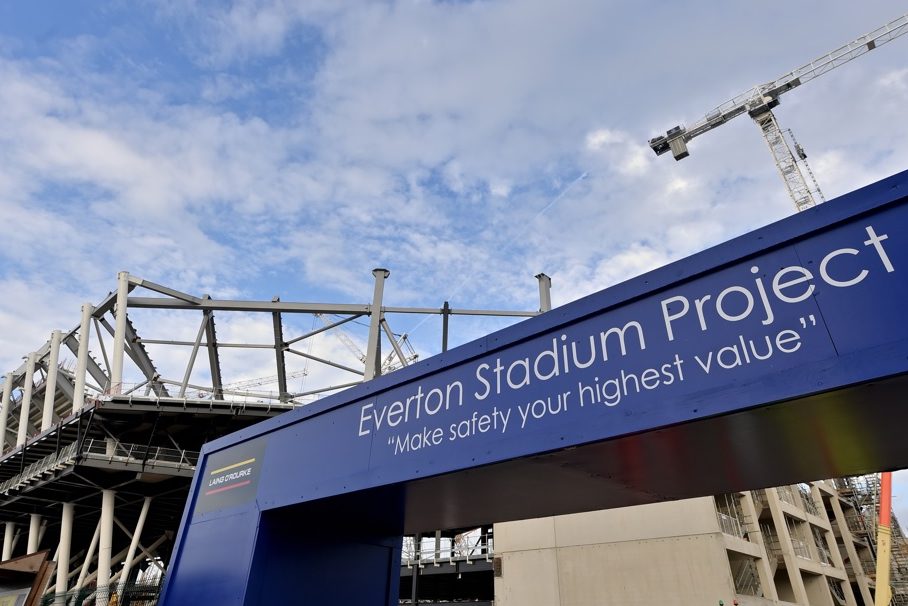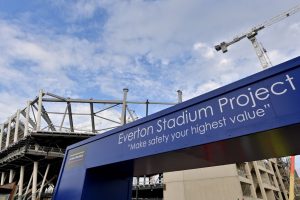 Everton Stadium continues to offer opportunities for people across the Liverpool City Region to develop skills and secure a new career in construction, the latest report on the positive social value of the build in North Liverpool, which will contribute an estimated £1.3bn to the UK economy, is to the community.
Laing O'Rourke, the club's construction partner, retains a directly employed workforce and provides them with industry leading pay and benefits. In addition, two thirds (67%) of the construction workforce on the stadium project are from the local area, which exceeds construction industry targets.
Almost 150 additional new jobs have been created within a 30-mile boundary, with further employment opportunities being made through the supply chain partners, whose products and services will aid the construction of the new stadium. A total of 55 apprentices are now working on, or contributing to the project, and more than 200 students have learned about the project and career opportunities within construction through a series of ongoing site activities and educational site visits.
Meanwhile, Laing O'Rourke has also partnered with training providers The Learning Foundry and The Skills Centre to launch more opportunities for local people to work on the 52,888-capacity stadium, which is recognised as the largest single-site, private sector development in the country. As part of pre-apprenticeship courses through The Learning Foundry, participants will be taught the basic formwork carpentry or steel fixer skills, plus health and safety requirements of the industry, and gain their Construction Skills Certification Scheme (CSCS) card, which will grant them access to work on any construction site in the UK.
Ten new apprentices, who successfully passed through the scheme, have already started working alongside some of the most experienced tradespeople and technicians in the industry. Work placements have also been offered to local unemployed residents through a partnership with Liverpool in Work, while the health and wellbeing of the workforce continues to be a priority, with a mental health upskilling programme in place for all staff and workers on site.
::
Equilibrium Financial Planning, the Wilmslow-based, chartered financial planning company, has strengthened its financial wellbeing offer and joined the Institute of Financial Wellbeing (IFW).
The move will further embed the principles of financial wellbeing into all aspects of its financial planning process and enhance the client-focused approach which has enabled the company to thrive. The Institute's training and information-sharing forums provide an opportunity for Equilibrium's advisers to share and hone a best practice approach centred on wellbeing values informed by research initiatives.
Chris Budd, founder and chair of the IFW, will take the role of Financial Wellbeing Consultant and work with both the board and the planning teams over the next 12 months.
Colin Lawson, founder of Equilibrium Financial Planning, said: "We are in business to make our clients' lives better by enabling them to take control of their finances and use money as a tool and not an objective. If we are going to continue to make a real difference to our clients, we need to fully understand the theory behind what constitutes a financial wellbeing offering."
Nick Marsh, CEO of the IFW said: "It's really rewarding to see a firm of the stature of Equilibrium, with more than £1bn worth of assets under management, realise the value that financial wellbeing practices can bring to its day-to-day client interactions. Equilibrium is aware of the potential opportunity and is committed to securing its position as a provider of genuinely personalised financial planning."
::
Employee-owned wholesaler Parfetts is awarding colleagues an eight per cent profit share bonus to recognise their contribution to the continued growth of the Stockport-based business. The move follows a bonus of up to two per cent in June and an exceptional cost of living payment of up to £500.
Parfetts has seen a series of record trading periods over the past six months, with its annual Parfest and the September Savers promotional event driving record sales. The September event saw sales top £14.6m, while the Aintree depot achieved sales of £3.5m during the promotional week.
Guy Swindell, joint managing director of Parfetts, said: "Our team continues to go above and beyond to deliver great customer service and help retailers maximise their margins in a challenging economic climate. We want to ensure that we recognise this dedication with a bonus that will help with the rising cost of living that we all face.
"Parfetts is pushing on all fronts to ensure that we continue to help our customers, however they shop with us – in our network of industry-leading depots, through our ever-growing team of regional development managers, and with investment in new technology to ensure it's easy to do business with us."
He added: "We've doubled down on our seasonal events, which are designed to drive footfall, increase basket spend and grow margins. Plus, we are continuing to offer our usual promotional support, including one-day specials, manager's specials, three weekly promotions schedules and supplier takeovers. As a result, we are confident that we are leading the industry in delivering value to our retailers and their customers."
::
Greater Manchester Combined Authority has announced a new £1m fund that will help business and organisations in the everyday economy to trial innovative new ideas and improve the way they work.
The 'foundational economy' or 'everyday economy' refers to the parts of the economy people depend on for their daily needs, including adult social care, early education, childcare, retail, and leisure and hospitality, across the private, public and voluntary sectors. The Foundational Economy Innovation Fund will provide grants to businesses and organisations for projects that trial innovative new ideas and ways of working over a period of up to 24 months. The fund aims to support a more prosperous Greater Manchester by helping these sectors become more resilient and profitable while improving the quality of jobs.
Businesses and organisations are being asked to come forward as part of an initial expression of interest phase, which aims to develop networks and 'match' potential applicants with relevant partners.
During the first phase, the fund will provide initial grants of up to £10,000 to businesses and organisations to develop their ideas and trial innovative ways of working. A second stage will provide 10 of those projects with £60,000 to further develop their ideas, with all funding recipients also joining a new innovation community which will offer support and advice to give projects the best chance to succeed.
Cllr Bev Craig, leader of Manchester City Council and GMCA portfolio lead for economy and business, said: "The fund is there to complement the support available to businesses during this difficult time. By supporting innovation around the challenges these sectors are facing, like rising energy costs and a shortage of workers, we can help businesses become more resilient to challenges in the future."
::
Nantwich-based TIMCO, a supplier of construction products, is on track to launch 1,000 new product lines in 2022, as it continues to expand its business in response to growing demand for quality products that the trade relies on every day.
This range expansion comes in the landmark 50th anniversary year for the company, which now supplies a total of more than 8,000 products for the construction and industrial sectors.
The latest product launches include the addition of high-viz clothing to the company's CE-Approved Personal Protective Equipment (PPE) range which now includes vests, polo shirts, sweatshirts, fleeces, trousers, jackets and coats. More than 200 new hand tools were introduced this spring and summer. TIMCO has further extended its ironmongery category with more than 200 new interior and exterior ironmongery products launched as part of a full range review.
The company has further launches due before the end of the year, with a range of new workwear scheduled for November, and a whole new category range which will be unveiled online prior to Christmas, ahead of the official launch in January.
Simon Midwood, MD of TIMCO, said: "We conducted extensive research to find out the products and services our customers want, and we're delighted to be delivering these through an ever-increasing range of quality stock, accompanied by the famous 'TIMCO hug' – an umbrella of support packages that help customers compete in a competitive market."