NW business briefs: Network Rail; FanPark Liverpool; Travel Counsellors; Furniture Recycling Group; Manchester BID; Contact Originators

Passengers are being advised of essential upgrades to platforms 13 and 14 at Manchester Piccadilly station this Christmas and New Year. The £5.1m investment will give the station's busiest platforms an even surface, clearer line markings, raised platform edges to make them safer for visually impaired people, and a new drainage system will be installed.
Platforms 13 and 14 allow up to 14 trains per hour to briefly stop and then run straight through to Manchester Airport, Liverpool, North Wales, Wigan, Southport, Bolton, Blackpool, the Lake District, North East and Scotland. People using the platforms will start to see preparation work during November.
The scale of the essential upgrades will see changes to train services using the through platforms over Christmas and New Year. Trains will not call at platforms 13 and 14: For 10 days between Sunday 25 December and Tuesday 3 January. On Sunday 22 January until Monday 23 January. Passengers are being given advanced warning to plan their journeys in advance by checking www.nationalrail.co.uk.
Scott Green, station manager at Manchester Piccadilly, said: "This much needed platform upgrade will be a great way to welcome in the New Year, and an important investment to keep these very busy platforms safe for passengers. We've tried to plan the work so it causes as little disruption to people's journeys as possible, but unfortunately resurfacing work like this is impossible to do without having to shut the platforms completely.
"I'd urge people to please be aware when the work is taking place and to check National Rail Enquiries to plan their journeys and find out which stations will be available to them instead."
Network Rail is also carrying out important work to Piccadilly's roof over the Christmas period. The station will be closed from Sunday 25 December (Christmas Day) until Tuesday 27 December, and Sunday 15 January until Monday 16 January. This £1.5m investment means Network Rail engineers can get all the work they need done at once, rather than disrupting passengers over many consecutive weekends in 2023.
::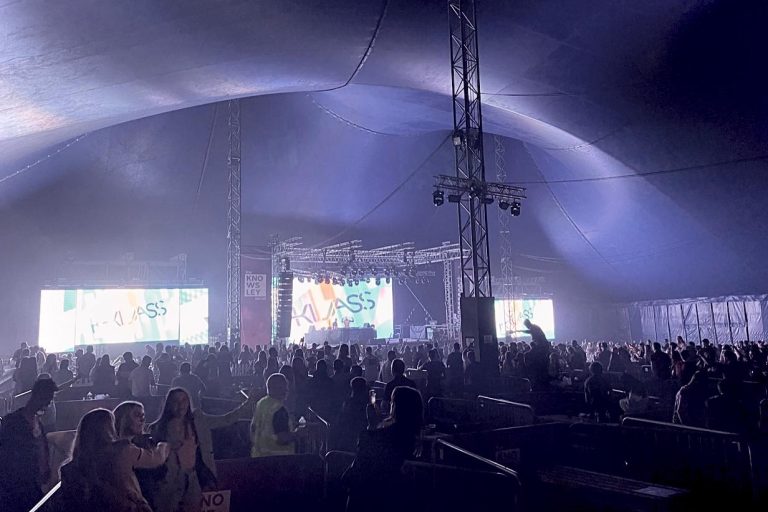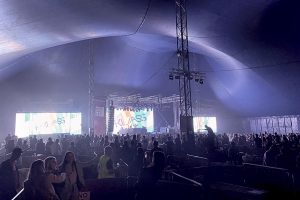 Liverpool's biggest World Cup fan park will open in Sefton Park this month for the first time, where football is the focus and everyone is welcome.
FanPark Liverpool will welcome guests of all ages to Sefton Park Cricket Club to watch the 2022 FIFA Men's World Cup, with every match being played on its huge screens, between November 20 and December 18. The site is home to a fully covered and heated 2,500 seater Big Top, as well as local food suppliers, a fully stocked bar providing a wide selection of drinks, a variety of entertainment, match day hosts, football legends and more.
It's the first time that FanPark is coming to the UK, opening in both Liverpool and Swansea in November, after a decade of successful FanParks all over the world, including Norway and Spain.
Entry to FanPark Liverpool is completely free and on a first-come-first-served basis, or for those in larger parties or who want to pre-book, there are table reservations for up to eight people in the main area of the park. Table reservations are £20 and guests must pre-order a drinks package. There is a VIP section, available to book for £250.
Jostein Ansnes, of FanPark Liverpool, said: "After 10 years of creating incredibly successful FanParks all over the world, we wanted the city to experience the unbeatable atmosphere that's created at FanPark for the 2022 World Cup. We set out to immerse ourselves in the local community and have chosen Sefton Park Cricket Club as it's the ideal location for an impressive 2,500 capacity Big Top, as well as involving local food suppliers that Liverpool will know and love."
::
Manchester-based Travel Counsellors will host its first global conference since the pandemic this month, with its Global Annual Conference, taking place from Friday, November 11, until Sunday November 13, at the ACC Liverpool, where more than 1,600 delegates will attend, including Travel Counsellors, partners, support team colleagues and in excess of 300 suppliers.
It will be the first time in three years that the community will come together in person at the annual conference, following its regional events in November last year.
Each year the company gets together to celebrate, motivate, share and inspire at its flagship event and this year it promises to be significant, to mark its theme 'all in'. This theme reflects the power and commitment of the community to one another and their customers, delivering the very best travel experiences and being empowered to build successful businesses and careers as part of the company, working together with a 'one team' mentally to make that happen.
The company has also committed to making this the first sustainable conference, asking all attendees to be 'all in to make a positive difference'. Jim Eastwood, global sales director, at Travel Counsellors, said: "We are excited to all be getting together again after a three year hiatus and we look forward to giving all our Travel Counsellors, colleagues, partners and suppliers a very warm welcome. We have a record number of attendees this year including 850 Travel Counsellors who all reflect our 'all in' ethos and 300 suppliers and other delegates that we work closely with.
"Our personal travel experts don't just 'book' travel, they get to know and build relationships with their customers so they create experiences, not just itineraries. In an industry that was on its knees, travel is back and we are more ready than ever to redefine what personal means in travel."
::
The UK's main mattress recycling and circular economy specialist, Blacklburn-based The Furniture Recycling Group (TFR Group) has secured an undisclosed investment from Netherlands mattress recycling company RetourMatras. The partnership will enable TFR Group to grow its dismantling capacity to 1.5 million mattresses per year in England, transforming discarded mattresses into reusable materials, that would otherwise go to waste.
The investment will support TFR Group in addressing the number of disposed mattresses in the UK, which has grown significantly over the past five years. By leveraging the combined experience and knowledge of the companies, TFR Group can create economies of scale, further increase material recoverability and realise significant carbon emission savings.
TFR Group doubled its sales and workforce over the past four years and, has recycled more than 3.5 million mattresses since 2012, with 30,000 tons of material flowing back into the economy. The company also rejuvenates mattresses, underpinning its commitment to key circular economy principles.
Nick Oettinger, CEO and founder of TFR Group, said: "We are constantly looking for opportunities to further our capabilities and are delighted to be partnering with RetourMatras. The investment is another step in the evolution of our business and will be instrumental in optimising and growing our recycling and rejuvenation processes."
Chico Van Hemert, managing director of RetourMatras, said: "We are very excited to be partnering with TFR Group as it enters its next phase of growth. TFR Group is a great example of entrepreneurship in the circular economy. By working together with players throughout the value chain, I truly believe that we can recycle more mattresses."
::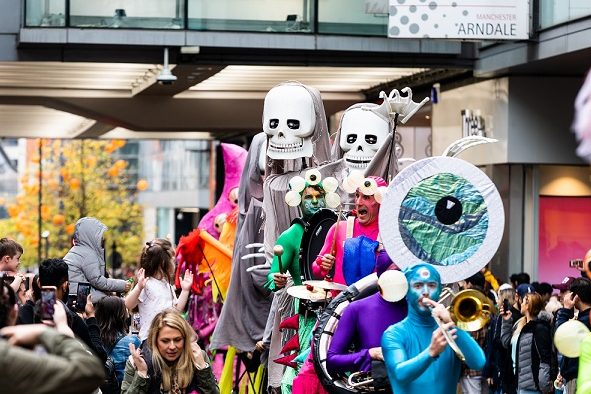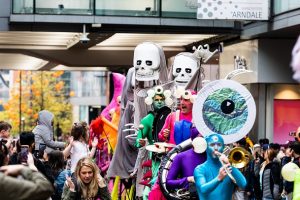 Close to a quarter of a million visitors flocked to Manchester city centre last weekend to enjoy the city's Halloween festivities including one of the biggest Halloween celebrations in the UK – Halloween in the City – organised by Manchester Business Improvement District, on behalf of the city's retailers and hospitality businesses.
The city welcomed an extra 30,000 visitors compared with the previous weekend, which also saw footfall exceed figures recorded for Halloween weekend in 2021 by five per cent. Sunday trading was given a particular boost with an additional 17,000 visitors over the Halloween weekend, compared with 2021, with many of these families heading into the city centre to enjoy day two of the city's free family-friendly event.
The 2022 line-up saw a music festival hit the city's shopping streets, the return of the giant inflatable MCR monsters, created by artists Filthy Luker and Pedro Estrellas, which took over rooftops and buildings across the city, a Fancy Dress Challenge and a Monsters Rock Procession, courtesy of Walk the Plank, the creative minds behind the Manchester Day Parade, featuring giant puppet monsters, stilt walkers and a live band.
Jane Sharrocks, Manchester BID chair and general manager of Selfridges Exchange Square, said: "Halloween in the City grows in stature every year and has proven yet again to be an event which significantly contributes to city centre footfall.
"As the third largest seasonal shopping event, Halloween is a key time of year for our retailers and hospitality businesses and by hosting one of the biggest and best Halloween celebrations in the UK, we're helping these businesses to maximise sales during this period, while at the same time providing a free event for families from across Greater Manchester."
::
Dukinfield-based packaging origination and flexographic plates manufacturer, Contact Originators, has now reached 'zero waste to landfill' status.
Partnering with waste recovery specialist B&M Waste Services, Contact now sends 100% of its site waste to be either reused, recycled or recovered at a dedicated 'waste-to-energy' plant, supporting the company's drive towards circular and sustainable waste pathways.
The announcement marks the next important step on Contact's long term sustainability journey, as it aims to be the most ecologically sound business of its kind in the reprographics sector and support its print and packaging customers in new ways. Jo Grundy, quality and systems manager at Contact Originators, said: "This is an enormous step for our team at Contact. With the support of B&M we have fundamentally changed how we do business.
"Reaching zero waste to landfill has an enormous impact on our carbon footprint, but we know that our journey's not over. Contact Originators is a business that's unafraid to lead and is never satisfied with 'average'. Targeting carbon neutrality is one thing, but we're aiming for carbon negative as our end goal."
Rebecca McKew, account manager at B&M Waste Services, said: "We look forward to finding further ways to improve their waste management in the future to help them achieve their goal."