Development joint venture acquires prime Liverpool site for residential towers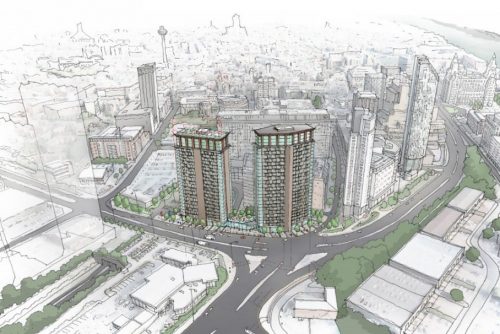 A central Liverpool site has been acquired by a joint venture developer with plans to create two build to rent tower blocks.
The deal, for an undisclosed sum, is by London-based Packaged Living, and USAA Real Estate, based in Texas, USA.
It involves a portfolio of multifamily BtR sites around the UK, which will create several thousand units.
But one of the first sites to be acquired is at the junction of Leeds Street and Old Hall Street in Liverpool.
The JV says it will provide a template for future site acquisitions, planning, and development.
It said the site will offer residents access to all that the city has to offer including numerous local transport links and amenities, shopping and leisure. The JV anticipates announcing additional site acquisitions and development plans in the coming months.
Packaged Living says it has been at the forefront of the UK BtR sector since its inception, having acquired, funded, developed, and operated more than 5,000 homes alongside its other partners, with a current GDV exceeding £1bn. It will be responsible for acquisitions and delivery of the JV's portfolio.
USAARE is an industry leader in acquiring, developing, financing and managing high quality real estate assets in North America and Europe. Now in its eighth year of investment in Europe and 40th year as a company, USAARE has successfully executed and exited multiple investments throughout the UK and Europe.
Ed Ellerington, founder and managing director of Packaged Living, said: "The UK has long had a mismatch between the demand for homes and the volume supplied to the market.
"We see a huge opportunity to positively change that market and we are delighted to launch USAARE as one of our new partners. Our JV will focus on creating best-in-class multifamily BtR assets where the need is greatest, whilst also delivering properties that are fit for the future, combining quality finishes with high energy efficiency, and lower costs."
Justin Hildebrandt, executive managing director and head of Europe at USAARE, said: "We see an opportunity to capitalise on unmet consumer and investor demand for institutionally-owned multifamily housing in the UK through developing rental homes in locations with compelling market dynamics and buildings that have market-leading design, sustainability metrics, and amenities.
"Having already developed and invested in US multifamily in scale for decades, it was a natural choice to enter the UK market.
"Our significant experience in the US multifamily sector along with our experience with planning and development in the UK pairs well with Packaged Living's expertise. The UK BtR market is rapidly maturing and continued densification in and around major cities sets the stage for long term growth."
The Liverpool site has been acquired from Prospect Capital, which had intended to build the biggest residential tower in the city, at 48-storeys high.
However, a planning application for the scheme was never submitted, and the site was put on the market in 2020.