Law firm consolidates offices with HQ move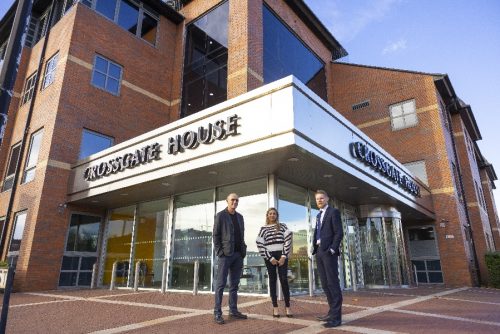 Slater Heelis is relocating its headquarters to Orbit Developments' Crossgate House in Sale, consolidating the law firm's two town centre offices into one location.
The ten-year agreement between Orbit Developments and Slater Heelis is for the entire 11,688 sq ft first floor of Crossgate House.
Slater Heelis is due to move into the property in spring 2023, marking its 250th anniversary.
Dean Richards, leasing director at Orbit Developments, comments: "We are delighted to have been able to provide Slater Heelis, which is such an established and respected business, with a property that fell in line with its workplace aspirations and will become its sole premises in Sale. It's been a pleasure dealing with the staff at Slater Heelis and Edwards & Co who advised them."
Chris Bishop, managing partner of Slater Heelis, said: "Sale has been home to our head office for over 100 years and during that time we've established strong roots within the community, so it was important for us to find new office space within the town. Crossgate House is the perfect fit. It supports our environmental commitments, providing a more energy efficient space with plenty of bike storage and easy access to nearby public transport links.
"Slater Heelis is continuing to grow, and we know how important an attractive office environment is in recruiting and retaining staff. Our new HQ will enable us to make the most of our new hybrid way of working, facilitating greater collaboration when we're all on-site and creating space for training and socialising."
Slater Heelis was advised by Nigel Hunter, senior director at Edwards & Co, while Orbit Developments were represented by James Dickinson at Canning O'Neil.