Vodafone opens UK first Edge Innovation Lab in MediaCity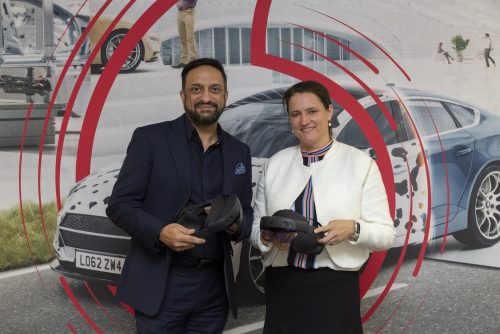 Telecoms giant, Vodafone, today (November 28) opened a new Edge Innovation Lab in MediaCity, Salford, in what is a first of its kind in the UK.
The lab will support the development of Manchester and the surrounding region into a Northern digital powerhouse.
The Edge Innovation Lab at HOST, the Home of Skills & Technology, will offer the opportunity for companies, academics, software developers and public sector organisations to see and test the possibilities of the next generation in network technology – Multi-access Edge Compute (MEC).
Software developers and innovators in the Greater Manchester region will have access to these technologies in the earliest stages of development. This head start will create a global centre of excellence for real time mobile applications in the region, supporting the growth of digitally-led businesses and industries in the area, as well as in the rest of the UK.
Nick Gliddon, business director, Vodafone UK, said: "MEC enables the creation of digital services and platforms that would otherwise be impossible to deliver.
"The lab offers innovators the opportunity to experiment with next generation technologies and bring to life ideas that could revolutionise the way we do business and deliver public services. It will place Manchester and the surrounding region at the centre of the next stage of digital revolution."
MEC technology enables real time data processing at the network edge, allowing for the creation of low latency services that would not be possible on today's traditional network infrastructure. This offers innovators in the Greater Manchester area an opportunity to be at the forefront of next generation digital services.
By installing specialist servers either in Vodafone or customer facilities, applications are able to respond to command significantly faster. This time applications take to respond, known as latency, is a barrier for next generation innovations that require almost instantaneous reactions, or are powered by artificial intelligence. When combined with 5G, latency could be reduced to speeds faster than the human brain processes information.
Use cases enabled by MEC include autonomous vehicles, autonomous operations in factories, immersive augmented and virtual reality, remote medicine, cloud gaming and drone transport.
Vodafone has deployed Dedicated MEC servers at the Edge Innovation Lab and has launched a Distributed MEC zone in the Manchester area in partnership with Amazon Web Services (AWS), as part of their AWS Wavelength Zone infrastructure. Vodafone will also showcase Mixed Reality and Visual Inspection services at the lab. Vodafone has partnered with Kyndryl to offer customers professional and managed services for dedicated MEC and wider cloud-managed services to Vodafone customers.
Tosca Colangeli, president, Kyndryl UK&I, said: "We are excited, as part of our strategic partnership with Vodafone, to be supporting the Edge Innovation Lab in Salford and to use the facility as inspiration and co-creation for our joint customer engagements.
"We expect edge technologies to increasingly become an enabler of business outcomes, allowing end users – and machines – and industries including manufacturing, energy and retail, to reap the benefits of traditional cloud computing while gaining advantages such as reduced data latency, better data autonomy and enhanced security."
This builds on Vodafone's four-year partnership with HOST in MediaCity, where the lab will be located.
HOST combines skills, innovation and start-up growth services under one roof, with an inclusive community that supports businesses to learn, grow and succeed. It focuses on key sectors including data science, AI, cyber and immersive technologies so individuals and businesses can explore the pioneering opportunities available in these areas. HOST is also home to the UK's Unity Centre of Excellence and Skills City's digital Skills Bootcamps.
Mo Isap, CEO of IN4 Group, operator of HOST, said: "We are excited to extend our partnership with Vodafone as they bring their Edge Innovation Lab to HOST. Our mission is to support and develop use cases in innovation with start-ups, scale-ups and established businesses, and this is the missing piece of our jigsaw, which connects with our Unity immersive and AWS cloud infrastructures, our Cyber Security Operations Centre, and now we have Edge computing capabilities. This becomes a unique environment for any company looking to progress and accelerate its innovation in the region."
Alongside the launch of the lab, Vodafone is also running the Edge Innovation Programme 2.0.
Using both dedicated and distributed MEC technologies, the Edge Innovation Programme 2.0 will inspire the creation of innovative and futuristic services, products and applications. Participants of the trial will be able to 'try before you buy' MEC services and will also receive a voucher for further discounts on additional services following trials and proof-of-concepts, as well as work alongside Vodafone network and technology experts to bring ideas to life.
Vodafone has already worked with more than 20 companies to trial new MEC service.