Lancashire spearheads initiative to cut manufacturers' carbon emissions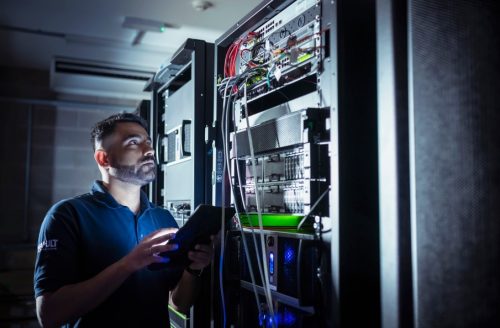 New funding worth £2.5m will deliver a scheme to help manufacturers slash their emissions by retrofitting digital technologies onto legacy shop floors.
The initiative is being driven by AMRC North West – a body led by the University of Sheffield and supported by the Lancashire Enterprise Partnership (LEP) – which is driving Lancashire's low-carbon transition.
The Low Carbon Smart Building Demonstrator project, supported by LEP through the Government's Getting Building Fund (GBF), will create a road map for manufacturers of all sizes that will enable them to cut the carbon footprint of older facilities and achieve net zero by 2050.
Ben Smith, low carbon building specialist at AMRC North West, said: "There is nothing like this available in the UK. I have yet to see a facility that has such a broad spectrum of digital technologies on display at one time and all of it being aligned to reducing a facility's carbon footprint.
"It's not about telling manufacturers to buy the latest equipment to reduce their emissions, but rather demonstrating how they can make their existing infrastructure greener and more efficient by retrofitting digital technologies."
AMRC North West sits at the heart of the Samlesbury Enterprise Zone in Preston and has been built using a £20m grant from the LEP Growth Deal.
It officially opened in March 2022, and is the newest facility in the University of Sheffield Advanced Manufacturing Research Centre (AMRC)'s cluster of world class research and development innovation centres.
Commercial director, Melissa Conlon, says the £2.5m grant will transform AMRC North West into a 'living and breathing' demonstrator and the project will be a flagship programme of interest to anyone with a building looking to lower their cost of ownership and reduce carbon emissions.
The building will be equipped with a suite of smart factory technologies including building management systems (BMS) that integrate with machines, occupancy and asset tracking to ensure shop floor space is being best used, manufacturing execution systems to improve productivity, environmental sensors to understand how efficiency can be affected by changes in temperature, digital work instructions using augmented reality (AR) and virtual reality (VR) headsets, and novel renewable energy sources and energy storage for manufacturing facilities.
Melissa said: "The manufacturing sector knows it needs to reduce its carbon emissions if the UK is to reach the target of net zero by 2050, but there is very little knowledge for manufacturers about how the industry as a whole can become more sustainable. We will plug that gap.
"There are more than 3,000 manufacturing small and medium-sized enterprises (SMEs) in Lancashire so we have a real opportunity to make a significant difference to help the manufacturing industry become low carbon using digital technologies. In this, Lancashire can lead the UK and our manufacturers to be an exemplar for the rest of the sector."
Debbie Francis, LEP chair, said: "By working closely with our partners, we have successfully secured a total of £34.1m from the Getting Building Fund for investment in quality projects which will drive economic recovery and create jobs.
"This scheme will enable Lancashire manufacturing businesses to adopt more energy-efficient operations through the use of new low carbon technologies, which will reduce costs and improve their competitiveness.
"The project will enhance the existing AMRC offer on the Samlesbury Enterprise Zone and will have a significant impact on the capabilities of our manufacturers, ensuring they are positioned to drive growth, increase productivity and remain at the forefront of innovative and cutting edge technologies."
Ben says the project has funding to work with 120 SMEs and 20 large companies in the region over the next three years.
The technologies are being supplied by four companies: Vodafone, PTC, Control 2K and IoT Horizon. Vodafone is the market leader for Internet of Things (IoT) and smart factory technologies and is supplying the most cutting edge solutions. Control 2K is providing similar solutions on a smaller budget. IoT Horizon is delivering affordable versions of the occupancy and asset tracking technology, and PTC will deploy its Vuforia augmented reality software and industrial IoT software platform ThingWorx to share best practice and connect more than 35 machines at the facility.