International logistics business in new hands following MBO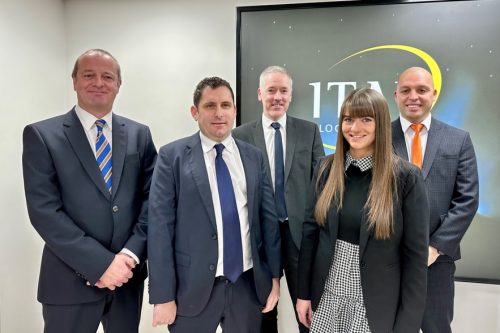 A management buyout has been concluded at Manchester-based haulier, Ital Logistics.
A 75% stake has been sold, for an undisclosed sum, to the new management team of Dean Emsley, Ashleigh Morris, Mike Whitney, James Mears and Kurtis Rees.
Advised by business advisory and accountancy firm Cowgills, the sale of holding company Ital Holdings (UK) Ltd consists of both Ital Logistics Ltd and its sister company Ital Transport (UK) Ltd to Ital Holdings Management Ltd. Dean Emsley will take over as managing director with Phil Denton adopting the role of group chairman.
The business has been run for 22 years by co-founders Phil Denton and Dianne Denton-Morley.
It was initially a freight forwarding service with Italy and today also includes Spain, Portugal, Greece, France, Malta, and Germany, with a specialisation in the carriage of dangerous goods.
The company's portfolio extends to sea and air freight, as well as general forwarding services Europe-wide and through Ital Transport (UK) Ltd, it also provides UK domestic transport services, including the carriage of dangerous goods.
Dean Emsley said: "The last two years have posed many challenges with both COVID and Brexit. However, with commitment from our colleagues we have surpassed all expectations. I am proud of the hard work contributed by all in overcoming the associated difficulties and am relishing the opportunity to drive the business forward as the new managing director."
Nilesh Modhvadia, audit director at Cowgills, who oversaw the deal, said: "We are proud to have supported Ital Logistics with this transaction. The business has seen impressive growth over the past couple of years with this trend continuing during the current year, and with the new management team in situ we look forward to seeing the business go from strength to strength."
Commercial director, Mike Whitney, said: "Despite the challenges of Brexit and the increase in red tape we have grown all of our trade lines along with the newly-formed sister company Ital Transport (UK) Ltd. This has led to us building the team from 28 to 50 people and turnover since 2019 has also increased by a third. We anticipate a turnover in the region of £20m this year and we are confident that the future looks very bright for the business going forward."
Phil Denton said: "In considering our exit strategy, our primary objectives were to ensure the stability of the company by continuity, brand retention, maintaining organic growth, and, above all, protecting jobs. We are fortunate to have an incredible team who have always worked tirelessly, and with dedication, even more so through the last couple of years when the going has certainly been tough with the challenges of both the pandemic and Brexit.
"The new management team have big ambitions, drive and new ideas, to take the company forward and Dianne and I are confident that, with our continued support, they will achieve their goals."