Ground broken at £135m Wigan Galleries redevelopment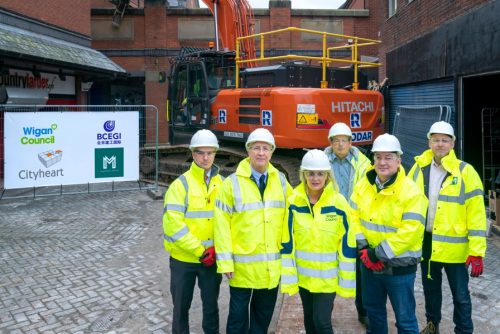 Ground has been broken at the £135m Galleries shopping centre redevelopment in Wigan town centre.
Contractor, BCEGI, has started work, beginning with the demolition of the car park bridge. The work is expected to take 18 months, but once areas of the site have been demolished, new development phases will begin.
The first of these phases is the New Market Hall, which is due to be delivered by 2024.
Currently, 49% of the on-site staff have been recruited from within a 20-mile radius of the scheme and BCEGI is working with a number of local suppliers, including contractors and waste removals during this period.
Planning for the redevelopment of the Galleries shopping centre was granted in November last year and will provide a much needed vibrant new retail, leisure, commercial destination in the heart of Wigan town centre.
Leader of Wigan Council, Cllr David Molyneux, said: "This an exciting milestone for the Galleries redevelopment and the first of many to come. The redevelopment aims to create as little disruption as possible to the town centre and we've prepared an impressive events programme for the festive season to help support local businesses, with the annual lights switch on and Santa parade upcoming."
Warren Taylor, director of Cityheart, which is working with the council on the scheme, said: "We are fully committed to delivering this important scheme and continue to work alongside the council and local community to achieve our vision.
"It is exciting to see the first stage of the transformation taking place, together with the new hoardings that have been erected, it really feels like tangible progress is being made, which serves to reiterate our message that exciting improvements and changes are coming."