People: Leonard Curtis; Vita Group; Agent; The Manor at Greasby; PR Fire; Salford City Council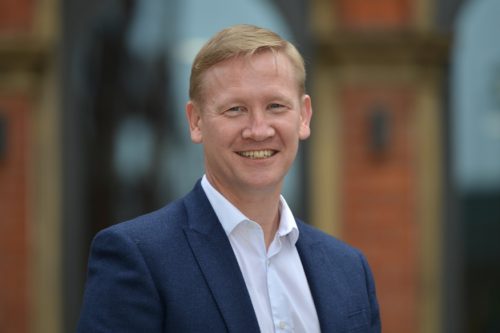 Business solutions group Leonard Curtis has enrolled some of its most experienced and respected personnel to a new debt advisory service – bringing decades of financial expertise under a single umbrella.
Leonard Curtis recently announced the launch of the debt advisory team within a broader offering to support clients requiring advice in an increasingly challenging market.
The company has now confirmed three debt advisory directors – Simon Carrier, Dave Allanson and Shaun Hyland – will head up the department.
The corporate strategies team becomes part of debt advisory – with Joe Douglas, Max Richardson and Joshua Timmis adding expertise in areas including 'Time to Pay' arrangements with HMRC and lender reviews.
Simon Carrier said: "With a strong team and so much experience behind us, we know better than anyone how to align facilities and funders with a client's strategic goals and personalities."
Dave Allanson said: "Our team have a great deal of experience in structuring deals for SMEs and mid-corporates and we have recruited talent from our funding and corporate strategies departments to cover every area."
Leonard Curtis has recently formalised its group into three distinct pillars – restructuring and insolvency, legal and funding.
::
Specialists in urban living, Vita Group is investing into operations team with the appointment of Chris Jones as group energy manager. A new role for the business to support its future growth and safeguard it from market volatility, Jones will manage Vita Group's energy procurement.
Jones joins the business with more than 14 years' experience in the sector, working for McColl's, Selfridges and Johnson Controls operations and engineering teams. During this time, Jones worked in a number of areas in the businesses including securing waste, water and electrical contracts and rolling out food recycling projects at McColl's to defining Selfridges' green building guidelines.
Within his role, Jones will help to develop and deliver the company's continued commitment to a greener and more sustainable future. This will include working with Vita Group's operations team to reduce energy and water consumption in its existing assets, as well as managing short and long term energy procurement to deliver savings across the business whilst ensuring supply.
Max Bielby, chief operating officer for Alderley Edge-based Vita Group said: "The need for both strategic and sustainable energy procurement has never been greater to safeguard the business from external risks and deliver against our sustainability goals. Now with Chris at the helm we will be able to minimise any external risks whilst adopting greener behaviours both in procurement and usage, helping to reduce our impact on the world."
Chris Jones said: "Vita Group has established its reputation as an urban regeneration specialist, creating thriving communities. As the business continues to scale with developments in the UK and abroad, it is important to find ways to reduce our consumption and reduce our impact with greener energy, helping to create more sustainable communities."
::
Full-service brand and communications agency, Agent, has announced two senior promotions, ahead of a year of ambitious growth.
The agency, which has offices in Manchester and Liverpool, has promoted Drew Grant to creative director, and Daniel Byrne to strategy director. Both have been fundamental to the agency's growth in recent years, with Drew spearheading its recent rebrand, revealed earlier this year.
The promotions follow significant success for the agency this year and will allow it to expand its offer for its high profile client roster, which includes the Road Haulage Association, Peel Ports, Nippon Electric Glass and United Utilities.
Increasing its headcount by more than 15% in 2022, the agency, which launched in 2006 with just three members of staff, now has 40 team members, spanning various areas of expertise across its four departments of strategy, creative, digital and campaigns.
Daniel Byrne said: "I'm looking forward to continuing our growth at Agent and building on the work we have been doing with our clients, making sure there is a golden strategic thread that runs through everything we do."
Drew Grant said: "I'm excited about the opportunity this new role presents in terms of being able to put a real focus on our creative direction as a business. Given the expansion of the team, we're in a brilliant position to explore even more growth, opening ourselves up to new projects and clients, and really making a difference in everything we do."
Paul Corcoran, Agent's CEO, said: "I'm exceptionally proud of everything we've achieved so far as an agency and it's in no small part thanks to our incredibly committed and experienced team. We've had some significant client wins this year which have resulted in us further expanding our areas of expertise, so that we can continue to make good work, bringing in the right talent to do just that.
"As we grow, we're always looking for ways to invest in our team and bring people on our journey with us.
"It's not just about bringing in new talent, but developing the talent that we already have, which is why it was so important for us to promote Drew and Daniel to these senior positions, in recognition of the part they've played in our story so far, and where we're going next."
::
Ahead of its launch in February 2023, The Manor at Greasby, on the Wirral, has appointed James McAdam as the site's general manager.
James has more than 20 years' experience in the hospitality industry, managing restaurants for one of the UK's most prominent Michelin star chefs and working at one of Cheshire's most celebrated four-star hotels and wedding venues.
The Manor at Greasby is the fifth development from Nelson Hotels & Inns. Having previously been part of the Nelson Hotels & Inns group between 2008 to 2012, James is looking forward to returning to the team.
James's previous position as a landlord at The Three Greyhounds Inn involved managing a gastro-pub with up to 170 covers and private event suite. His role included all aspects of the day-to-day running of the gastropub with the added detail of planning and delivering 100 weddings and functions a year.
James said: "We want people to be able to visit The Manor for anything from a meal out with friends and family, to a special occasion such as their birthday or wedding day. Our aim at The Manor is to provide the same great experience to everyone who comes through the door, regardless of the reason they visit."
Andrew Nelson, director of Nelson Hotels & Inns, welcomed James, saying: "His years of expertise within the hospitality industry will be invaluable in guiding our staff and kitchen teams to offer exceptional service to our guests, and steer The Manor as a leading restaurant on the Wirral. We look forward to seeing him elevate our high standards for food and service."
::
Warrington-based press release distribution service, PR Fire, has added apprentice marketing assistant, Lauren Redford, to its team.
Lauren's apprenticeship, which started in December will bring a fresh focus to PR Fire's own digital marketing strategy, with projects including branding, social media, email marketing, CRM, SEO and content creation to work on as the business continues to expand in the UK and US markets.
As an English Literature graduate and an established blogger, Lauren is perfectly positioned to put her knowledge and experience into practice. She joins Naomi Finnen and Holly Darroch, who joined the business in November to bolster the capacity of the PR campaign delivery team.
Dawn Jackson, managing director, said: "In today's marketing landscape, young people bring an undeniably valuable perspective. Today's graduates have a unique understanding of online services; they have extensive experience as both consumers and creators, on digital platforms that have existed for the majority of their lives."
The business relocated from Hale to Warrington's vibrant office building, The Outset, in late November, which has given PR Fire the space to continue to accommodate key new hires.
Dawn added: "Having young and motivated team members allows PR Fire to offer a dynamic, forward thinking, innovative approach to our clients' press release campaigns. Our new hires have a great opportunity to apply their skills as part of a growing team and contribute to the wider success of the business."
::
Salford City Council has announced interim leadership arrangements are being agreed for its People services directorate, with the upcoming departure of Charlotte Ramsden as strategic director of people in February 2023. Charlotte is taking up a new role to head up Bradford Children and Families Trust.
Chief executive, Tom Stannard, said: "To join our highly regarded and well established services, ensuring strong continuity and capacity, we are recruiting interim executive directors for both children's services and adult social services and health, and I can now share Melissa Caslake is joining us as interim director of Children's Services (DCS).
"Melissa brings a wealth of experience in comparable roles as a DCS for a number of local authorities including Devon and the bi-borough arrangements between Kensington and Chelsea and the City of Westminster.
"She will join our strong leadership team in children's services and bring much needed capacity, as well as stability and an impressive track record of leading organisations through successful Ofsted inspections and other regulatory processes."
Paul Dennett, Salford City Mayor, said: "I would like to thank Charlotte for all she has done here in Salford and wish her all the best for the future. I now look forward to welcoming Melissa to Salford to build on the legacy of Charlotte's work."
Melissa Caslake said: "I am keen to get started, working with colleagues, partners and families to get the best outcomes for children. I look forward to continuing the great work in place and delivering the ambitions for children and young people."