Lufthansa increasing frequency of LJLA flights to its Frankfurt hub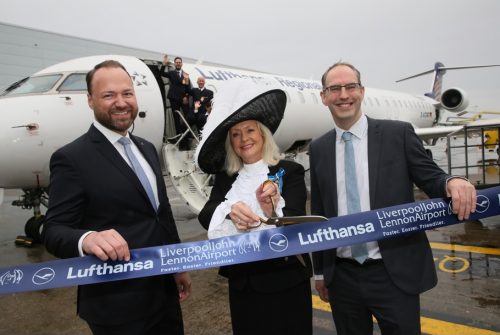 German carrier Lufthansa will be increasing the number of weekly departures to Frankfurt from Liverpool John Lennon Airport (LJLA) at the start of summer 2023, it announced today (December 15).
This follows the success of the service which started in May this year, linking Liverpool with the world through scores of international routes from the German airport.
Lufthansa will increase frequency to six weekly departures, operating every day except Saturday.
It means the airline's capacity from Liverpool next summer will increase by 50% compared with summer 2022.
It is almost 12 months to the day that Lufthansa first announced it would commence operations from Liverpool, with flights subsequently starting earlier this year on May 2.
This increased frequency means that Liverpool will connect with even more destinations, along with offering more departure choices for existing connections over Frankfurt, including to destinations such as Dubai, New York, Chicago, San Francisco and more.
Liverpool John Lennon Airport CEO, John Irving, said: "This is tremendous news, not just for the airport but for the city region and beyond, as this will enable passengers to easily travel to more global destinations via Frankfurt with the benefit of starting their journey from Liverpool.
"It is also good news for the region's visitor economy, further opening up access for visitors to the Liverpool City Region, the North West and North Wales and great timing ahead of the forthcoming Eurovision Song Contest."
Lufthansa's senior director sales Northern Europe Lufthansa Group, Heinrich Lange, said: "This new Lufthansa connection from Liverpool to Frankfurt has already enjoyed a very good level of demand in its first year and Liverpool has also proved popular as a new destination.
"For next summer we are now doubling our number of flights to six per week, increasing our flexibility as passengers will have more flight connections available to them via our Frankfurt hub. Liverpool will see even more incoming guests, as well."