Law firm first to sign up as tenant for Salford's eco-friendly Eden building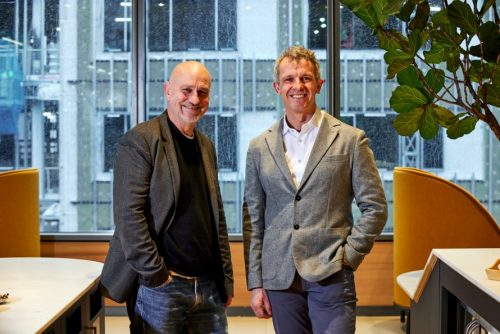 Law firm TLT is the first to sign up to space in Salford sustainable office, Eden.
National development partnership, The English Cities Fund (ECF), has signed a major deal with TLT, which currently has offices in Spinningfields, that will see it take the top two floors (20,000 sq ft) at Eden, one of the UK's most sustainable office buildings, for the firm's new regional home.
Eden's pioneering, holistic approach to sustainability was a significant factor in attracting TLT to one of the region's most sought-after commercial neighbourhoods.
Eden is a £36m, 115,000 sq ft, 12-storey office building, complete with a roof terrace, at New Bailey in Salford, developed by ECF – a strategic joint venture between nationwide placemaker, Muse, Legal & General and Homes England.
Once complete, Eden will have the capability to run on 100% renewable electricity and has been designed using the UK Green Building Council's 2035-2050 standards. Designed by Make Architects – the architectural practice behind the Three New Bailey and Four New Bailey office buildings – Eden aims to be the standard bearer in environmentally-conscious development and occupier wellbeing.
It will be kitted out with the latest in smart tech solutions to improve resource efficiency, with upgraded insulation in line with the Passivhaus standard, enhanced ventilation to improve the flow of fresh, clean air, along with an air source heat pump to provide low carbon heating, hot water, and cooling.
During the design stage of the scheme's inception, partners undertook early stage, whole-life and upfront embodied carbon assessments to eliminate waste and reduce the building's whole carbon footprint. Sustainable materials have been used throughout Eden where possible, such as recycled steel for reinforcement.
The jewel in Eden's crown will be the living façade, which at 43,000 sq ft will be the second largest in the world and the biggest in Europe.
This façade has been designed to remove air pollutants including carbon, reduce urban temperatures offering thermal benefits to occupiers, and delivering a 174% net gain in the biodiversity of the area, while at the same time providing high quality green spaces.
Alongside this, the façade has a range of health benefits, with Eden designed to enhance occupier health, wellbeing, productivity and will embrace the WELL Building Standard principles. Eden is also one of a small number of LETI pioneer projects and is on target to achieve a BREEAM Outstanding rating.
Eden is committed to having its operational performance independently verified by NABERS UK and is currently the only registered project in the UK targeting to reach a Design in Performance rating of 5.5 stars – out of a possible six. NABERS UK is a simple reliable system for rating the energy efficiency of buildings.
The scheme is a key part of ECF's £1bn transformation of the Salford Central area of the city into a diverse mixed use destination, complete with a bustling commercial district, alongside a vibrant community of homes and amenities.
Phil Mayall, director at ECF, said: "Eden has been designed for communities and companies that place sustainability at their hearts. TLT's decision to relocate to Eden reflects its values, as well as Salford's track record in innovation and creativity and is a ringing endorsement of our collective approach.
"As a business, we're committed to building a brighter and kinder future for the next generation, and we can't wait to welcome TLT to Eden when it completes. This place-changing building has been designed to push the envelope in terms of sustainable regeneration and highlight what can be achieved when like minded partners work together to deliver something truly special for the benefit of everyone."
Graeme Orchison, partner and location head for TLT in Manchester, said: "This exciting move is part of TLT's ongoing commitment to investing in Manchester which has played a key role in the firm's growth trajectory over the last decade.
"It also represents our commitment to sustainability and a people-first culture where employees have the space and support to produce their best work. Our values are very much reflected in Eden's ground breaking approach that is leading the way for future workplaces that are both better for our people and the planet."
Retained letting agents on the building are JLL, Cushman and Wakefield and OBI. Chris Mulcahy at JLL acted on behalf of TLT in the acquisition.