Toy firm forges alliance with industry leader on new range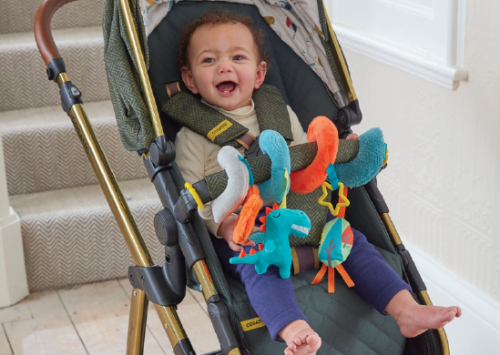 Sambro International, the Bury-based toy manufacturer and distributor, has announced a unique licensing partnership with Cosatto, for a new activity baby range.
Cosatto, the British brand famed for its mantra of 'saving the world from boring baby stuff,' is utilising Sambro's expertise in the pre-school sector and Cosatto's design-led approach, for the new range by Sambro featuring best-selling designs including Unicorn Land, Mister Fox and Dragon Kingdom.
Suitable from birth through to early pre-school, the variety of textures, fabrics, sounds and discovery elements, have been designed to support developmental play. The range includes comforters, pram clip-on toys, activity cubes, tummy-time rollers and spiral activity toys to keep little ones active and engaged.
Sambro, which celebrated 25 years in business last year, has long standing relationships with many of the top licensors including Disney, Hasbro, Paramount and Mattel among others.
This new partnership with Cosatto, extends Sambro's target market into a younger arena, complementing its existing portfolio. Sambro will deliver an initial range of around 20 products, launching in spring 2023 across retailers in the UK and EMEA regions.
Clare Rix, brand and licensing director at Sambro, said: "We're genuinely excited to be working with Cosatto on its first range of baby activity toys.
"Introducing the Cosatto brand to our licensed portfolio was a strategic move further bolstering our pre-school portfolio and strengthening our 'from-birth' offering.
"It also bolsters our continued growth in the UK and EMEA in 2023, expanding our target market, whilst complementing our existing portfolio."
Saving the world from boring baby stuff, Cosatto say its award-winning life-enhancing products are unique, thanks to a design-led approach, with intelligent functions all designed to make parent's lives a breeze.
Vicky Morley, creative director at Cosatto, said: "Sambro really impressed us with its expertise in the sector, as well as its understanding of our values and approach to creating toys that inspire creative play – leading to happy babies and parents.
"Pattern and colour are Cosatto's key trade points and we're really happy to see these shine through in this latest range from Sambo. We've also been careful to ensure the products place the need and development of babies at the heart of the range. We're excited to see the products hit the shelves and see parents and babies delight in their use."
Clare Rix added: "Last year we celebrated 25 years in business and it has been our most successful year to date – 2023 looks set to be even bigger and better for Sambro, as we not only drive forward plans in the baby and pre-school space but develop new ranges which have innovation, design and fun at their very heart."