£500m Merseyrail train fleet finally set to enter service after deal with Aslef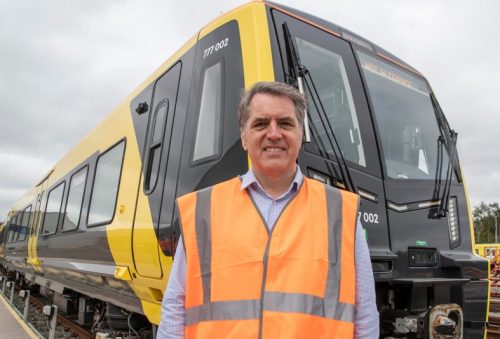 Merseyrail's £500m fleet of new trains is finally poised to be introduced into service – four years after testing first began on the new rolling stock.
The green light for the fleet's introduction follows a deal with train drivers' union, Aslef, to operate the new units.
Welcoming the news, Mayor of Liverpool City Region, Steve Rotheram, said: "The agreement between Merseyrail and Aslef is brilliant news for us because it gives the green light to launch our region's new £500m fleet of publicly-owned trains into action.
"We are enormously grateful to passengers for their patience during this process, but the day we have all been waiting for has finally arrived.
"Throughout this process, all parties have worked diligently to ensure that passengers can enjoy our new trains as soon as possible. We've worked with the trade unions and train operator to help deliver a fair deal for everyone, one that protects jobs, enhances the role of a second safety critical member of staff on every train and provides passengers with value for money."
He added: "Unlike the Government's approach nationally, we've shown that there is a better way to handle these matters – and it's by getting everyone around the table and working together in good faith.
"These new £500m publicly-owned trains will be the envy of towns and cities across the country. By putting our principles into practice, we have developed the most sophisticated and accessible local trains in the UK – symbolic of our wider efforts to modernise and grow the Liverpool City Region.
"Today is a massive milestone in my journey to build the London-style transport system that our area deserves. These new trains will bring the region's rail network into the 21st century.
"We'll be announcing the schedule for the phased introduction of our new trains imminently."
Swiss manufacturer Stadler has built the new fleet, which first began testing in Germany in October 2019.
Transport authority, Merseytravel, said at the time that the trains would begin to be rolled out into passenger service from 2020.
The authority has blamed delays on the impact of COVID, as well as protracted negotiations with trade unions on working with the new fleet.
However, in August 2019, TheBusinessDesk.com exclusively revealed the major obstacle was, in fact, peak-hour trains overlapping the signalling system at some stations, despite work to lengthen and raise platforms throughout the network to accommodate the new trains.