People: Cowgills; Thirst; Alliance Manchester Business School; Verastar; Manchester University; Inspira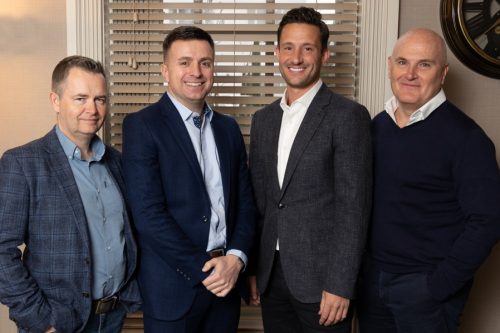 Business advisory and accountancy firm Cowgills has promoted two more team members to its partnership group.
Insolvency practitioners Ben Cowgill and Jimmy Fish both work within the company's business recovery team. The 25-strong team team includes six qualified insolvency practitioners operating across Manchester, Liverpool, Bolton, and Yorkshire and is now one of the largest in the North.
Ben Cowgill said: "I'm extremely proud to join the partnership group during an incredibly busy period given the number of businesses experiencing financial difficulties. The business recovery team has been instrumental in advising stakeholders of distressed businesses throughout the UK, and I'm excited to continue to have the opportunity to make a real impact in the market. The invitation to Jimmy and I to take this step is reflective of our positive contribution to both growth and, importantly, the Cowgills culture."
Jimmy Fish, who also specialises in corporate restructuring and insolvency, joined the firm just two years ago as part of a Cowgills acquisition. He said: "I'm thrilled for Ben and I to be joining the partnership team. We're determined to continue to provide high quality technical and commercial advice in our market, which appears to be increasingly in demand as a result of the issues businesses face in these turbulent times."
Head of business recovery, Jason Elliott, said: "Ben and Jimmy have already contributed significantly to the growth of the practice. Their promotions to partner are well deserved and I look forward to working alongside them and the other partners as we continue to build the Cowgills brand."
Managing partner, Paul Stringer, said: "Ben and Jimmy have proved themselves to be valuable and experienced advisors and are very much rising stars within our business. They both have a strong work ethic, combined with commercial acumen and a key understanding of the needs of stakeholders of distressed businesses, reflecting Cowgills' core values and ethos."
He added: "As a business we strive to recognise and nurture talent in our people at every level. We know that Ben and Jimmy will continue to provide invaluable support both internally to their colleagues, and externally in the world of corporate restructuring and insolvency over the coming years."
::
Manchester-based leaarning platform, thirst, built with advanced AI that, similarly to Netflix, will recommend personalised learning content to its users based on their interests, skills and career goals, has appointed Jade McNeil as the company's head of sales.
McNeil joins thirst as the company continues to expand its leadership team and in her new role will develop the go-to-market and sales strategies to drive revenue growth for the company.
The company was founded by CEO Fred Thompson to put learners in the driving seat and empower each user to undertake and control their own learning journey. It uses advanced machine learning technologies to deliver personalised learning content in the flow of work and help organisations to identify their skills gaps.
Mr Thompson said: "Jade brings a wealth of experience in the B2B SaaS industry, but, more importantly, a friendly and knowledgeable approach which will ensure our current and future customers deliver upon their learning objectives going into 2023 and beyond."
McNeil Brings 11 years of sales leadership experience, where she has a proven track record in delivering business growth, and successfully building and leading high performance sales teams at Village Hotels and Fissara.
She said: "Upon meeting the team at thirst I was blown away that I'd finally found a company that aligns with my own ambitions along with an agile product that is exciting and disruptive in its sector. My aim is to make a bang in the industry and I'm proud to say I'm part of the thirst journey along with a dynamic forward thinking team with a passion for learning and development."
::
Alliance Manchester Business School (AMBS) has appointed Sacha Sadan, the Financial Conduct Authority's (FCA) Environmental, Social and Governance (ESG) director, as an honorary professor.
Sacha has been director of ESG at the FCA since 2021, in a role that was specifically created to help the organisation develop and advocate its approach to sustainable finance, both domestically and internationally. He will use his expertise to support research academics and students at AMBS, which is part of The University of Manchester.
Sacha is playing a pivotal role in developing the FCA's approach to supporting a market-led transition to a more sustainable economy, in recognition of the Government's commitment to a net zero economy by 2050, and its ambitions around the provision of sustainable finance. Sacha is also currently working with counterparts internationally for a set of clearly defined sustainability metrics via the International Sustainability Standards Board.
During his career Sacha has been an asset owner, fund manager and global stewardship director. Before joining the FCA, he was director of investment stewardship at Legal & General Investment Management, one of the largest asset management firms in Europe,
He was also formerly a senior UK equity manager at Gartmore where he co-managed a range of UK equity hedge, retail and institutional funds. Sacha is also an alumnus of The University of Manchester, holding a BA(Econ) in Accounting and Finance.
Sacha Sadan said: "I have been a good friend of Alliance Manchester Business School for many years, working with talented academics who are at the very forefront of research into ESG issues. It is a real honour and accolade to now make my relationship with AMBS more formal and to offer my practical knowledge and experience to both academics and students.
"I am really excited about sharing ideas and connections with AMBS, and playing my part in developing evidence-based research into such a crucial area as ESG. As an alumnus it is also wonderful for me personally to be given this title by The University of Manchester."
In his role as an honorary professor, Sacha will use his personal expertise to help support staff and students in understanding and analysing ESG issues.
Prof Fiona Devine, head of AMBS, said: "Sacha has worked with academics in our Accounting and Finance division at the School for many years and brings with him a wealth of experience and knowledge of the ESG agenda, which is so critical for all businesses and organisations today. He will also bring invaluable insights of this agenda to all our students."
::
Sale and Manchester headquartered small business services provider Verastar has appointed Paul Sinclair as its chief brand and marketing officer to support the firm's ambitious products and services growth plans.
The Verastar Group has a suite of leading B2B brands which currently provide more than 10% of the UK's small businesses with essential services from electricity, gas, and water, to fixed and mobile telecommunications, broadband and fibre connectivity, payment processing and insurance.
Previously marketing director at telecoms and technology provider, Zen Internet, Sinclair leads a growing 20-person strong in-house team covering all marketing disciplines including, digital, CRM, PR, comms and design.
Lee Hull, Verastar CEO, said: "We've strengthened the talent we have within our expanding in-house marketing team to lead the business into an exciting phase of delivering next generation services for the small business market. Paul and his team are a highly skilled and experienced marketing services division."
Sinclair said: "I'm delighted to lead on Verastar Group's marketing strategy to challenge and bring something different to a very traditional market."
Other recent marketing hires at Verastar Group include head of marketing, Olivia Smith, and PR and external communications manager, Sara Mak, both of whom have extensive experience delivering campaigns for B2B brands in the telecoms, SME and finance sectors.
Delivering essential business services to more than 160,000 UK SMEs, Verastar employs around 900 staff at its Sale and central Manchester-based offices with additional offices at Rutherglen in Scotland and Leeds and Grimsby in the North East.
::
Prof Rob Ford, from The University of Manchester, has been appointed as a Senior Fellow by Brexit research network UK in a Changing Europe.
UK in a Changing Europe (UKICE) is an independent research organisation which was launched in 2015 to promote rigorous, high quality and independent research into the complex and ever changing relationship between the UK and the European Union.
The initiative is funded by the Economic and Social Science Research Council – part of UK Research and Innovation – and has released a wide variety of high quality and independent social science research on the broad theme of Brexit and its consequences since the 2016 referendum.
UKICE is now moving into a new phase with renewed funding and an expanded team and agenda, and will focus on three broad themes – UK-EU relations, the UK after Brexit and the UK's place in the world.
To reflect this wider focus, it has appointed 10 new Senior Fellows who hold considerable expertise across these themes. The new fellows will contribute to UKICE's programme of work by producing high quality original research, and communicating it to policymakers, politicians, the media, and beyond.
Rob Ford is a Professor of Political Science at The University of Manchester, and is an expert on public opinion, electoral choice, immigration politics and the radical right. His work includes the award winning books Brexitland, The British General Election of 2019 and Revolt on the Right, and he has been a consultant psephologist on the BBC's election programmes since 2005 as well as writing for The Guardian and other media outlets.
His UKICE fellowship research programme Brexit Aftershocks will analyse the impact of demographic change and identity divides on political outcomes, in particular looking at public attitudes to immigration.
He said: "UKICE is a world class research organisation, and is outstanding at communicating high quality independent social science to a broad range of audiences – I am looking forward to contributing to all of their activities."
Anand Menon, director of UKICE and Professor of European Politics and Foreign Affairs at King's College London, said:"I am delighted to have Rob – one of the country's leading political scientists – on the team for what promises to be an exciting new phase in the life of UK in a Changing Europe."
::
A duo has accepted expanded job roles with an employability and skills charity after it won new contracts across the North West.
Rachael Slater, Inspira's area operations manager for Lancashire, and Chris Gibson, Inspira's contracts manager for Cumbria and Lancashire, are now working in their new roles with the North West-based charity.
The two experienced managers are working together to further develop Inspira's careers and employability support to individuals, businesses and organisations across Lancashire where it has recently expanded its contracts.
Rachael, a teacher of 20 years, started her career journey with Inspira in July 2021 as area manager for Blackpool, Fylde and Wyre. She headed up the Blackpool office where she grew from a team of one to 21 members of staff. She has recently broadened her responsibility to support teams delivering services to customers in the Lancaster and Morecambe areas.
Rachael said: "I have a passionate, energetic and talented team across the whole of Lancashire and I know that people need us now more than ever as a support system."
Chris worked in the welfare sector for more than 10 years with a range of employability charities, helping adults develop their skills.
He joined Inspira in 2016 as deputy area operations manager for West Cumbria to help the organisation grow its support for adults, the charity having already become known for achieving positive outcomes when working with young people.
Chris now takes responsibility for the management of Inspira's delivery of the National Careers Service in Lancaster, Morecambe, Preston, Leyland, Chorley, Skelmersdale and Ormskirk, a role he already undertakes across Cumbria.
He said: "Inspira is continuing to grow across Lancashire, an area which Rachael and I are keen to continue to develop."
More than 21,000 people from Cumbria and Lancashire access Inspira's services each year.
Inspira also works with employers, local economic partnerships, councils and a range of organisations to deliver comprehensive programmes, solve local skills shortages, invest in young people and help reduce unemployment numbers in targeted areas.