Council to roll-out on-street EV charging points, led by residents and businesses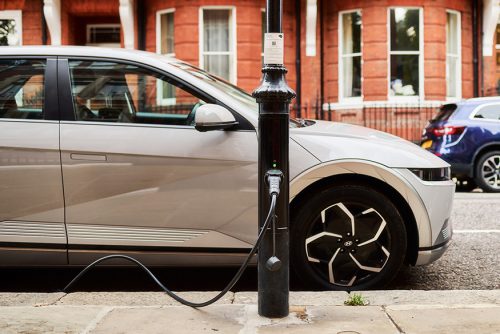 Liverpool aims to become one of the UK's biggest electric vehicle (EV) charging networks following a deal with ubitricity, a wholly-owned subsidiary of energy giant Shell.
The city council has contracted the firm to install a network of 300 on-street EV charge points, with locations chosen by residents and businesses.
The additional charge points are set to treble Liverpool City Council's existing network of 150 charge points to 450.  This would make the authority the third largest public charging network in the UK behind London and Coventry, using the most recent government data published in October.
By investing in charging infrastructure, Liverpool City Council is looking to address the north-south divide in EV adoption and take a big step towards achieving its carbon net zero target by 2030.
A lack of accessible public EV charging points is a common barrier to EV adoption, and analysis from the Department of Transport found that, as of July 2022, the North West had 76% fewer public EV chargers per 100,000 people than in London.
The roll-out comes as part of a two-part project which will see ubitricity take over the repair of Liverpool's existing charging infrastructure and then roll-out more charge points to help enable residents to make a transition to EV .
The new ubitricity charge points, which are installed directly into existing street lampposts, charge at a speed of up to 5kW and take just under two hours to install.
The roll-out is planned for key residential and commercial locations, allowing residents to easily charge hybrid and electric vehicles on the street where they live.
After the council declared a climate emergency in 2019, it unveiled its 2030 net zero Liverpool Action Plan which laid out a roadmap to tackle its carbon footprint. One of the key aims of this plan, which also includes developing the city's cycling and walking infrastructure, was to reduce carbon emissions from transport in Liverpool.
The goal is to make EV charging accessible for everyone, with a particular focus on residents who do not have access to private off-street parking and charging. The roll-out is led by community requests, with the council receiving more than 10 requests a week for new public charge points.
Cllr Dan Barrington, cabinet member for climate change and highways, said: "This new network of EV charge points provides a huge boost in tackling poor air quality and reducing the city's carbon footprint. This programme puts down a real mark of intent to provide the necessary infrastructure to help the move away from petrol and diesel powered cars.
"The fact that the roll-out is being led by community requests means the points are going where the demand is needed most which means they'll be getting maximum usage. And hopefully the demand will grow meaning the need for more charging points to be installed."
Toby Butler, UK managing director of ubitricity, said: "Liverpool is investing in an impressive on-street electric vehicle charging network, making the transition to EV much more accessible to their residents. In line with their plans to reach net zero by 2030 Liverpool is helping to lead the country in decarbonising their roads and improving air quality.
"By creating such a large and accessibly public network, Liverpool City Council is paving the way for the residents of Liverpool who want to switch to EV."
Ubitricity first appeared on Liverpool's streets in 2018. Having taken over the maintenance contract, ubitricity is looking to dramatically improve the reliability of the existing charge points. The roll-out of the new charge points began in late September 2022, and is set to complete in spring 2023.