People: The Learning Foundry; Sedulo; B2BTradeCard; Farleys Solicitors; Ascendis; TiE UK North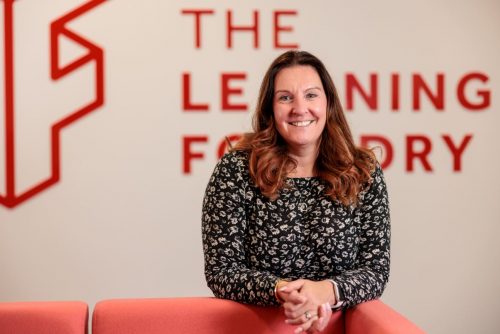 Liverpool-based training provider, The Learning Foundry, has appointed Claire Lee as the new managing director.
She said: "The Learning Foundry's aim is to give everyone the opportunity to shine, grow and thrive. I've worked in the education and skills sector for 20 years and will bring all of my knowledge and experience into upskilling businesses and supporting the incredible local people we work with. I'm really excited to get started."
The Learning Foundry has more than 25 years' experience in delivering training and apprenticeships. Training includes aspirational programmes that maximise employability opportunities and tackle skills gaps, with a focus on supporting everyone into meaningful paid work. Apprenticeships support businesses with their growth plans and help local people into paid work with fantastic opportunities for the future.
Stephanie Harrison, executive director – operations and customer service, at The Regenda Group, said: "We're thrilled to have Claire join us as the new managing director of The Learning Foundry. Claire brings a history of driving business growth in the education and training sector. I'm looking forward to working together to continue to deliver inspiring and engaging training and employment programmes and making talent shine."
Joanne Abraham, former managing director of The Learning Foundry, will be taking some time away from the role for personal reasons. With a history in teaching, Joanne will step into a development coach role to work with learners for the foreseeable future.
::
Business advisory group and investment powerhouse, Sedulo, has appointed Andy Nixon as national director of operations and tax plus Diccon Thornely as national head of audit.
Andy and Diccon, who both arrive at Manchester-based Sedulo from Grant Thornton UK, have been hailed as game-changing appointments and a 'major coup'.
Sedulo operates nationwide, boasting offices across Manchester, London, Leeds and Liverpool, currently employing more than 175 staff as it approaches the end of its 13th year in business.
In his role, Andy will work with the R&D team while Diccon will oversee all audit operations.
The R&D team within Sedulo, led by Josh Perry, has doubled in size during the past 12 months, from six team members in early 2022 to 14. Sedulo says continued investment in the team during 2022 led to "significant new client wins during the back end of the year, making a further senior appointment essential".
Andy is an experienced technology and transformation leader, having started his career at ICL and subsequently AstraZeneca and IBM. Throughout his career Andy has worked for some of the biggest household names and global brands. Specialising in R&D since joining EY In 2014, Andy has also worked for Deloitte and most recently at Grant Thornton's Innovation Incentives Team as an associate director, with national responsibilities for all technology-based R&D claims.
He has undertaken claims for some of the most sophisticated corporate organisations and well known brands, including high street banks, semiconductor and software developers, specialists in defence and transportation, insurance companies, fintech, manufacturing, healthcare and life sciences. The specialist has also supported clients from global fashion houses to fast fashion e-commerce retail brands, as well as in food development, production and distribution and well known supermarkets.
Sedulo said: "This ties in perfectly with their recent business development strategy of targeting larger businesses in the UK and it is anticipated that their R&D division will achieve growth in excess of 100% during 2023."
Andy said: "Innovation and doing things differently is part of my DNA, I started my career in IT back in 1994, and almost everything we take for granted that exists today was but a daydream back then. I absolutely love supporting clients with their R&D claims to provide investment to continue to innovate and grow."
Meanwhile, the audit team within the company is also expected to grow significantly this year, as the firm aims to be a genuine alternative for larger organisations requiring audit services, but not wishing to be dealt with by a top 10 firm.
Diccon joins the financial services group having spent the majority of his career, working at Grant Thornton UK, his last position being an RI in the London audit and assurance division, helping lead their not-for-profit team. He has extensive experience, with a specialism in providing audit services for all sizes of private, public and not-for-profit organisations. He trained and qualified (ACA) with Grant Thornton UK and has worked with clients in a number of sectors – reporting under UK GAAP, IFRS and SORPs.
The expert leaves Grant Thornton having been an active part of the organisation's focus on audit quality which has seen them rise to the top of the FRC's quality scoring and he looks forward to bringing this focus to Sedulo's ambition to continue to develop a world class audit service over the next few years.
He said: "The fact I was at Grant Thornton for 15 years is testament to how much I enjoyed working there, although I wasn't looking for a new position, when I was approached with the opportunity to be part of Sedulo's ambitious targets not just for growth but for providing a world-class service, I couldn't turn down the opportunity. I look forward to working with the current base of great clients and team members across all our offices."
These latest appointments complete a recent hat-trick of arrivals within Sedulo, following on from Sarah Richards who was appointed national UK head of tax in November.
Sedulo Group founder, Paul Cheetham-Karcz, said: "Josh Perry has performed brilliantly leading the R&D team during 2022, which has seen a significant rebuild and upskilling of the team. This strategy was effectively endorsed by the Chancellor in recent changes announced during the budget to the R&D scheme, meaning more sophisticated R&D projects for larger organisations will gain better relief incentives, whilst smaller claims will be subjected to lower levels of reliefs from April this year.
"The significant growth in R&D, as a result of execution of our plan, means we needed to bring someone in to lead the operational side of the division. Getting Andy was a major coup for us and we are delighted to have him on board. He brings a wealth of experience to the team, having worked on some of the largest R&D claims in the country.
"Diccon is also an important appointment for us. He adds an immense amount of experience to our audit team, and by joining us it has cemented the standard of our holistic offering, by joining at a similar time to both Sarah, and Andy, in our tax and R&D teams. 2023 is a big year for the group as a whole."
::
Chorley-based advertising services, incentive and loyalty solutions provider, B2BTradeCard, has appointed Joseph Adongo in a new role as compliance analyst.
The appointment comes as the company doubles its office capacity in Chorley due to ongoing expansion, including the pending appointment of two new business development managers.
Launched in 2015, B2BTradeCard has undergone significant growth in the past few years, increasing turnover by more than 70% and doubling its staff in the past year alone.
Working in legal services and compliance since 2011, Adongo's previous roles include more than seven years with Nairobi-based global IT services and consultancy Techno Brain Group, as well as more recent roles with Blackpool-based Perch Group, Lancaster-based Fuse Legal and Manchester-based Teal Compliance.
On joining B2BTradeCard, he said: "B2BTradeCard is an innovative company with a fast growing national customer base. My role is to ensure and futureproof service compliance, bringing the function inhouse to maximise quality standards into the future.
"As a pioneering fintech company, B2BTradeCard has developed a great company culture, putting a concerted effort into being a great place to work, so I'm really looking forward to becoming part of their ongoing growth journey."
::
North West law firm Farleys Solicitors has continued the firm's expansion into 2023 with the appointment of four specialists to the family law team.
The arrival of solicitors Hollie Randles and Victoria Boswell alongside paralegal Bob Worsley and joined by qualifying solicitor Katie Sharples, allows Farleys to meet the continued high demand for family law services in Lancashire and the North West.
Hollie Randles joins the firm having qualified into family law in 2021 after previously working as a paralegal in the field. She specialises in children law, including care proceedings and is proud to work in an area where she has the ability to make a positive difference to the lives of families and their children.
Victoria Boswell qualified as a family law solicitor in 2022 having previously graduated from the University of Central Lancashire with a Master of Laws with Honours. Victoria also specialises in children law, and prides herself on her empathetic and compassionate approach to clients during what is often an extremely difficult time for families.
Bob Worsley will be supporting the team from the firm's Blackburn office as a paralegal having previously worked in the media industry before taking the decision to seek a new challenge and converted to law via the GDL.
Katie Sharples has qualified from the firm's training programme after completing two years of training. Prior to beginning her training contact, Katie joined the firm as a paralegal in the family team. Having displayed a keen interest and skill in this area of the law, she has now taken up a permanent role as a solicitor in the team upon her qualification in January 2023.
Antonia Love, partner and head of the family law department at Farleys said: "The demand for family law services, including divorce and child arrangements, has continued to increase since the pandemic and the introduction of no fault divorce laws. We're delighted to welcome Hollie, Victoria, and Bob to the firm and Katie to the team on a permanent basis. All four bring excellent skills and will be an asset to our team and clients.
"We're pleased to be able to expand our offering to family law clients and look forward to continuing to assist people across Lancashire and the wider country."
::
North West accountancy firm, Ascendis, has recruited Christian Hitchen for his corporate finance expertise.
With more than a decade's experience supporting some of the region's most significant mergers and acquisitions, he will lead Ascendis Corporate Finance and Advisory to further assist the firm's new and existing clients.
This new department within the firm will work with owners to find investment and exit options for their businesses.
Christian and the team will work with a wide range of sectors, but with a particular focus on financial services, technology and sports, where the firm has a long and successful track record of helping entrepreneurs.
This new service will assist the firm's existing accounting, audit, tax advisory, strategic financial consultancy and business finance guidance and give clients access to a wide range of expertise and guidance.
Christian said: "After working alongside owner-managers in corporate finance for the last 10 years, I felt like many entrepreneurs were missing a true investment, mergers and acquisition offering run itself, by an owner-manager.
"Growing this new part of Ascendis is a really exciting challenge and I am looking forward to providing my advice and services to a broad range of businesses in the years ahead."
Richard Fleming, managing director at Ascendis, said: "Christian came highly recommended from a number of our professional contacts, especially those in the legal, private equity, venture finance and M&A sectors.
"He is obviously an ambitious, highly experienced and proactive individual who is very passionate about what he does. He is committed to helping business owners achieve the best possible outcomes and he obviously has a wide breadth of experience dealing with the kind of businesses that Ascendis advises.
"As advisors for growth, we feel he is an excellent addition to our team and will help our clients achieve their ultimate goal – a successful sale or investment."
::
Raam Shankar has been appointed as the new president of TiE UK North.
The Equitus World founder and CEO replaces the outgoing president, Tony Walker.
Raam said he is looking forward to his tenure and further growing TiE UK North, a chapter of TiE Global – one of the world's largest entrepreneurs networks.
He said: "I wish to start by thanking the TiE UK North board for placing its trust in me. I would also like to congratulate Harry Dhaliwal and Chris Kelly on being elected vice presidents.
"It is an incredible privilege and honour to be elected president of the Chapter. Tony, given his experience and knowledge, has left some big boots to fill. I am looking forward to working in the best interest of our members. As president my focus will be to enhance our ties (no pun intended) with the wider TiE Global community, and with the innovation ecosystem in the North of the UK."
Established for more than a decade TiE UK North each year works with hundreds of businesses and some of the most influential CEOs and founders across the North of England. The heart of TiE efforts lie in its five foundational programmes – mentoring, networking, education, funding, and incubation.
The non-profit venture is devoted to the entrepreneurial life cycle in all industries and was founded in 1992 in Silicon Valley by a group of entrepreneurs, corporate executives, and senior professionals with roots in the Indus region.
Ashok Kallumpram of Premier Textiles and a TiE UK North charter and board member, said: "TiE UK North has played a very important and unique role in the Manchester entrepreneurial community for many years.
"From one-to-one mentoring of young entrepreneurs, to speaker and networking events where the journeys of key business leaders are explored and by giving access to a global network."
He added: "And as TIE UK North has evolved over the years, it needs to move forward again.
"Raam is a brilliant choice to lead TiE UK North. He has the energy, passion and commitment to make the changes and also bring people together with a shared purpose.
"He has experience connecting with TiE members locally and globally. Fundamentally he is approachable, enthusiastic and the board are sure he can take TIE UK North to a new level."
Outgoing president, Tony Walker, is deputy director at The University of Manchester's Masood Centre.
He said: "I feel very proud to have been president of TiE UK North for the past two years during which the Chapter has grown its membership base despite COVID restricting our activities. The chapter is poised for growth and is highly respected and has a global reach. I am looking forward to supporting Raam in his presidency and the fantastic work of the Chapter."