People: DCBL; Adlington Retirement Living; Equans; M247; Hydrock; HBV Group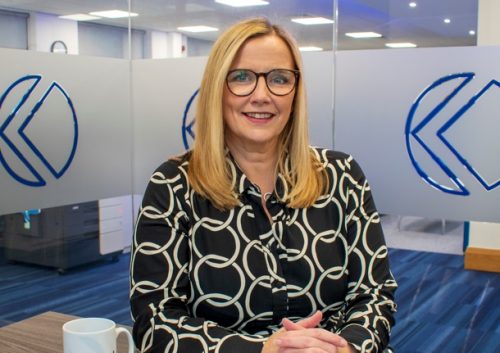 DCBL, the parking enforcement debt recovery company, has added Nicola Clark to its senior management team, to oversee the future development of the business's continual improvement programmes.
Nicola has held several senior business operations and customer service manager positions in the financial services sector over her 20 year career. She is passionate about delivering excellent customer outcomes with a key focus on continual improvement programmes, and hopes to achieve this at scale as DCBL continues to grow.
She was most recently head of operations at Amber Financial Investments for almost 10 years and has previously worked in the roles of insurance investigation, commission management, customer and relationship management, contact centre and investment administration over the past two decades.
She is experienced in working with teams of 10 to 70 people and is passionate about coaching and mentoring staff to unlock their true potential, something that is aligned with DCBL's mission to promote and develop its own people.
Darren Connor, DCBL managing director, said: "As we continue to grow after another great year, we wanted to further strengthen our senior management team, creating one that could maintain our progress and put us in the best possible position for future growth. Nicola understood our values, demonstrated a clear understanding of what we want to achieve, and is a great fit with the rest of the team's skills.
"Nicola's passion shone through, and she stood out for us in every area. She was able to draw on her vast experience and demonstrate through previous roles that she was the right person to help drive the business to the next stage."
Nicola Clark said: "I'm thrilled to join the team here at DCBL, it truly is a leader in its field, and I believe that I can help take it to the next level using my experience and ideas. I'm looking forward to further improving the standards of excellent customer service, developing smart processes, and using new technologies to support the delivery of this.
"I take great pride in mentoring and ensuring staff are coached and developed to reach their full potential. I will work with the rest of the senior management team to develop a culture of continual improvement, that includes root cause analysis and implementing controls to prevent reoccurrence. It's an exciting time to join the group and be part of the next phase of growth for the business."
DCBL, which has an operation in Runcorn, has also appointed a new chief financial officer to its senior team and made a series of internal changes to strengthen its management. It has recruited new talent and promoted from within to show its commitment to nurturing and developing its own people.
::
Adlington Retirement Living has announced four internal promotions and is actively recruiting for seven new roles as part of its ambitious growth plans.
Sharon Bossons, who has been promoted to senior operations manager, said: "We set up Adlington Management Services in 2019 to bring the operations of our retirement communities in-house and provide a consistently outstanding service to our homeowners. I've been involved with that from day one.
"My team are responsible for the practical aspects of running a retirement community, such as maintaining the building, as well as the more emotional aspects that create a caring, supportive environment and positively contribute to the health, happiness and wellbeing of our homeowners. We ensure that every homeowner's experience exceeds their expectations."
Aimee Clayton has moved from general manager at The Cottons in Ramsbottom to join the central team as operations manager and Donna Cowell has moved from general manager at The Woodlands in Heaton Mersey to join the central team as wellbeing and hospitality manager. In Sheffield, Nick Beedham has been promoted from duty manager to general manager.
Sharon added: "Every member of our team has a genuine passion for what we do. To be able to make such a difference to people and to support homeowners enjoying their retirement to the full is so rewarding. Over the years, I've seen first hand so many individual stories, where moving to a retirement living community has made a huge difference to the homeowners and to their family."
The four promotions are part of a move to scale up the Adlington Retirement Living team as part of its growth strategy. Since 2009, the business has launched 15 independent retirement communities across the North West, Yorkshire, Wales and the Midlands. Having already grown to three sites every year, the family-owned and run business is now looking to achieve six new retirement community sites a year.
Dr Ed Gladman, CEO of Adlington Retirement Living, said: "We're growing our team as part of our commitment to make that happen. In the past six years we have grown from 30 employees to a team of more than 150, with experts from land acquisition, planning, architectural and technical design, to procurement, construction, sales and marketing, legal and community operations. We're now recruiting for a number of roles ranging from general managers to architects, quantity surveyors, structural engineers and a senior interior designer."
::
Energy, services and regeneration company, Equans, has appointed Steven Gregory to run its North West operating unit, based in Salford.
Steven joined the business at the beginning of 2019 and led the new-build and construction operations in the North West, before becoming the director of core operations in the region.
His work in the region led to his promotion as regional director for the North West business at the end of 2022 as part of Equans' strategy of investing in and supporting its people.
Equans is a provider of technical services, facilities management, regeneration and energy services, with a strong footprint in the North West across sustainable construction and regeneration. Equans' portfolio in the region includes the decarbonisation and refurbishment of social housing, large construction schemes for both domestic and commercial use, and decarbonisation work that supports public bodies in reaching their carbon net-zero goals.
Steven said: "This opportunity is testament to how the business invests in their people. I'm very excited for the challenge ahead and look forward to working closer with our people, our customers, and the communities we operate in by safely and successfully delivering on our commitments."
John Haynes, managing director of Equans' Places and Communities North region, said: "2023 is an important year for Equans as we work to support our partners with their construction and decarbonisation needs, and the region is in safe hands with Steven at the helm."
::
Global connectivity and cloud services provider M247 has continued its run of strategic senior hires, appointing three new product managers.
Ashley Davies joins the business as cloud product manager, Liz Hawke has been appointed product manager for unified communications and collaboration (UC&C), and Robert Smith joins as product manager for cyber security.
Formerly cloud services director at THG Ingenuity, Ashley Davies has a track record of successfully leading product teams and transforming the way end users move from virtualised on-premise environments to automated cloud operating models. He will be responsible for commercial and technical ownership of M247's flagship cloud product line, as well as full partner landscape management, to further M247's strategic ambitions.
Liz Hawke joins the business from Gamma, the unified communications 'as a service' business, where she was direct product manager for more than five years. Liz will lead on UC&C and develop M247's workplace offering, as the communications needs of businesses evolve.
Robert Smith completes the current wave of senior hires, as product manager for cybersecurity. Prior to joining M247, Robert was networking and cyber security product manager at Maintel. With 25 years' experience, Robert has a stellar track record of defining product strategy, overseeing product launches and delivering service improvement plans across a broad portfolio of services.
Darryl Edwards, CEO of Manchester-based M247, said: "With ambitious plans for the business in 2023, the addition of three new product leaders, each with their own invaluable experience and expertise, will no doubt be instrumental to supporting the next step of our growth journey."
::
Hydrock, an integrated engineering design, energy and sustainability consultancy, said Neil Bayliss-Rowe has joined its transport planning team in Manchester as business demand continues to drive strategic expansion.
Joining directly from his role in Manchester City Council's (MCC) Highways Management Team, Neil has been appointed as an associate predominantly covering the North West.
He said: "Having been involved in a number of high profile projects as MCC's Highways Development Control Lead, including numerous consultations for strategic sites such as Victoria North, Ancoats, Etihad Campus and First Street, I intend to continue the second-to-none service Hydrock is recognised for delivering across the built environment."
Neil brings more than 16 years' experience in transport planning in both the private and public sector, from roles at Manchester City Council and AECOM, where he has developed close working relationships with key stakeholders.
Sam Denby, regional director – transportation at Hydrock, said: "We're pleased to welcome Neil to the team to support the continued growth of our client base in the North West. The specific public sector knowledge and relationships he brings will enable us to continue to successfully guide our clients through the complexities of the UK planning system and deliver positive outcomes."
Neil's key areas of expertise include highways planning consultancy and masterplanning, providing commercially-focused advice on developments across a wide variety of sectors. This includes delivering pre-application negotiation, sustainable access/highway engineering, traffic modelling, active travel design and advice around future transport.
::
HBV Group has appointed Molly McKenzie as development manager as it rolls out a pipeline of specialist supported living developments in 2023.
McKenzie joins from Fairhome Group and is experienced in land acquisition, appraisals and working with key stakeholders to deliver schemes.
She also has an extensive network of relationships with local authorities, property agents, care providers and statutory bodies nationwide.
Oliver Carroll, development director at HBV Group, said: "Molly is an experienced professional in the supported living sector and her development experience is a perfect fit for us as we roll out a number of new projects in this year. We're delighted to have her on board and she's a fantastic addition to our growing team."
Molly McKenzie said: "I'm looking forward to working with like-minded and ambitious colleagues who are setting new standards in the supported living sector. It's great to take the next step in my career and join the team here in Knutsford."