Merseyrail's new £500m train fleet enters service with historic first public journey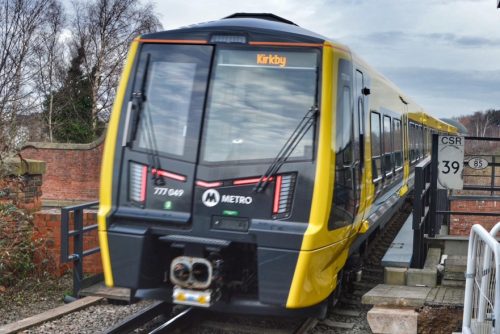 It was standing room only on this morning's 10:50 Liverpool Central to Kirkby train service.
Regular commuters found themselves in a media scrum as the first of Merseyrail's new £500m fleet of trains entered service.
The four-carriage Class 777 train provided a glimpse of the new standards that passengers can expect as they are gradually phased in over the Merseyrail network, starting with the short Liverpool to Kirkby run.
Merseyrail's current fleet of leased rolling stock is around 50 years old and showing its age.
The new trains, bought outright by Merseytravel from Swiss manufacturer Stadler, give a long-awaited improvement on 21st century travel.
Features include illuminated door buttons for passengers to gain entry/exit, a sliding step level with platforms making it easier for customers in wheelchairs, or with prams, to use the fleet, green and red door lighting telling passengers when it is safe to board or alight, a continuous carriage from front to back, instead of doors in each carriage, a range of seating including airline-style bays and some seats that tip up to allow more room for luggage and pushchairs, help points in carriages if passengers need emergency assistance, air conditioning, free wi-fi, digital passengers information screens, and USB and plug socket charging points.
The new fleet first began testing in Germany in October 2019.
Transport authority, Merseytravel, said at the time that the trains would begin to be rolled out into passenger service from 2020.
But the authority has blamed delays on the impact of COVID, as well as protracted negotiations with trade unions on working with the new fleet.
However, in August 2019, TheBusinessDesk.com exclusively revealed the major obstacle was, in fact, peak-hour trains overlapping the signalling system at some stations, despite work to lengthen and raise platforms throughout the network to accommodate the new trains.
Liverpool Metro Mayor, Steve Rotheram, was among passengers on the inaugural run today, and sidestepped the issue, telling TheBusinessDesk.com: "I don't know, you'd have to ask the technical people."
He added: "There's definitely some work that needs doing on the signalling, but we're not introducing that yet, so that's all planned in. There's other adjustments we need to make across the whole network and that's why it takes a little bit of time to roll them out."
However, he was delighted to talk about the roll-out of the new fleet, saying he wants to speed up plans to get more new trains on the tracks: "There are proposals at the moment but I want to shrink them down. Most of it will be out before the end of this year.
"But we want to look further and look beyond. I want to go to places that we currently don't have trains running to."
He also emphasised the economical and eco aspects of the new fleet, compared with the current ageing rolling stock which he said are "haemorrhaging money" because they are older "nearly as old as me, some of those trains".
He said: "The older trains were breaking down, we had problems with the bearings six months ago that cost a lot of money to keep them going.
"These new trains we were expecting, like you buy anything new, there would be less maintenance on them, they would run more smoothly, they're cheaper to run because they're lighter. They're also more economical because of the type of technology that is used, and they're greener.
"So, all of that means that they're helping us to achieve our net zero carbon targets."
His views were reinforced by several passengers on the first service who were so impressed with the new fleet that they stayed on board for another run to Kirkby and back.