Manchester office rents to rise as decline in home working drives rush for quality space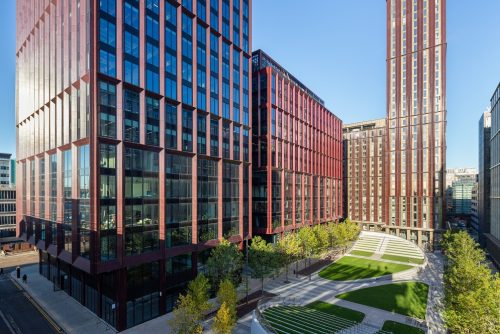 Manchester's office market significantly outperformed all other regional cities in 2022, with predictions that a rapid decline in home working this year is leading to a rush for quality space.
The annual UK Cities Report from Knight Frank said occupiers are zoning in on high quality, amenity-focused accommodation with strong sustainability credentials, and it revealed the city saw a 1.2 million sq ft take-up of space – almost double that of Birmingham – with the highest level of investment at £438m outside of the capital.
A lack of supply of Grade A space coming online could push rents – which tipped £40 per sq ft last year and are already nudging £42.50 per sq ft – up to £45 per sq ft this year as occupiers seek out the best spaces.
The flight to quality marks a renewed commitment to office culture with firms recognising the office is the place for connection, collaboration, corporate culture and training.
David Porter, head of office, Knight Frank, Manchester, said: "We question the business model of firms who adhere to a predominantly work from home policy. It was a pandemic necessity, and while some flexibility will always remain, the first port of call for employees should be the office.
"We are increasingly seeing the emphasis shift back, with the more fleet-footed firms taking the best spaces as they become available and encouraging employees back and reaping the rewards in many ways – staff training and development, succession, increased collaboration and better employee welfare.
"I feel the balance will continue to skew back to the office and over the next 12 months predominantly hybrid working will phase out.
"In recent months we have already seen companies who downsized their space post-COVID now having to either reorganise this or even taken more space to cater for the increased demand of their staff to be in the office."
Lack of supply could hinder that shift with almost three million sq ft of space coming up for renewal in the next two years and only 692,169 sq ft of space under development. The imbalance of supply and demand has already driven rates in Manchester to £40 per sq ft and the prediction is for that to go higher.
David said: "We are already seeing space under offer at £42.50 per sq ft and I see rents for the best in class offices with strong ESG credentials hitting £45 per sq ft this year. We are seeing occupiers pepared to commit early to new premises as they compete to acquire the best location and space for their business. This all forms part of their strategy to embrace the office as the best place to be for their staff.
"The speed at which deals are completing is also increasing and landlords looking to capitalise on the ongoing demand should invest in a speculative fit-out, offering a turn-key fitted solution for occupiers wanting a swift completion."
The report also highlights the spread of Manchester's diverse business areas away from the traditional CBD to areas like Oxford Road, Piccadilly and to the east.
David added: "Manchester is fortunate in that demand is driving growth, giving investors and developers the confidence to explore and exploit areas once seen as fringe.
"The likes of Glassworks in the Northern Quarter offers Grade A accommodation in a non-traditional office location and we are having conversations with investors about developing high quality spaces all along Great Ancoats Street which will link up with the redevelopment of Central Retail Park, ID Manchester and the already successful Circle Square."