Cranes roll into Stockport as developer's Weir Mill scheme reaches milestone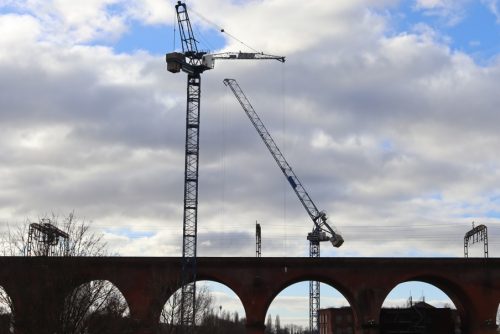 More than 100 people are now working on Capital&Centric's £60m Weir Mill development in Stockport and restoration of the historic site continues.
Two cranes are now on-site at the Grade II-listed location which will deliver new homes and public space, transforming the once derelict site into a buzzing new neighbourhood.
Construction at the town centre project started last summer. With the foundations for two new apartment blocks now laid, the towering cranes – 50m and 31m tall – have begun to build the homes that will add to Stockport's skyline.
Once complete in 2024, it wil include 250 design-led apartments alsongside green outdoor hangouts, indie bars, restaurants and shops.
It is set to be be a key element of Stockport's Town Centre West masterplan – a 130-acre regeneration district being driven by Stockport Mayoral Development Corporation (MDC), which will see the delivery of 4,000 new homes, alongside local amenities, green spaces, new workspace and radical transport improvements.
Adam Higgins, co-founder of Capital&Centric, said: "There's such a buzz around Stockport right now and so much happening that'll change the feel of the town centre for the better.
"The cranes punctuating Stockport's skyline are a really visible sign of progress and the scale of ambition to turn brownfield land into new neighbourhoods that pull a crowd. We're powering ahead with both the painstaking work of restoring the mills as well as the neighbouring new builds."
The existing mill buildings are also packed with activity. Now shrouded in scaffolding, the first step was to strip back and clean up the red brick interiors, revealing the beauty of the historic features.
Capital&Centric's restoration of mills – parts of which date back to the 1700s – will retain as much of original charm as possible, creating unique character-packed apartments for rent.
Cllr Mark Hunter, leader of Stockport Council, said: "This is a momentous occasion for Stockport as work starts to transform this area of the town centre into a new £60m neighbourhood, providing hundreds of much needed new homes, as well as vibrant outdoor spaces and even more great leisure facilities for people to visit and enjoy.
"Confidence from the private sector has never been better, and the fact that we're attracting renowned developers like Capital&Centric to take this project forward speaks volumes."
He added: "Weir Mill will complement our other ambitious projects in the town centre, such as the new Transport Interchange, Stockport Exchange and improvements to Merseyway. I'm looking forward to seeing plans progress and this historic building being brought back to life again."
The plans are MDC's Town Centre West masterplan, an integral part of the £1bn town centre wide transformation.
Lord Bob Kerslake, chairman of Stockport MDC, said: "The work Capital&Centric is undertaking to revive this historic building is vital in enabling us to create much needed new town centre homes and giving under-utilised spaces back to the community.
"The arrival of the cranes just months after work on site began last year, demonstrates the pace at which work is progressing, and the MDC's continued commitment to the delivery of the Town Centre West masterplan. This year is a significant year for Stockport, with developments such as Weir Mill, alongside the new Interchange scheme and the next phase of Stockport Exchange all nearing completion."
He added: "Stockport is already being dubbed one of the most exciting towns to live in the UK, and the culmination of these developments will enable Stockport to set a new benchmark for town centres, not just in the Greater Manchester region, but across the UK."
The Manchester-based social impact developer behind Weir Mill is shortly to star in a primetime new Channel 4 series, The Big Interiors Battle, based at Capital&Centric's Eyewitness Works restoration project in Sheffield, which will see budding designers take on a series of challenges in a bid to win their own apartment.