Operator selected to manage conversion of Grade II-listed site into serviced offices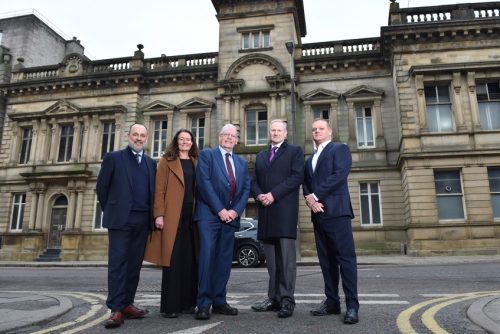 Serviced offices provider, W_rkspace, has been appointed to operate Grade II-listed Amounderness House, in Preston.
Preston City Council selected the company to transform the site into serviced offices and managed workspace accommodation.
The council and its development manager, Maple Grove Developments, identified W_rkspace, operator of seven business centres in the North West including five in Preston, as the preferred tenant to lease the former police station and magistrates court situated on Lancaster Road.
Following a complete refurbishment of the property by the council, W_rkspace will occupy and operate the 23,842 sq ft across three floors in the property from late 2025.
The £7.4m scheme is one of six major projects planned under Preston's Harris Quarter Towns Fund Investment Programme, for which the city was awarded £20.9m from the Government's national Towns Fund initiative in March 2021.
Harris Quarter is a unique quarter of the city centre undergoing a £200m investment programme to transform its historic buildings, sites and public realm into a diverse culture, leisure and employment offering, with Amounderness House located beside the £45m+ Animate cinema and leisure complex granted planning permission in March 2022 and due to open in 2024.
The rejuvenation of Amounderness House into a modern, flexible, multi-use workspace hub will help to stimulate business, cultural and community uses in the city centre.
Cllr David Borrow, cabinet member for planning and regulation, said: "This is a significant step forward in the rejuvenation plans for one of Preston's grandest buildings.
"It will be wonderful to see new life breathed into a heritage property that has had such a rich history and impact on the city centre over the years. Not only will it repurpose an empty property, generating income for the city, but it will boost new footfall in the area, provide new jobs and support local businesses and the city centre economy."
W_rkspace's growing portfolio accommodates more than 100 physical office clients and in excess of 150 virtual office businesses. Managing director, Rizwan Seth, said: "W_rkspace brings its own unique brand of flexible working solutions to the heart of the city, offering outstanding opportunities for local established companies, alongside fantastic facilities to help start-up businesses looking to achieve first steps of their business journey.
"The W_rkspace team feel proud to accompany this exciting city development and look forward to many fruitful and rewarding partnerships with the proud business community within Preston."
Nik Puttnam, senior development manager with Maple Grove Developments, said: "This is an exciting milestone in this project and Maple Grove are proud to be working with W_rkspace and the city council to bring forward the redevelopment of Amounderness House.
"The building offers an opportunity to create an exciting workspace within a heritage asset and work will now start with the team to work up the planning application and listed building consent."