Games developer and publisher adds to its stable with latest acquisition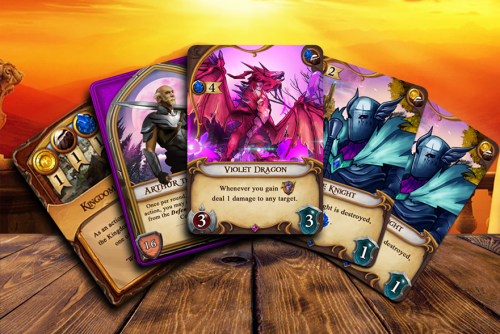 Manchester-based tabeletop games developer and publisher, Steamforged Games, has acquired the Kinghill IP and board game, for an undisclosed sum.
Kinghill, rated 8.5 on BoardGameGeek, fuses the strategy of a worker placement game with the drama and tension of a deck-building card battler to create a fantasy game like no other, said Steamforged.
The game, the brain child of designer Petr Marek and Czech studio Purple Dragon, is set in a world where two rival kingdoms are locked in a deadly battle for survival to claim ownership of the moonstones, sources of incredible power. The game ran on Kickstarter from October through to November in 2021.
Rich Loxam, Steamforged Games founder and CEO, said: "I had followed the initial Kinghill Kickstarter campaign and was incredibly impressed with the game concept and beautifully designed components. When it became clear there was an opportunity to acquire the IP we leapt at the chance to take it under the Steamforged Games umbrella.
"We want to take Kinghill to a wider audience and share what we love about the game and get people playing. We have some really exciting plans to develop the game for the future and can't wait to continue working with Petr and Purple Dragon."
Petr Marek, Kinghill creator, said: "I am really excited that Kinghill will be part of the Steamforged Games portfolio and have a life beyond the initial Kickstarter. Kinghill was a labour of love so it is massively rewarding to see it in safe hands. I've long been an admirer of their work and can't wait to see how they apply their unique thinking and creativity to the game."
By acquiring the Kinghill IP, Steamforged Games is able to use its significant experience in successfully crowdfunding, publishing, and delivering tabletop games to fully launch the title to a wider audience.
In the past 12 months Steamforged Games has acquired the Euthia and Rivet Wars IP's, demonstrating the business's ability to spot exciting opportunities that offer scope for creative product development.
Steamforged Games intends to develop Kinghill, in conjunction with Purple Dragon, with plans afoot for a variety of expansions, including a four player option.
Steamforged is known for a range of games including Elden Ring: The Board Game, Monster Hunter World: The Board Game, DARK SOULS: The Board Game, Horizon Zero Dawn: The Board Game, Godtear, Bardsung, Epic Encounters and more.
The company launched its second crowdfunding campaign in April, 2016, which ended a month later, raising £3,771,474 from 31,178 backers, smashing the then-record for a tabletop game Kickstarter.