People: Eureka! Science + Discovery; Gunnercooke; Synapse 360; FW Capital; Broadway Insurance; Butcher + Barlow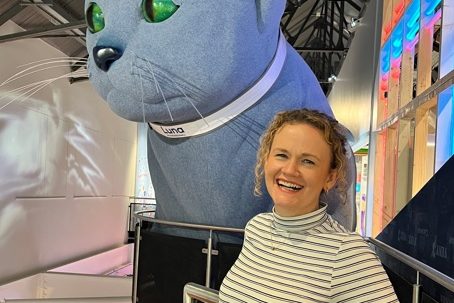 Wirral-based Eureka! Science + Discovery has appointed Rachael Bevan as the attraction's head of learning and inspiration.
With more than 15 years of experience working in museums and attractions throughout the North, Rachael will engage more actively in key STEAM (Science, Technology, Engineering, Arts and Maths) subjects, building children's confidence and raising aspirations. She'll also be responsible for developing and launching Eureka!'s learning and inspiration programme, due to be rolled out to the public later this year.
Joining from her most recent role as Schools and Families Manager at the National Railway Museum in York, Rachael is experienced in curating engaging and interactive learning programmes for audiences of all ages.
Eureka! Science + Discovery, whose main attraction building opened to the public in November 2022, is dedicated to encouraging young people up to the age of 14 to engage more actively in key STEAM subjects.
Leigh-Anne Stradeski, Eureka! CEO, said: "We're thrilled to have Rachael on board and are really excited about some of the plans she's already set in place for our learning and inspiration programme at our site in Wirral.
"Eureka! Science + Discovery is all about encouraging children to uncover more about the world around us, and our schools programme will align closely with this, focusing on contemporary science and real-life issues in exciting, engaging and accessible ways."
Rachael said: "I'm so excited to have joined the Eureka! Science + Discovery team and to return to my roots in Merseyside after many years living in Yorkshire.
"I've followed the development of this facility with keen interest over the past few years and am excited to draw on the existing relationships in place – particularly through the co-creation work – to shape our education programme, working with young people, industry professionals, teachers and the wider Eureka! team to develop a learning programme that is inclusive, relevant and truly cutting edge."
The attraction's learning and inspiration programme is set to be launched later this year.
::
Gunnercooke corporate and commercial partner, Simon Williams, has expanded and strengthened his team with the hire of a new partner, Chris Williams.
Simon runs his Chester-based practice at international law firm gunnercooke, a challenger law firm operating a fee-share model, with his team acting on £400m-worth of transactions in the past two years.
Chris, who has worked for more than 30 years in the field, has developed an in-depth knowledge of corporate and commercial law. He specialises in M&A and private equity transactions. Gunnercooke welcomes Chris from international law firm Kennedys where he was based in Manchester.
The appointment of Chris has further strengthened Simon's offering and shows the growth and development of the team's practice. The practice has continually grown since Simon joined nearly two years ago, with the team acting for various national and international brands.
In the past two years the team has acted on circa £400m-worth of transactions, including advising a tech company in relation to a share sale in excess of £250m to an American buyer, a multimillion-pound raise for a block chain company and various investments on behalf of a venture capital client.
Simon said: "I'm so excited to welcome Chris to our team. He has a deep understanding of M&A and private equity transactions and will be a welcome addition to our growing practice. I'm looking forward to working alongside Chris to offer our clients an enhanced service."
Chris said: "I'm looking forward to working within the creative fee sharing model, which allows me to focus on being more personal in the way that I work with clients."
::
Synapse360 said Steve Lamb will be officially stepping into the role as UK sales director this month.
Following a year of exceptional EBITDA growth of more than 40% in 2022, for Manchester-based Synapse360, managing director Steve Douglas announced a strategic appointment within the senior leadership team to further strengthen the IT managed services and cloud services providers, competitive position going into 2023.
As part of his appointment, Steve will be responsible for delivering the next stage of sales growth for the business. In addition, he will be adding another feather to his cap by taking on the day-to-day responsibility for Synapse360's in-house marketing department.
Having worked for the business for more than 10 years, and in the managed services industry for his entire career, Steve is ideally suited to continue growing the popular managed service provider's market reach.
Steve, in his new role, along with his team, will be responsible for gaining market share in the commercial mid-market, enterprise, and public sectors with his sales teams in Manchester, London, and the Isle of Man. Another key aspect for Steve's role will be to nurture Synapse360's established vendor relationships with Dell and Microsoft.
Steve Douglas said: "Steve's extensive industry experience, his ability to embrace the new, and his dogged determinism are an ideal combination as we expand our ambitions into the City of London and public sector. I am confident that Steve's dedication to the business and hard work through every individual across our sales and marketing teams will pay dividends in 2023."
Steve Lamb said: "I'm really proud of the team's achievement over the last three years, especially given the obstacles we have all faced. I'm really excited about my new role and working with this excellent Synapse 360 sales team."
::
FW Capital has welcomed two new recruits to strengthen its North West team after receiving an additional £9.48m funding boost as part of the Northern Powerhouse Investment Fund (NPIF).
Caroline Turley and Steven Molyneux have been appointed as investment executives. Caroline is based in the Liverpool office and Steven in the Preston office. Both will assist in helping businesses across the region to access investment to support growth via the Northern Powerhouse Investment Fund. The additional £9.48m funding increases FW Capital's Northern Powerhouse Investment Fund allocation to £172m. This is from a starting position of £102m when the fund was first established.
Both have more than 25 years' experience of working in the banking sector. Caroline has worked for Yorkshire Bank as a corporate business manager and most recently in economic development at the Lancashire Business Growth Hub. Steven has worked in business relationship banking for both RBS and, more recently, at Handelsbanken.
Caroline Turley said: "It is a very exciting time of innovation in the Liverpool City Region, and I am looking forward to helping businesses across the city and the North West region to facilitate growth."
Steven Molyneux said: "Having spent many years in the banking industry I fully understand the challenges that many businesses face in accessing the funding that underpins their growth, and will use this experience and established network to ensure businesses across Lancashire and the North West can achieve their business goals."
Sean Hutchinson, at the British Business Bank, said: "Caroline and Steven are valuable additions to the team, bringing a wealth of experience working with businesses, and I'm looking forward to collaborating with them to provide those across Merseyside, Lancashire and the wider North West with funding and advice to accelerate their growth ambitions."
Loz O'Connor, FW Capital's fund manager, said: "Steven and Caroline are excellent additions to our North West team and their appointments demonstrate our continued commitment to helping local businesses with their future development. Their expertise and knowledge is a great asset to our team and will help us to utilise further the financial support available from the Northern Powerhouse Investment Fund."
::
Broadway Insurance Brokers said that continued growth and a clutch of new appointments has seen it become the largest high net worth specialist outside of London.
Just months after announcing that it had seen a three-fold increase in the amount of Gross Written Premiums (GWPs) which it generates, the Cheshire-based boutique firm has recruited three new employees.
Account executives Jacqui Shaw, Matthew Rawsthorne and Joe Hooper have all joined after spells with bigger rival firms.
The hires mean that Broadway has now doubled the size of its staff roster in the space of a year, mirroring its increase in client numbers.
Chief executive, Daniel Lloyd-John, said the arrivals underlined the impact which the firm had made within the insurance industry since its launch just over three years ago: "These appointments do more than add numbers and significantly bolster what capabilities we already have. They have also arguably propelled us into what might be described as the Premier League of broking in this country."
Ms Shaw has worked with a number of the North West's leading brokers over the course of more than 30 years. Most recently, she worked at Bollington Wilson which was acquired by one of the world's largest brokers, AJ Gallagher, in October 2021.
Mr Hooper followed in his father's footsteps by starting his career at Wilson's prior to it joining with Bollington's before the resulting joint firm was then bought by AJ Gallagher.
Mr Lloyd-John described, meanwhile, how Mr Rawsthorne brought a unique insight of both sides of the insurance business. Although he arrives at Broadway after eight years at the Manchester-based Reich Insurance Group – latterly as deputy head of private clients and personal lines – he had previously served as an underwriter with Royal and Sun Alliance (RSA).
Mr Rawsthorne and Ms Shaw will both work with Broadway's private director Eleanor Moore, while Mr Hooper joins the broker's corporate division, led by Martin Lilley.
::
North West law firm Butcher & Barlow has announced its latest batch of newly qualified solicitors following successful training periods.
Emma Klieve, Shay Moore and Phil Joy will all qualify at the beginning of March 2023 and will work in the private client and commercial teams.
Butcher & Barlow has 10 offices across the North West and is regularly listed in the Legal 500 as one of the region's top law firms.
All three have undergone their Training Contracts with the Legal 500 firm, who pride themselves on nurturing their trainees, with a comprehensive training programme under the guidance of experienced lawyers who offer their support and expertise.
Emma studied Law at Liverpool University and went onto complete the Legal Practice Course at the University of Law, Chester, before graduating in 2018. Emma will be working at the firm's Northwich office, in the wills, trusts and probate team.
Shay Moore, who completed his Legal Practice Course at the University of Law, Chester, in 2021, will work within the commercial property team from the firm's head office in Bury, alongside partner James Hodgson.
Managing partner, Anthony Higham, said: "It's important to us that we offer a comprehensive and varied caseload to all our trainees, and we encourage them to take responsibility as early as possible whilst always ensuring they are fully supported. It is something they wouldn't necessarily get to experience until later in their career if they were at a big city centre firm, but we believe it gives trainees a more rounded experience, making them better lawyers and hopefully demonstrates our readiness to invest in them, and encourages them to continue their careers with us."
Phil Joy, who will be specialising in family law from the firm's Leigh office, entered the profession via a slightly different route, graduating first with an honour's degree in Human Geography and Information and Communication before studying for his Graduate Diploma in Law and then his Legal Practice Course at the University of Manchester.
He said: "The support offered to trainees has been excellent. We meet monthly with the managing partner which allows for regular feedback – it feels much more personal than being a trainee in a larger city centre type firm."