Planning approval granted for 12-storey Salford residential scheme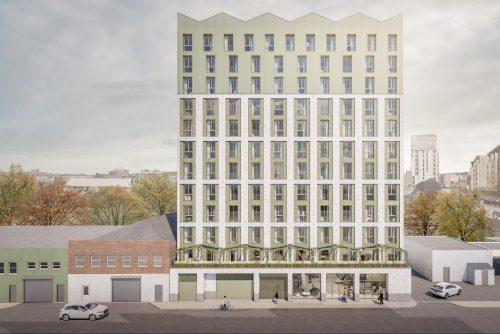 Salford City Council has approved plans for a a 12-storey, 85-apartment scheme on Duncan Street in Salford.
The scheme, by Manchester-based property developer Generation, has been designed by TODD Architects.
Targeted at aspirational young professionals, the new-build residential scheme showcases a mix of quality residential accommodation within a highly desirable environment that will include a residents' lounge and a large communal roof terrace with enviable views across Manchester and Salford.
Located in an area of the city undergoing major change due to increased demand for homes and residential investment, the proposed development maximises the potential of an under-utilised brownfield site by incorporating the entire footprint of its boundary.
The scheme has been designed to encourage low-carbon living and provides the new residential community with a range of recreational spaces and amenity including two communal terraces and shared internal lounges.
Seamus Lennon, principal, TODD Architects Manchester Studio, said: "This is an exemplar residential development in its approach to design, technology provision and sustainability strategy.
"Utilising our knowledge of the local market and experience on other residential-led schemes throughout the UK, our proposal not only respects the character of the area, but will provide a high quality living environment and greatly assist the city in meeting its overall housing targets.
"The high quality nature of our scheme is expected to encourage further investment in the surrounding area, creating employment opportunities for residents."
The residents' lounge is a critical component of the design and a key differentiator from many comparable projects as it will support the wellness of residents by facilitating social gatherings and provide space for home working.
"The proposed development also holds a high level of outdoor space for its residents given the context and constraints of the site.
Residents will also benefit from a large communal roof terrace with views across both Salford and Manchester. The space will allow residents to simply sit outside in good weather and can also be used to host events, including summer parties and external film screenings.
The principles of sustainability will be incorporated into the design and construction process in a balanced way, with the aim to provide a development that considers the heritage of the development site, transport issues, waste management, reduced energy demand, CO2 emissions, water management.
The architectural design takes a fabric-first approach and has considered reducing heat loss and solar gain while providing natural light to the apartments to help reduce CO2 emissions.