First exclusive look inside new Anfield Road stand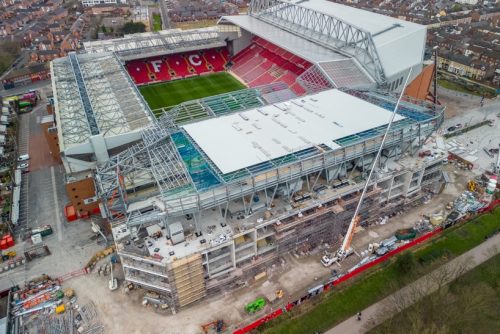 New images have been released of the £60m extension of Liverpool FC's Anfield Road stand, which will open on time for next season.
The expansion will increase the stadium capacity to 61,000 fans.
Eighteen months since work began on LFC's Anfield Road Expansion project, the club said supporters can finally visualise how it is developing inside and out of the three floors being developed.
Ground level will house the expansive fan park, and the three levels above will be home to hospitality lounges and home and away fans.
The club said incredible progress has been made so far to add 7,000 more seats in time for the 23/34 season.
The main frame is now complete – all steel frame, columns and beams – alongside this the start of the exterior façade brickwork is also visible.
The 500ft crawler cranes, which did a lot of the heavy lifting, have now left the site and the new roof is progressing well and can be seen for miles around as it alters the city skyline.
The old roof is still in place and will be removed in the close season.
Paul Cuttill, VP of Stadium Operations, said: "It's hard to believe we're this far into the project, the progress that's been made is remarkable.
"Even more remarkable considering we've managed to keep on track and continued to maintain full capacity at Anfield, holding over 50 games so far and three concerts in a working building site."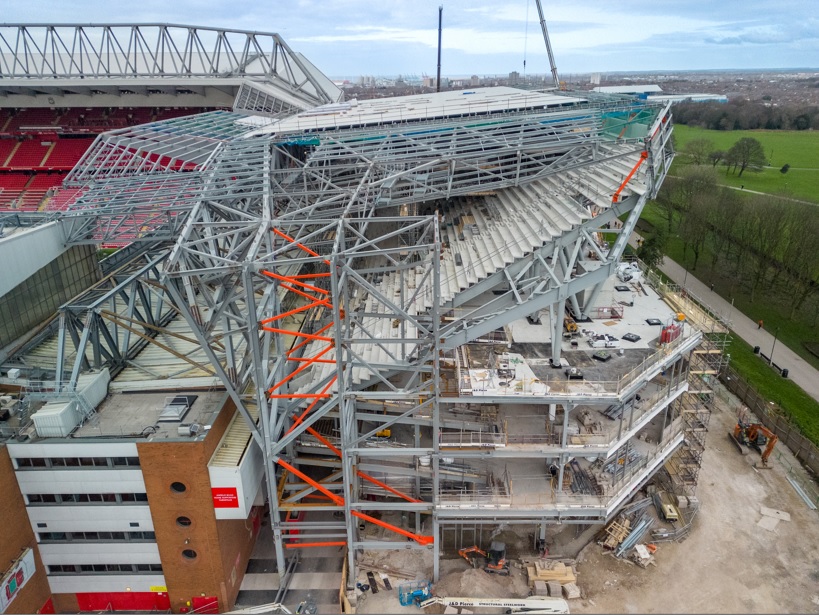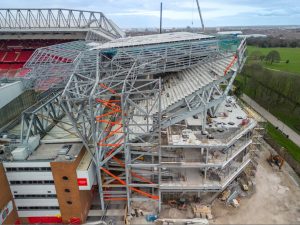 He added: "This new footage is a great insight and shows how the expansion is shaping up on the inside and helps to bring it more to life for fans.
"It's now full steam ahead to be ready for the 23/34 season. We can't wait to have even more fans at Anfield, the atmosphere is going to be better than ever."
This is the third major capital build project undertaken by LFC in recent years, following the build of its new Main Stand in 2016, and the opening of its state-of-the-art AXA Training Centre in November 2020.