People: BGN; Apadmi; Bermans; Primas Law; Puma Private Equity; Harrison Drury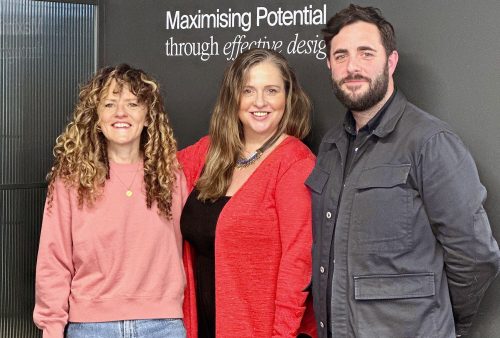 BGN, the Manchester-based brand-led design and digital agency, has grown its senior leadership team following the appointment of Louise Kennedy as its new head of strategy.
Louise has joined from Brandon Consultants where she worked for four years. Prior to that she held in-house insight and strategic planning roles for 20 years including at Kellogg's, Kerry Foods and MyTravel.
Her new role at BGN will see her direct all elements of strategic thinking and planning across the agency's diverse client roster which includes Slumberdown, Victoria Leeds, Burgess Excel, Total Fitness and Rustlers.
A big focus of her work will be on aligning the creative process with strategy. The dual aims are to make BGN's work stronger and to help its clients unlock distinct and relevant brand strategies. Louise will be working closely with Antonio Giansante, managing director, Paul Baily, client services director, and Dave Newton, creative director.
Louise said: "I was keen to join BGN as they have strong growth ambitions which is an exciting prospect. It was also obvious that Paul, David and Antonio value the role strategy can play in the creative process. I have spent much of my career working in B2C FMCG categories so I'm now enjoying the challenge of drawing on my experience and implementing it in a new, dynamic agency environment."
Antonio Giansante, MD and founder, said: "Louise has an amazing track record and brings with her a wealth of experience that will both complement our existing services and add commercial value to our clients. Her arrival couldn't have come at a better time as we are on a strong growth trajectory and continue to ramp up our capabilities, innovate and deliver the best work possible."
The agency has also appointed Kate Bermingham as its business development director. She has also joined on a consultancy part-time basis from Brandon Consultants where she worked for three and a half years.
During that time she helped to grow the business by securing a number of high profile clients. Her remit is to further expand BGN's client base and to increase awareness of its core services which include strategy, visual identity design, building bespoke websites, designing standout packaging, creating engaging multi-channel campaigns as well as delivering video and motion projects and advising on creative ways to use print as a medium.
::
Digital product business Apadmi has appointed experienced client service and digital practitioner Keeley Lee to the company's senior leadership team as its new client services director. She joins from Dentsu Creative, where she was head of account management, having also spent earlier stages of her career at BJL, Amaze and McCann Manchester.
Keeley's day-to-day responsibilities will include the direct management of, and responsibility for, the client services team and focus on the development and success of Apadmi's clients. Keeley will lead and grow the client service function at Apadmi, while developing and leading strong relationships with some of the business's largest clients.
Keeley Lee said: "A client services department is at the heart of any business like ours. I want to breathe new life into Apadmi's client services function and champion it at senior level. As we begin to really take ownership of these relationships and drive them, we will see some real value for our clients.
"I am massively inspired by the vision of Apadmi CEO Garry Partington for the company. There is a great vision for what Apadmi wants to achieve and some big plans which are very exciting," she added.
Garry Partington said: "Keeley has a proven track record of establishing and maintaining excellent client relationships in fields such as ours and I have no doubt she will be an asset for us going forward. As we continue our growth strategy with more and more new clients, Keeley's work will be integral to our development."
::
Liverpool and Manchester commercial law firm Bermans has appointed Jon Davage to become its first managing director.
A corporate solicitor in the North West for more than 20 years, Jon joined Bermans in January 2012 from Manchester commercial firm, LLM, and has been instrumental in driving the expansion of Bermans in Manchester into a full commercial and corporate offering. Prior to LLM, he worked for Turner Parkinson, now part of Knights plc.
The appointment follows the announcement last September that the MAPD Group had taken a majority stake in Bermans.
Wirral-based MAPD Group, whose name stands for Making A Positive Difference, is owned by Brian Cullen and Joanna Kingston-Davies, respectively CEO and COO. The purpose behind MAPD is to power the growth of like-minded law firms by creating an environment for its people, clients, and the communities within which it operates to have the best possible experience and to make a positive difference.
Bermans intends to invest in its growth over the coming years, with an emphasis on developing its people, enhancing the client experience, and strengthening operations. Jon will maintain his role as head of corporate law and will remain involved in corporate transactions. However, he will take overall responsibility for driving the firm's growth, working closely with partners, Fergal O'Cleirigh and Phil Farrelly, and Brian Cullen and Joanna Kingston-Davies, who form the Bermans board.
Jon Davage said: "I am delighted and extremely proud to lead the next stage of Bermans' evolution. I do so with the backing of a hugely engaged board and highly talented individuals across the business."
Joanna Kingston-Davies said: "The Bermans business is on an exciting journey, and MAPD is fully committed to being part of helping it, its people and clients succeed. We are looking forward to working with Jon, Fergal, Phil and colleagues across the firm to power its future growth in Manchester and Liverpool."
::
North West business law firm, Primas Law, has recently appointed Liverpool-based Anton Stirrett as a corporate partner. Anton's appointment reflects the firm's dynamic growth plans for its operations in Liverpool.
With more than 20 years' experience working across all aspects of corporate law, Anton specialises in mergers and acquisitions, business disposals, MBOs and corporate reorganisation. Anton is a well-known and respected figure in the Liverpool market.
Building on Primas's impressive client base in the corporate and commercial space, Anton's knowledge of the sector and significant experience working in the Liverpool City region signals a transformative time for the firm.
Anton Stirrett said: "I can't wait to start working with the team and helping continue the firm's already fantastic growth. Primas Law has really exciting expansion plans for Liverpool which I'm thrilled to be a part of."
Managing partner, Adam Kerr, said: "Anton's appointment is a real statement of intent on our part. When we opened our Liverpool office in 2022, we said that we were committed to the city, and becoming an important part of the local business community. Anton's recruitment reinforces that and says a lot about our plans for, and commitment to, the Liverpool region.
"Anton's wealth of experience both within the sector and the region offer an exciting opportunity for us to further cement ourselves in the Liverpool business community. We're really excited about our bold growth plans for the city, and Anton is a really important part of that. And there is certainly more to come."
::
Puma Private Equity, the specialist growth investor, has appointed Mark Lyons as investment director, as the business looks to expand its presence in the North of England. Puma operates in the scale-up to Series A space, providing equity investment of £2m to £10m to help ambitious businesses accelerate their growth plans.
Mark joins from Praetura Ventures, where as director of investments he was part of the senior leadership team that grew the business to more than £125m AUM and invested in around 30 fast-growth, early-stage businesses. Praetura is widely recognised as one of the leading venture capital firms in the North of England.
Mark joins Puma Private Equity off the back of its biggest fund raise to date, and is charged with supporting its expansion in the North, with the creation of a new office in Manchester in the coming months. Mark will be part of a growing Puma presence in the region, designed to capitalise on the increasing number of Northern businesses in the scale-up to Series A space.
Mark read Political Science at the University of Birmingham and qualified as a Chartered Accountant at PwC. He then moved into corporate finance advisory before joining a single-family office where he spent more than 10 years spearheading the investment activity and operations.
During his investment career, Mark has principally concentrated on supporting tech and tech-enabled companies, with a particular focus on SaaS, PropTech and digital media.
Rupert West, Puma Private Equity managing director, said: "2022 was a record year of fundraising for Puma Private Equity and we are continuing to build our team. We are keen to broaden our reach to businesses located in the North who are looking for a specialist partner to help accelerate their value-creation.
"Mark has built an enviable reputation for backing entrepreneurial management teams and we are really excited to have him join our expanding team. By having a permanent presence in Manchester, we hope to be able to provide growth capital to businesses across the North. Our focus is firmly on value creation, and Mark brings with him a tangible track record of successful investments and exits."
Mark Lyons said: "Puma Private Equity has developed a stellar reputation over the last 10 years of partnering with stand out growth businesses and driving transformational change. I'm delighted to be joining the team and expanding the Puma brand across the North and beyond."
::
North West law firm Harrison Drury has appointed experienced rural property lawyer Jane Fillis to support its clients in the agricultural sector.
Jane will advise rural clients on a wide range of commercial property services including the sale and purchase of freehold and leasehold agricultural property and on proposed developments.
After graduating in law, Jane began her law career in London. She qualified as a licensed conveyancer in 2004 and specialised in rural and commercial property working for seven years at Bendles Solicitors in Carlisle.
Working across Harrison Drury's offices, Jane will provide advice and support on farm succession, partnership agreements, land issues and renewable energy projects.
Nicola Beneduce, partner at Harrison Drury, said: "This is a great appointment for our commercial property team which will further develop our expertise in the rural sector. Jane has both a strong background in dealing with agricultural clients and a passion for helping the farming community."
Jane is an active committee member of Women in Property (Lancashire & Cumbria Branch) and the Halifax Agricultural Society. She said: "I really enjoy travelling to meet clients working in farming and agriculture, it is such a diverse and interesting industry which is changing all the time. Harrison Drury has an excellent reputation in the rural sector and I'm very excited to be part of the team helping to grow our expertise and support for our rural clients."