NW business briefs: Mackinnon & Saunders; Manchester Utd; We Are Adam; Stockport Interchange; Cress; Tools to Teach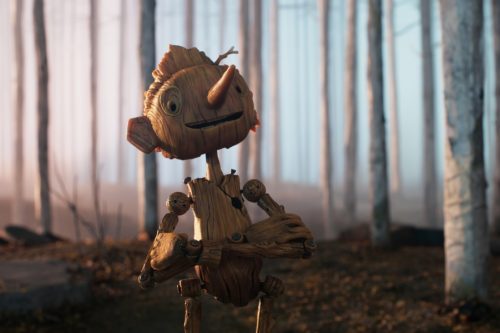 The Altrincham puppet-maker behind the Oscar-winning animation Pinocchio has praised the transformative impact of Made Smarter's technology adoption programme.
Mackinnon & Saunders, based in Altrincham, collaborated with Hollywood director Guillermo del Toro to manufacture the miniature stars of the hit Netflix stop-motion animation. Pinocchio is the first puppet that has been made using 3D printed stainless steel.
The innovation was made possible through the Made Smarter North West adoption programme, a government-funded initiative to help SME manufacturers digitalise, decarbonise and drive growth through new technologies and skills. Funding support and impartial expert advice enabled Mackinnon & Saunders to test and trial brand new 3D techniques with Laser Prototype Europe (LPE), a rapid prototyping service bureau based in Belfast.
This week Pinocchio followed up its incredible clutch of awards, including a BAFTA and Golden Globe, with the Oscar for 'best animated feature'.
Peter Saunders, co-founder of Mackinnon & Saunders, said: "We are thrilled to have played a part in creating such a successful film which has been watched and loved by so many. It means the world to our team to have worked on an Oscar-winning film. It is also testament to what can be achieved through programmes like Made Smarter, who gave us such valuable technical support and facilitated our exploration of this game-changing technology."
Donna Edwards, director of the North West Made Smarter adoption programme, said: "I congratulate Mackinnon & Saunders on their role in making Pinnochio such a success. The company's attitude and approach towards adopting technology perfectly encapsulates the ethos of Made Smarter. I am delighted that they were able to tap into our expertise and invest in technologies which have put them on the world stage."
::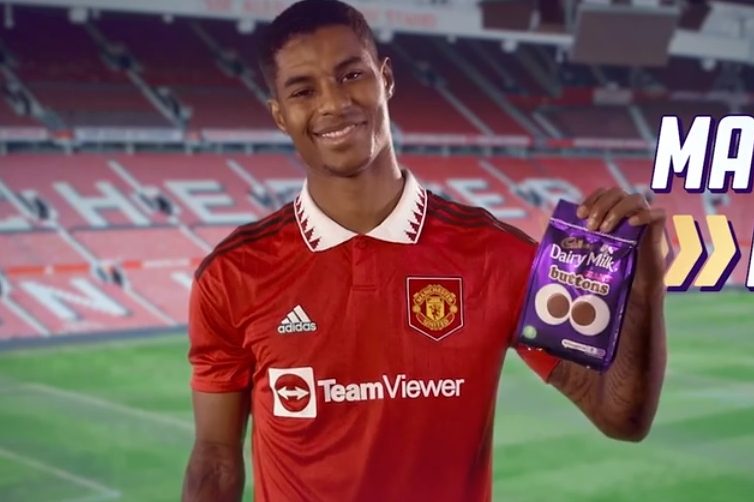 Manchester United and Cadbury, part of the Mondelez International brand family, have announced the continuation of their global partnership.
Since launching its partnership United and Cadbury have collaborated on charitable national campaigns such as Donate Your Words, which helped to tackle loneliness in the elderly and Give A Doubt which addresses self-doubt amongst Britain's youth.
As the partnership continues, Cadbury and Manchester United will continue to place generosity at the heart of its alliance, creating new generosity-focused community initiatives, driven by their shared values and belief that there is a 'glass and a half in everyone'. Additionally, Cadbury has vowed to bring fans from all communities closer to the club, launching its biggest ever ticket giveaway, from the start of the 2023/24 season this August.
Victoria Timpson, Manchester United CEO of alliances and partnerships, said: "We are delighted to be extending our relationship with Mondelēz International and the opportunity to build on what we have achieved with our partnership so far. Cadbury recognises the ability football has in uniting fans for a common cause and we look forward to once again utilising the partnership to amplify important community campaigns."
Nick Rogers, sponsorship lead, Northern Europe and Mondelez International, said: "We'll bring even more exciting products and experiences to our consumers while continuing to make the game more inclusive for all fans."
::
A Manchester-based recruitment company which counts some of the UK's most recognised businesses as clients has become employee owned. We Are Adam, founded in 2006, has made the move to employee ownership as part of its strategy to achieve continued success and long term growth.
The firm, which specialises in HR, executive and digital recruitment and has 17 staff, is now owned by an employee ownership trust (EOT). The existing management team, led by CEO Richard Gahagan, is all continuing in their roles.
Richard Gahagan, CEO of We Are Adam and a trustee of the new We Are Adam EOT, said: "This is a hugely positive and exciting move that will enable our people to enjoy a greater share in the financial success of the business. We have a great team here and firmly believe that transitioning ownership of the company to our employees is the best way for us to retain our people and culture. We hope it will appeal to our clients, too, by demonstrating our commitment to being a responsible, sustainable and purposeful business with a view on the long term."
The corporate finance and tax teams at MHA Moore and Smalley advised the shareholders of We Are Adam on the setting up of the EOT, providing financial and taxation structuring advice. Hasan Hashmi, tax director at MHA Moore and Smalley, said: "It's a move that will have great long term benefits by aligning everyone behind a shared purpose to achieve success."
The corporate finance advisory team at MHA Moore and Smalley was led by partner Andrew Feeke and associate director Rob Holgate. The tax team was led by Colin Abrahams, Hasan Hashmi and Saira Ahmad. Mike Blood and Rebecca Beech at JMW Solicitors provided legal advice.
::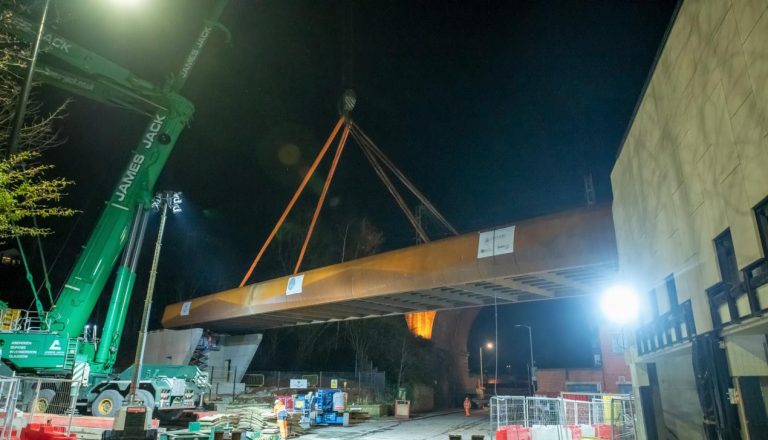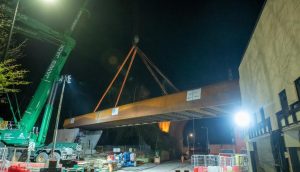 A huge, new 90 tonne bridge connecting the Stockport Interchange development to the town's train station was successfully lifted into place last weekend, marking a key step in the transformative town centre scheme.
Construction of the new transport interchange, which is set to support the wider regeneration of Stockport town centre, has been under way since August 2021, and will include a new two-acre 'podium park' on the roof of the building and 196 high quality residential apartments.
The vast corten steel pedestrian and cycling bridge was carefully manoeuvred into its final position over Daw Bank using a 750-tonne crane by scheme contractor Willmott Dixon and their engineers at the weekend. Owing to its sheer size, the bridge was initially delivered in two pieces before being assembled into one complete structure on site.
Due to open alongside the new park and interchange in spring 2024, the 40m-long bridge will provide a traffic-free, accessible route connecting the new interchange to Station Road and onward to the railway station. The bridge will merge into a cycling and walking path with two seated rest areas along the route, providing a seamless and dedicated link for users to walk, wheel or cycle between the new Interchange park and Station Road.
Andy Burnham, Mayor of Greater Manchester, said: "The installation of the new bridge above Daw Bank is a major feat of engineering and marks an exciting milestone in the ongoing development of Stockport Interchange. The bridge is a key link connecting the new interchange to the railway station and will significantly enhance how residents and visitors access the town centre, whether they are walking, wheeling or cycling."
::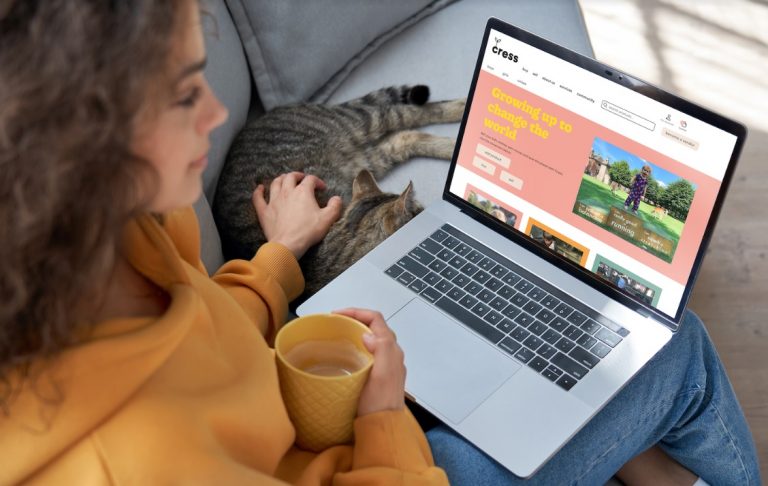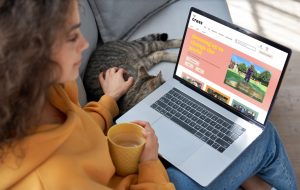 Yard and Coop's Carl Morris is best-known for bringing the phenomenal American-style fried chicken concept to Manchester's fast food scene. Now, he's set to drive change in the fast-fashion industry with the launch of Cress, a pre-loved children's clothing company.
With the 'pre-loved' movement quickly emerging as one of the hottest retail trends, Cress successfully launched last month – just as the number of people buying second-hand and pre-loved items shot up by 23%.
As an entrepreneur, and a father, Carl spotted a gap in the pre-loved market last year while shopping for his own children's clothes, identifying a cultural shift and an opportunity to offer something new, specifically for parents who spend an average of £43.88 per child on clothing each month.
The bespoke re-commerce platform has been designed to make shopping and selling pre-loved children's clothing fun and accessible. Supported by digital agency, Serotonin, the site is aimed at parents looking to save money amidst the cost of living crisis and those keen to make a positive impact on the planet.
Six hundred parents signed up to Cress to participate in the early test stage last month. The platform will also roll out in Australia this summer. Co-founder Carl Morris said: "Cress has a clear edge in what is already becoming a highly competitive market. It's driven by our own experiences as busy parents and our mission is to build a community with a shared vision for the future – £4.2bn is spent on children's clothes each year with more than 183 million pieces going into landfill. We need to come together to break the cycle."
::
Experienced construction and engineering professionals across the Liverpool City Region are being encouraged to train to teach the next generation of skilled workers as part of a new campaign, which aims to tackle the skills shortage.
The 'Tools to Teach' initiative, supported by Mayor Steve Rotheram, will see further education colleges in the Liverpool City Region join forces to recruit industry experts across all trades to help plug the skills gap. Providing on the job teacher training for those who can pass on valuable skills, Wirral Met College, Hugh Baird College, The City of Liverpool College, Southport College, Riverside College and St Helens College are calling on experienced professionals to help build tomorrow's workforce.
Industry experts are being invited to work with the colleges to prepare young people for future jobs by delivering courses ranging from construction, engineering, building and carpentry to joinery, plastering, plumbing and painting and decorating, as well as gas and electrical services.
Phillip Jones, vice principal at Wirral Met College, said: "Training to teach can be a hugely rewarding career move, particularly in our construction and engineering department where industry experts, who were once apprentices themselves, often enjoy having the chance to give something back by inspiring a new generation. Through the 'Tools to Teach' campaign, we aim to highlight the opportunities available for experienced industry professionals who might be thinking about a move into teaching, either full-time or as a part-time role alongside current work commitments."
Teachers in further education can benefit from a salary of up to £42,000 per year with a generous pension scheme and flexible working hours. Construction and engineering professionals, who are considering a career move into teaching, are being invited to attend an open evening at Wirral Met College on Wednesday, March 22, 6-8pm.