Place before party as Burnham hails new devo era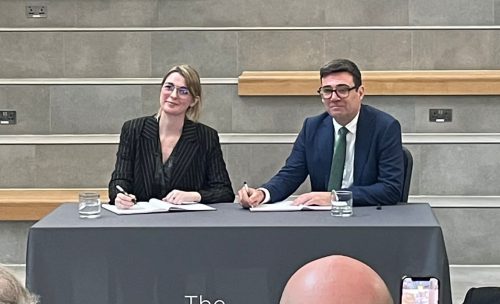 Greater Manchester Mayor Andy Burnham has returned from a successful trip to North America to sign a formal agreement with the UK government on new powers and new levels of scrutiny.
Levelling Up Minister Dehenna Davison and Burnham, along with the ten local council leaders, have today (21 March) signed a landmark deeper devolution deal for Greater Manchester.
The deal puts more cash and power in the hands of local leaders to invest in the priorities that Burnham was elected on, such as better bus and train services, skills and housing.
Posting pictures of the deal on social media, Burnham said: "We have signed a new devolution deal with the UK Government – and the most significant yet. By putting place before party, we're making politics work better for people."
Dehenna Davison said: "I'm proud to have agreed a historic and trailblazing new devolution deal with the Greater Manchester Combined Authority, providing the Mayor with more powers, money and an even greater say on how this iconic region is run.
"This is the very essence of devolution – leaders taking decisions and being accountable to the communities they serve.   
"Covering everything from Bee Network buses to affordable home building, this deal will give leaders the opportunity to deliver economic growth, better services and high quality jobs for people in Greater Manchester."
Burnham said: "I'm really pleased to welcome Levelling Up Minister Dehenna Davison to Greater Manchester to sign what is the seventh devolution deal for our city-region – but this is by some way the deepest. This Deal takes devolution in the city-region further and faster than ever before, giving us more ability to improve the lives of people who live and work here.
"I have always been a passionate believer in the power of devolution, and I've been in the privileged position of being able to exercise those powers and make a positive difference to people's lives.
"We've worked hard to secure this Deal and have achieved a significant breakthrough by gaining greater control over post-16 technical education, setting us firmly on the path to become the UK's first technical education city-region; new levers and responsibilities to achieve fully integrated public transport including rail through the Bee Network by 2030; new responsibilities over housing that will allow us to crack down on rogue landlords and control over £150m brownfield funding; and a single block grant that will allow us to go further and faster in growing our economy, reducing inequalities and providing opportunities for all.
"With more power comes the need for great accountability and I welcome the strengthened arrangements announced in the Deal.
"We will continue to engage with government moving forward on other areas we'd like to see more local control over in the future which will help us to continue to improve life for people in Greater Manchester and those visiting. For now, our focus will be on getting ready to take on the new powers and be held to account on the decisions we will be making on behalf of the people of Greater Manchester. The signing of this deal marks a new era for English devolution."
New measures include: a new long-term funding settlement, including the right to retain 100% of business rates for 10 years and 25-year business rate retention in designated growth zones; a wide-ranging partnership with Homes England, with a commitment to work towards investing £400m in Greater Manchester by 2026. 
Further support for regeneration and infrastructure with £150m of brownfield funding, £3.9 million to eliminate the use of bed and breakfast accommodation for homeless families in Greater Manchester and £10 million to support levelling up and growth priorities for Greater Manchester.
A new rail partnership with Great British Railways to support the delivery of the Bee Network by 2030 with new 'pay as you go' ticketing pilots across the region and better integration of local stations.
More oversight and control over adult skills funding and more responsibility over developing and delivering careers advice.
Devolution of funding to retrofit buildings, to bring down energy bills for households across Greater Manchester.
A new partnership with national arts and culture organisations to harness Greater Manchester's globally renowned cultural strengths.
As a condition of this deal, Burnham and the portfolio holder have committed to attending the full council meeting – up to one a year – for each Borough.
It will also build in formally the 'Mayor's Question Time' events that Burnham introduced, to rotate around the Boroughs and be chaired by an independent person e.g., a local journalist or businessperson; face Parliamentary select committees, when invited to do so by a select committee, and beefed up status for the GMCA's Overview and Scrutiny Committee to present reports within their portfolio area on a regular basis. 
As mentioned in the Budget last week a new GM strategy board will replace the Local Enterprise Partnership and a panel of local MPs will be built into the scrutiny process.  
Conservative MPs such as Chris Clarkson and James Daly have long sought a platform to cross-examine Burnham.
The milestone comes days after Greater Manchester was announced as one of 12 new Investment Zone areas backed with £80 million over five years including generous tax incentives to drive local growth.